UPDATE: Both the GoPro Hero8 Black and GoPro Max are set to be revealed by the company on 01 October – full story here.
ORIGINAL STORY: With two leaks in two days, it looks as if GoPro has certainly been busy behind the scenes. Yesterday's leaked photos of the GoPro Hero8 made waves within the action camera enthusiast community, and we're sure these new images of what's rumored to be the GoPro Fusion 360's replacement will be no different.
While 360 cameras may be quite a niche product, they fit perfectly into GoPro's range of action cams – and we're interested to see how the brand has built on its existing 360 technology.
Rumor website Photo Rumors recently reported that a new GoPro Max camera has been registered with the Japanese Ministry of Communications. Apparently this new model will be a replacement for the GoPro Fusion 360, which was released at the tail end of 2017.
Photo Rumors also states that this upcoming camera is already registered with the FCC (Federal Communications Commission) under the code SPCC1.
• Read more: GoPro Hero8 leaked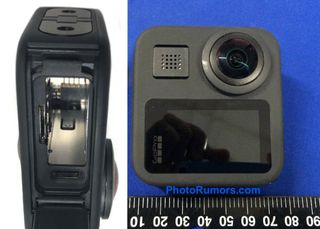 So what would we be looking for from this latest 360 camera offering? The previous GoPro Fusion 360 required two microSD cards – one for each camera housed in the body. This is potentially frustrating for users who would rather streamline their shooting process and keep all of their footage on one card.
However, 360 camera fans may be happy to see that the leaked photos of the latest camera appears to show just a single microSD card slot (along with a battery slot and presumably a charging port).
Another frustration with the previous version was that the lenses were quite exposed to bumps, knocks and scrapes. Unfortunately, from what we can discern from the leaked photos, it appears as if GoPro has decided to stick pretty closely to its original design that leaves the lens curving outwards without much protection.
Despite this potentially disappointing feature, the GoPro Fusion 360 was a fantastic 360 camera that proved wildly popular. We're excited to see what this new version will do, and will keep you informed on any new updates as soon as we hear them.
Read more:
The 24 best GoPro accessories in 2019
Best gimbals for your iPhone, GoPro and camera
GoPro Hero 7 review: Black vs Hero 7 Silver vs Hero 7 White