A 360 camera is a device with 180-degree forward- and rear-facing lenses that captures everything around itself at once. In a stills photography application, you can use it to shoot everything that can be seen from a particular point, and then either select in post-processing what part of the whole image you want your viewer to see, or – provided their browser or app supports the camera – they can select what they look at.
On a desktop display this would be done by dragging the view up, down, left or right, and on a mobile device like a smartphone or tablet, there's the option to move the device around through the 360-degree field-of-view to see the changing aspect from the 360 camera's vantage point.
360 camera uses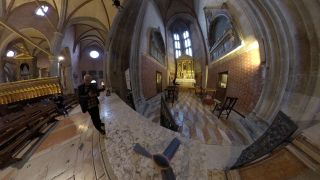 A well-known use of this kind of technology is Google's Street View, where you can pan and tilt to look in any direction from the spot where the capture took place, and you can also use gestures like pinching to zoom in. Another popular example is real estate applications, where you can get to grips with the layout of a property by spinning around or looking up and down to get your bearings – almost as if you are at the location.

For a fully immersive experience, the content captured from many 360 cameras can interface with a VR headset, so in a video sequence, you can experience hurtling down a mountain-bike epic or inching your way along a mountain ridge from the shooter's point of view.
For YouTubers, vloggers and adrenaline junkies, a 360 camera enables viewers to virtually base-jump or paraglide (all from the comfort of their armchair), but for stills photographers, whose art is necessarily selective, shooting everything may leave your viewer wondering what they are supposed to be looking at!
Do you need a 360 camera?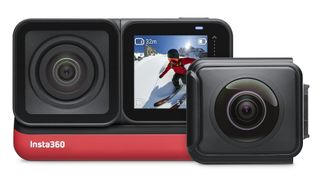 Whether a 360 camera is the best device for the stories you want to tell depends very much on the nature of those stories. If they are about you and your experience, then there's little to compete with the immersive video footage you'll get. But when it comes to stills photography, the aim is often to place a subject – rather than yourself – at the centre of attention, and compose the scene to precisely fit a specific frame – not capture everything that's visible.
Read more:
• Best 360 cameras
• Best GoPro cameras
• Best YouTube cameras
• Best drones for beginners