Macro photography opens up a brand new world of miniature details that you simply can't see with the naked eye. Take a macro lens with you the next time you're out on a walk or shooting landscapes, and keep an eye out for smaller points of interest like leaves, mushrooms and insects. If you have access to a garden you'll also be able to get plenty of practice in on smaller subjects such as flowers.
We recently caught up with small world photographer Henrik Spranz, who is best known for wonderful close-ups shot with a wide-open aperture and heaps of incredible swirly bokeh.
• Elevate your close-ups with the best cameras for macro photography
Henrik is a software developer based in Austria, but spends much of his spare time taking pictures surrounded by nature. He's developed a recognizable style, especially in small world photography with a signature fairytale aesthetic. Many of his shots have been highly commended in the wealth of international competitions he enters.
Henrik tells us his story, his top tips for macro photography, as well as the camera set-up he uses, including his favorite lenses. To see more of his fantastic macro shots and check out his workshops, be sure to visit his website.
"I got into photography in 2006 to document my travels, though a lot has changed since then. I take most of my images where I live, close to Vienna, where you can still find natural meadows and forests. In my small world nature photography, I strive to show nature's tenderness and beauty.
"I use a wide-open aperture on long lenses almost all of the time – to achieve the dreamy bokeh. An open aperture results in a very shallow focal plane, which makes it hard to focus. Additionally, I always try to use a very low point of view to be eye-level and to catch more light from the sky in the background.
"I always use manual focusing in a magnified Live View on the screen of my camera – this makes exact focusing much easier. I also use a cable release to reduce the risk of moving the camera and to shoot at the right moment – for example when the wind is calming down. For butterfly photos, I use the sturdy Berlebach mini tripod with some accessories for an extra-low camera position, or I use a bean bag or the bare ground for flower photos.
"My post-processing workflow includes some basic corrections in Lightroom like lens correction, optimization of the histogram and basic de-noising and sharpening. In Photoshop I use curves, tonal correction, mild dodge and burn techniques, and denoising and sharpening for the final result. I don't remove or add image elements apart from removing sensor dust or cropping."
Henrik's pro landscape kit
"I previously owned the Canon EOS 5D Mark III and Canon EOS 5D Mark IV cameras, which were great all-rounders, so it made sense to upgrade to the mirrorless Canon EOS R5. If it's small world photography, landscapes, portraits or even wildlife, I can use the R5 for everything – plus it's sturdy and still kind of lightweight to use. I permanently have a cable release and a Smallrig L-bracket attached to it, too."
Take a look at the best L-brackets
"Although this is a portrait lens, I like to use it with my small world photography. It doesn't have a sweet spot in the close range to subjects – and doesn't work particularly to my liking with extension tubes, but it's great if you need a shorter lens and want the lovely bokeh it produces."
"I love vintage lenses and use them frequently in my work to catch a special vibe with characteristic 'soap bubble' bokeh. Meyer Optik Görlitz reintroduced some of those vintage lenses and I'm happy to use these improved lenses such as the Trioplan or Primoplan with an increased sharpness and with a native RF bayonet."
4. Berlebach Mini tripod
"This mini tripod is sturdy and seems indestructible after all I've put it through. With my accessories I can fine-tune the position of the camera on it, and together with the L-bracket and focus rail. I can get a very low point of view without losing stability. For flower photography I mostly just use a beanbag filled with rice."
Read more: The best mini tripods
5. Canon EF 135mm f/2L USM
"While I love to use my Sigma 85mm f/1.4 lens, I also use the Canon EF 135mm f/2L USM when I need a little more reach. As an L-series lens it's optically brilliant and has a more telephoto focal length, so it's better for subjects that are a little farther away, though I can always crop a little on my EOS R5 with its 45MP full-frame sensor."
6. Meike extension tubes
"Extension tubes fit between your lens and camera body and create extra space between the two, enabling the lens to focus closer. This turns a standard lens into a macro one, but when used with a macro lens it means you can get even closer to ensure that tiny details are filling the frame."
Read more: The best extension tubes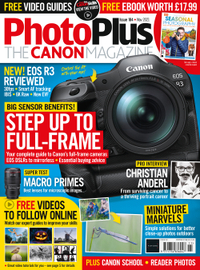 PhotoPlus: The Canon Magazine is the world's only monthly newsstand title that's 100% devoted to Canon, so you can be sure the magazine is completely relevant to your system. Every issue comes with downloadable video tutorials too.