I am passionate about landscape photography, and have been improving my technique, equipment and processing skills over 25 years. Norway, and especially its far north, have delighted me for many years. It's a stunning country that focuses on ecology, and its friendly people truly respect and care for nature.
During the past 10 years I visited Norway five times, and this is a selection of photos from my last trip to Norway, in March 2019. I flew from Poland to Trondheim, where I travelled by bus to Bodø, from there I took a ferry for a four-hour cruise to reach the Lofoten Islands.
The islands are connected by bridges and tunnels, and the places you'll find there are so photogenic, including Reine, the nearby village of Å, and Hamnøy, a small fishing village connected by bridge to Sakrisøy, another charming village. Skagsanden beach is one of the prettiest Lofoten beaches, while Uttakleiv is rocky and dangerous, especially in winter, due to icy stones. The lush island of Senja is one of the more mountainous islands in Lofoten.
Spirit in the sky
The landscape of the islands is charming; all around are mountains covered with snow surrounding small bays where we meet marinas full of fishing boats and the small red houses so characteristic of this part of Norway. The climate is harsh, but also impressively beautiful; there are waterfalls everywhere fed by melting glaciers, and there are places where one gets the impression that nobody has looked upon the landscape in aeons.
The aim of my trip was to shoot the Northern Lights. Hunting the aurora meant visiting many places and a few sleepless nights. But despite the fact that I hunted for it every evening, I only managed to capture it once… After several hours checking the forecast of its activity levels, it finally appeared, and for 45 minutes it shone with an alluring glow, dancing in the sky with changing intensity and shapes.
My current camera is the Nikon D850, which has helped me a lot in my adventures. It is superb for landscapes, due to its huge sensor resolution that produces vivid, detailed pictures. But of course, the camera is only half the story – it's the combination of Nikon's brilliant optics that help to create these landscapes. I use the Nikon AF-S 24-70mm f/2.8, Nikon AF-S 80-400mm f/4.5-5.6 tele-zoom and Nikon AF-S 14-24mm f/2.8 wide-angle lens – I have had mine for 12 years and it works brilliantly every time. To keep everything stable, I used a Manfrotto tripod along with a Manfrotto head. And I utilize filters to get the aesthetic I want; the NanoPro series from Haida is fantastic quality.
A few words to those who are going to Norway: get ready for the trip logistically, get your bearings, preferably in the form of GPS, as some places are away from the well-trodden path… Plan thoroughly so that there are no unwelcome surprises!
Read more:
Best Nikon cameras
Best travel cameras in 2021
Best travel tripod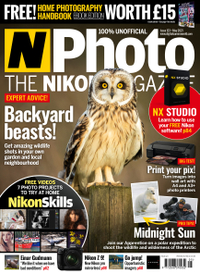 N-Photo: The Nikon Magazine is a monthly publication that's entirely dedicated to Nikon users. For the best news, reviews, projects and more, subscribe to N-Photo today!