Photographers with a couple of Nikon lenses in their kit bags have never been short of choice when it comes to affordable DSLRs.
The D3000 line dates back to 2009, and Nikon has brought out regular replacements since then. The 14.2MP D3100 appeared on the market in 2010, and this was followed by the D3200 in 2012. Further upgrades saw the D3300 launched in 2014, before the D3400 arrived last year.
Each camera in the D3000 line has proved popular, with photographers finding the models easy to use and offering competitive image quality. But how do Nikon's two most junior DSLRs stand up against each other? And should D3300 users be upgrading to 2016's D3400 model?
• Read more: Nikon D3500 vs D3400
Nikon D3300 vs D3400: Sensor and processor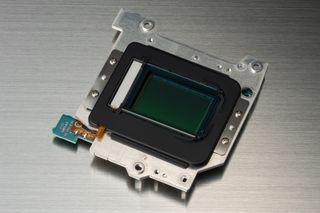 Nikon D3300: 24.2MP APS-C CMOS sensor, ISO 100-12,800 (exp. 25,600), EXPEED 4 processor
Nikon D3400: 24.2MP APS-C CMOS sensor, ISO 100-25,600, EXPEED 4 processor
Although there is a two-year gap between the launch of the cameras, it's interesting that they share the same sensor resolution. Both cameras are designed with a 24.2MP APS-C-size (DX format) sensor, and these have a 1.5x crop factor on all mounted lenses.
Where the DSLRs do differ, however, is with their ISO levels. Although the maximum ISO of 25,600 is the same for each unit, the newer D3400 has this level as a native ISO ceiling, while D3300 users must access the expanded ISO range to select a setting equivalent to ISO 25,600.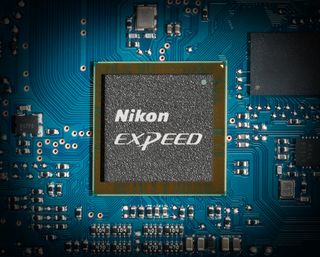 Both cameras also shoot 12bit Raw files as well as JPEGs with a maximum image size of 6000x4000. This is high enough to print images to A3 in size, or A4 when you have cropped into the image.
When compared to the cameras' rivals at the time of their release, Canon's EOS 700D (released in 2013) only offered an 18MP sensor, though 2017's Canon EOS 800D upped this to 24MP.
The two cameras also share the same processor, which is Nikon's EXPEED 4 unit. This is the same engine that's gone on to star in many subsequent models, such as the D5600 and the D7200.
Nikon D3300 vs D3400: Video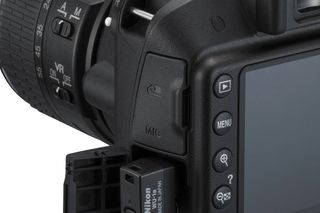 Nikon D3300: Full HD recording up to 60p
Nikon D3400: Full HD recording up to 60p
Even though the two models are entry-level DSLRs, both cameras are fairly capable in the video department, with Full HD (1080p) video recording possible on both bodies.
Footage can be captured at a number of different frame rates, including the standard 24fps rate, the more web-friendly 30fps, and 50/60fps options too. Keen videographers will know that by using the 60fps option, footage can be altered for a dramatic slow-motion effect.
What's interesting about the video modes on both cameras is that, despite the difference in age between the two, specifications are almost identical. Interestingly, the one point of difference is actually a massive plus point for the older D3300; this model includes a port for an external microphone, while the newer D3400 lacks this option and can only record audio from the built-in mic.
Recording audio from a built-in mic isn't desirable as these are more prone to picking up the hum caused by the lens' autofocus motor, as well as other operational sounds. However, with the D3300, you'll be able to get far better audio by simply plugging in an external mic, of which there are many options at budgets to suit all.
Nikon D3300 vs D3400: Burst shooting (fps)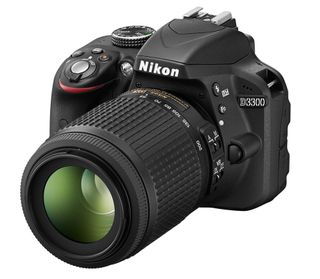 Nikon D3300: 5fps
Nikon D3400: 5fps
Again, despite the age difference between the two cameras, both DSLRs shoot at a maximum burst rate of 5fps.
While not blisteringly fast, or able to match the rates of more advanced Nikon cameras like the much newer Nikon D7500 (8fps), 5fps is decent for an entry-level DSLR, especially with a fairly beefy 24MP resolution. The burst rate is also on a par with Canon's EOS 700D, so both cameras are in no way underpowered in their class.
When shooting JPEGs, both cameras have a burst depth of up to 100 frames, but the situation changes slightly when using Raw or Raw+JPEG formats. The D3400 will last for 12 Raw files and 6 simultaneous Raw+JPEG frames, which is a small improvement on the D3300's 7-frame Raw depth and 5-frame Raw+JPEG depth.
Nikon D3300 vs D3400: AF system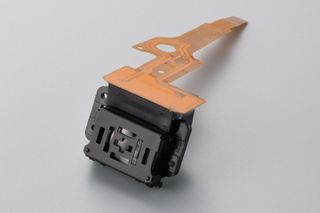 Nikon D3300: 11 AF points, including one cross-type point
Nikon D3400: 11 AF points, including one cross-type point
Much like the burst-shooting specs, the D3300 and D3400 offer the exact same autofocus specs.
The autofocus system inside both bodies makes use of Nikon's Multi-CAM 1000 module with TTL phase detection, and all the typical Single-point, Continuous focus and Manual focus options are present on both cameras.
Both offer 11 AF points to choose from, with the middle AF point being cross-type. This middle point is more sensitive and able to focus more accurately in low-light conditions than the ten that surround it.
A contrast-detection autofocus system also works when the camera is set to its Live View function, which displays the scene on the LCD monitor rather than the viewfinder.
Read more: The best cameras under £500 right now
Nikon D3300 vs D3400: Viewfinder and LCD
Nikon D3300: 3in fixed LCD with 921k-dot resolution; eye-level pentamirror viewfinder with 95% coverage and 0.85x magnification
Nikon D3400: 3in fixed LCD with 921k-dot resolution; eye-level pentamirror viewfinder with 95% coverage and 0.85x magnification
Again, with regards to the LCD screens and viewfinders, the parallels between the two cameras continue.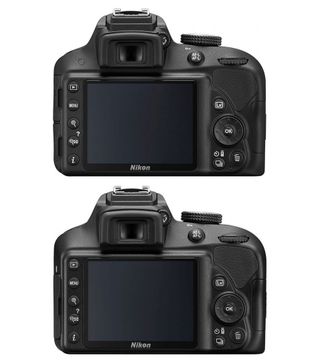 While both cameras boast decent LCD-screen resolutions of 921k dots, the fact that both screens are fixed in place is more of a disappointment.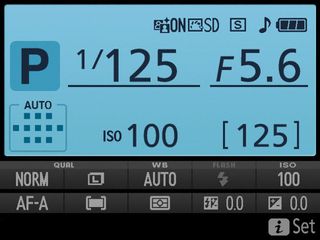 The Nikons' closest rival, the Canon EOS 700D, sports a Vari-angle screen, which is more useful when trying to set up those awkward low- or high-angle compositions, and better when shooting movies too.
Nikon D3300 vs D3400: Build and design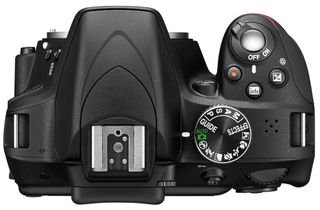 Nikon D3300: 124 x 98 x 75.5mm; 460g with battery and memory card
Nikon D3400: 124 x 98 x 75.5mm; 445g with battery and memory card
Both the D3300 and the D3400 are classed as entry-level DSLRs, which means those buying them are usually keen to keep weight and size down to a minimum. Given this, the dimensions of both cameras, which are almost exactly the same, will please those looking for power and precision in a diminutive package.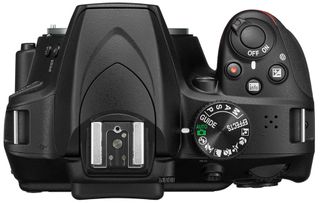 Both cameras weigh less than 470g with their respective batteries and a memory card in place, and so are perfect for carrying around all day long without bother. The newer D3400 is marginally lighter (15g) but this won't make any practical difference.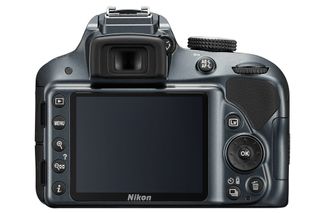 The button configuration on the rear of the two cameras is exactly the same, including a D-pad to access options and a command dial to adjust settings. The body of both cameras is made from polycarbonate – not quite as robust as the magnesium-alloy builds from more expensive such as the Nikon D810, but both cameras are still sturdy enough and capable of taking the bumps and scrapes from everyday photography.
Read more: Nikon D850 vs Nikon D810: Specs compared
Nikon D3300 vs D3400: Other features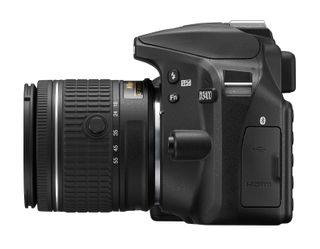 Nikon D3300: No Bluetooth
Nikon D3400: SnapBridge (via Bluetooth), smartphone control
While the D3300 and the D3400 are very closely matched in terms of features, there are a couple of difference that could affect your buying decision.
The most significant of these revolves around connectivity; while the D3300 fails to offer any built-in Bluetooth features, the new D3400 does indeed include Bluetooth technology (with Nikon's SnapBridge connectivity system).
This is an important feature for those photographers wishing to connect their camera to a smartphone or tablet and quickly transfer images before sharing them online.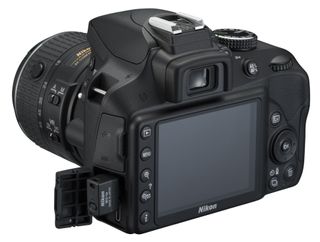 Wireless transfer is still possible using the optional WU-1a adapter, however, and the D3300 does at least keep up with the D3400 in many of the other areas.
Both have a built-in flash and a hot shoe to take an external flash or wireless trigger. Both also boast face-detection autofocus, which can be useful when shooting portraits. Lastly, both cameras offer a range of special filters - dubbed Effects – that enable you to capture creative and arty images without the need for any processing work in Photoshop.
Nikon D3300 vs D3400: Battery life
Nikon D3300: 700 shots per charge
Nikon D3400: 1,200 shots per charge
While battery life is rarely the main reason behind a camera purchase, it can prove to be one of the recurring reasons why you come to love (or loathe) your DSLR.
A battery that runs out quickly will require charging more often, and might force you to buy an additional one so that you always have a fully-charged one to hand. Fear not though: both the D3300 and the D3400 return excellent battery-life results, although one camera certainly excels here, despite the fact that both use the same rechargeable Li-ion EN-EL14a cell.
The D3300 gives around 700 shots per charge, which should cover a day out with the camera – although it should be remembered that excessive use of Live View or long exposures will drain batteries faster. The more energy-efficient D3400, however, is good for up to 1,200 shots between charges, so if you are looking to travel to areas where recharging points may be scarce, this may well affect your buying decision.
Verdict
Like many incremental upgrades in the entry-level DSLR market, it's fair to say there isn't a huge amount of difference between the D3300 and D3400. Collectively, however, those little differences could have a big effect on your shooting.
Both cameras have the same sensor resolution, burst rate and autofocus systems, but if you are looking to buy one of these cameras for video work, the older D3300 has the edge, thanks to its port for an external microphone.
Alternatively, if you are looking at both of these cameras with a view to uploading images on the move, then the simple choice is the D3400 with its Bluetooth technology. For more general photography, the D3400 is also the better choice thanks to its ability to take an extra 500 shots between battery charges.
Read more: The best cameras under £500 right now