Summer has arrived early in Kuusamo, a small town in Finland's northeast, close to the Russian border. Here the winters are long and bitterly cold, but the attractions of snow-covered trees, frozen lakes and the Northern Lights make it a popular destination for landscape photographers from the world over.
It's 20:00 on June 01 when I speak to Eeva Mäkinen, who is sitting outside, listening to the local birdsong near the lakeside where she lives. "It's a beautiful evening here," she says, happily. "The summer came around one and a half weeks early. Usually this time of the year we might still have some ice on the lakes, but now as I'm sitting on our own lake shore, the trees have leaves already and it's really summery, 20 degrees!" (68°F)
Nature is your first love. Was photography also an interest for you as a child, or did that develop later on?
I think photography came a little bit later. I was always interested in photos, but I grew up in a place where there are a lot of famous bird photographers, and when I was a kid they made a big impact on me, but I didn't think it would be possible for someone like me to actually do a similar thing.
Of course, I don't now do the same thing, although I was always interested in nature photography, but it was surprising how everything turned out.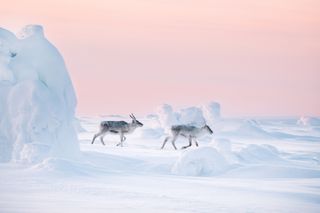 You also work as a tour guide. Are they photo-related?
Yes. We only do one or two tours in a year because that's not our main thing. Me and my boyfriend, we really love connecting with like-minded people and taking them to places that we find special. So, that's like a special event once or twice in a year, we take people with us. We don't want to do it more because then it becomes too touristy, if you know what I mean.
It's important to find your niche, so what is the main focus of your photography?
It's definitely more landscapes than animals or birds. It's for fun if I shoot birds or animals – there's a woodpecker next to me now! When we moved here, my dream was to start doing a little bit more bird and animal photography, so we are building a place where I will have the capacity to shoot close to home and observe nature closer, because every time you're traveling somewhere, it's harder to do so. It helps to really know the place, and know the environment that you're shooting.
You've said previously that fall is your favorite season; is that because it's quite brief?
Yes, exactly. It's really, really, short, but the colors are amazing and there are no mosquitoes, which is nice! I love that kind of temperature when it's not so warm any more. I love camping and hiking, so that goes well with landscape photography. Also, autumn is definitely the best season for hiking and everything looks beautiful.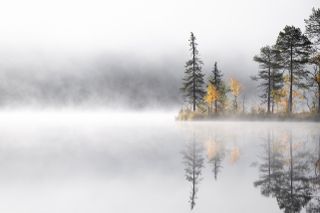 What is your core camera gear that you take when you go out to shoot your landscapes?
During the winter, the gear I have is a little bit different than in summer. During the winter, I always have a wide-angle lens with me; during the summer and autumn, I hardly ever use that. I rather use a 70-200mm or even a 35mm and 85mm, and I always have the basic 24-70mm in my backpack. I don't know if this is the same for everyone, but I have seasons where I like certain lenses.
In spring I wouldn't go anywhere without my macro lens, because now all the small details are coming up and it's really beautiful. At the moment, I like the prime lenses, 35mm and 85mm. And the 70-200mm – so those four lenses are my favorites at the moment for this season.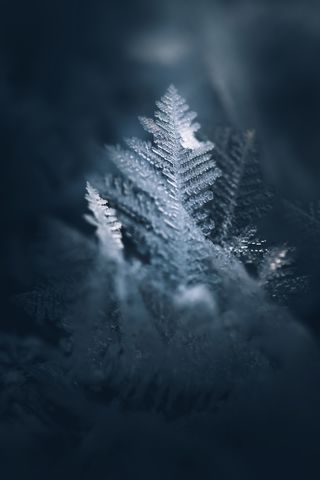 But in the winter you favor using the wide-angle lens?
Yes, wide-angle, and of course the 70-200mm is always with me. During the winter, I don't really go anywhere without the wide-angle because I really love night skies. They're beautiful here, and you never can know what you will see.
The light differences between midsummer and midwinter are extreme where you live, so how does it affect your shooting?
When I was starting to learn about my own gear and the light, it took a while before I realized what kind of light situations I like, and what kind of light I really want to go for. I was trying so many different things and, at the end of the day, I decided some things weren't for me.
For example, I'm not a big fan of sunsets, which is weird for a landscape photographer. But I notice the light is so much softer in the morning, so I always prefer the mornings and the night-time. Also, the light here changes so fast that you only have two weeks of similar light, and then it changes again.
I write all the little details that I have noticed; like during the winter if I'm shooting at night-time, what side of the moon is the best and the height of the moon. For example, when shooting snowy trees, I think the moon should be 30 percent to 50 percent, but you need to have it at a certain angle to get good light through the trees.
That's astonishing. It must have taken you years of observation to work that out?
Of course, I've made lots of experiments and mistakes. When I was younger, I was camping a lot during the winter – I still do – but I didn't take into consideration so many variables when I was trying to create something similar that I did the previous year. Then I realized this doesn't happen because something else is different.
So, in effect, because of the way the light changes, it's almost impossible to repeat a shot?
Yes, exactly. Or at least, I think it's like that, because I have tried to repeat different things. For example, in February you have a three-day window for a certain size of the moon, and if it's cloudy at that time, you can't get the shot!
So you must study the weather forecast and the moon phases very closely?
Yes, every day, although not the moon during the summer. When we take our guests on a photo tour, it is always planned for a certain moon phase in the winter.
You use the Z series now as well as the D850. Do you prefer one system over the other?
I only use the Z series now, because I have learned to use it and it is so much lighter. It's made things easier, especially when hiking and ski-hiking, and you can pack a little bit less weight. Also, when you're really tired and you should take the last photo, I find it a bit easier for your mind to take the lighter camera.
Are you likely to get rid of your D850 as a result of the benefits the Z series brings?
Maybe at some point. I still use it in situations like the winter, when there are a lot of Northern Lights; then I might be taking time-lapse on that camera. But I haven't decided yet whether I want to go full-on with the Z or still keep it. I don't know yet.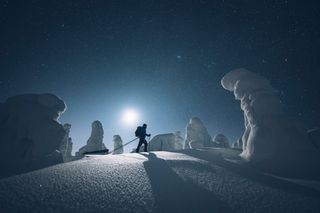 One of your clients is Arctic Blue Gin. Is that a product that required you to find a suitable location?
Yeah – for example, now I've been shooting again after last summer, autumn, and winter. Obviously, we have four seasons in a year, and I shoot all its four products every season. So, I basically carried four bottles of gin in my backpack for the past year – without opening them!
It must be very tempting when the backpack gets too heavy, not to open the gin!
True. But when it is so cold during winter then it's not so sensible to open a bottle, but I think autumn is a little bit tempting because you have all the blueberries on the ground. But I've never thought about it that way.
It's really fun, I love the colors they use and that they ask me to use around the shape. For example, in winter I took photos with the Northern Lights and another photographer asked me, "Do you really do this without double exposures or Photoshopping, or anything like that?"
My goal is always to try to create everything as natural as it can be. That photo also came with the moonlight because I knew what type of moonlight I can do with the Northern Lights and the bottle in a natural way. And I made it!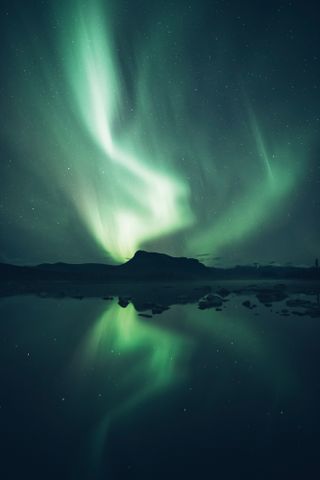 With all your low-light and winter photography, you must be very familiar with tripods?
Kind of! I don't like tripods that much because they're usually heavy, especially when you go hiking. I've tried taking the smaller Gorillapod with me because it's more compact. Of course, during the winter and at night I use it, but I would say I hardly ever use it in any other situation.
So you prefer to increase your ISO to maintain your shutter speed?
During a low-light situation, like at dawn, I'd rather do that than take the tripod. Of course, during the night it is totally different, and you're usually sat in one place instead of walking and observing different surroundings. It's a little bit easier then to use it as well.
I like your philosophy, to get everything right in camera. Has that always been the case?
Yep! Once I tried adding this natural-looking steam for a product to try to create some mood, and I hated it. It wasn't my thing at all. I'd rather wake up at three in the morning and wait for one week to get the fog and the sun in a perfect way and to get the photo in a natural way, rather than try to create it in Photoshop or Lightroom.
When it comes to photograph the Nordic winters, what's the best advice that you would give to others?
The advice is obvious – to always have enough clothes, and enough food and enough hot drinks to keep your energy levels up. So often it is always the last photo that you don't take because you're too cold or you're too tired, or you don't have the energy and you want to go home and you don't want to wait. And then the last photo is usually something spectacular, like an amazing aurora, or amazing light! That always happens, and instead people give up a little too early and go to sleep.
You can find out about Eeva's photo tours at her website.