In recent years Ellis Van Jason has made a name for himself in the niche world of FPV drone cinematography. Mounted to his custom-built drone is a de-cased Blackmagic Pocket Cinema 6K Pro camera, which allows him to shoot footage with a quality that goes way beyond what we are used to seeing from the best FPV drones.
Ellis's breathtaking videos may make the whole process look effortless, but a lot of work goes into each shot, even if it lasts for just a few seconds on the final video. Having studied Mechanical engineering, Ellis Van Jason approaches the practical side of filmmaking a little differently from his contemporaries.
Taking a screwdriver to a camera, removing the case, changing the mount, and repackaging it all to fit on top of a drone would fill most filmmakers with fear. The anxiety of losing a tiny screw isn't something that concerns Ellis; eventually, his flying camera will be moving through the air at over 100km/h, and the threat of a stray tree branch presents much more of a problem.
Ellis Van Jason is a professional drone pilot and engineer, videographer and FPV flyer for cinema, commercial and documentary projects. In the Cinematic FPV Masterclass available on his website, he shares over 7 hours of lessons and tutorials, editing tips and the secrets behind his Instagram Reels. To see where Ellis is flying next, follow @ellisvanjason on Instagram or YouTube.
Ellis Van Jason Interview
Shooting First Person View (FPV) drone footage started as a hobby. "I was traveling and shooting videos with an action camera and basic off-the-shelf drone," says Ellis. "My partner and I would create these videos of our travels. Over time we got better cameras and better lenses. Through my brother, who is much more of an artistic filmmaker, I discovered the Pocket Cinema Camera 4K. It didn't require rigging and so it instantly appealed, particularly at that price point as I was just starting out."
When Blackmagic released the Pocket Cinema Camera 6K Pro came out, Ellis was one of the first to upgrade. "There were some great features such as a brighter screen and internal ND filters. I feel Blackmagic really listened to feedback from filmmakers. I always loved the Blackmagic approach; They build an affordable camera that is good enough quality to match the big names in the filmmaking camera market. I like that because creativity should be for everyone."
Ellis has been using his Pocket Cinema 6K camera for nearly two years now, and he likes to keep his filming setup as straightforward as possible. "I keep it simple. I don't want to use a grip or a cage. I put the camera on a gimbal and mount the SSD on top. That's it."
Alongside his filmmaking, Ellis was designing and building drones and becoming a skilled FPV pilot. "In Switzerland, we don't have a big drone racing community. I wasn't chasing cars or motorbikes like other FPV drone filmmakers. I had a different approach. To build a name and establish myself, I initially focused on long-range shots of the natural world."
At first, the FPV videos that Ellis was shooting were something to complement the travel videos he was shooting. "I was shooting the FPV drone videos on the side. It was just a passion, but people appreciated how I shot," remembers Ellis.
"You know, I love it. It combines my passion for videography with something technical. I was building so many drones. You have to design them, sit down and solder them. I'm working with electronics, carbon, aerodynamics – the whole technical aspect, combined with my filmmaking passion."
It was only a short time before mounting an action camera to a drone wasn't enough for Ellis, and he was looking at ways to get the quality he was used to from his Blackmagic cameras. "People will put heavy and expensive cinema cameras on huge drones. It can be a huge risk. I could always mount the Pocket Cinema camera on a drone, but there are issues with form facto. I realized that by decasing it – literally taking the camera out of its case – I could mount it on an FPV drone and reduce the camera's weight by a third to a half. This is a huge amount of weight when designing and building a drone."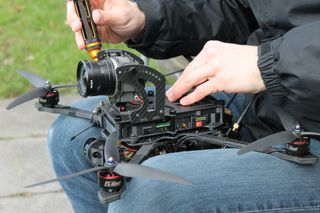 Decasing Blackmagic's Pocket Cinema camera
So decasing Blackmagic's Pocket Cinema 4K and 6K is precisely what Ellis did. He wasn't alone in the project, though, with many drone enthusiasts collaborating via internet forums to work out how to reduce the camera down to its core parts and then package it in a 3D printed case to mount to a drone. "I even changed the lens mount," said Ellis.
With every gram of weight affecting the balance and flight time of the drone, Ellis wanted to use the small compact wide-angle lenses developed by Venus Optics, but they are designed for either the Sony E or Canon RF mounts. Again, with no fear of missing screws or breaking the camera, Ellis swapped Pocket Cinema 6K Pro's EF mount for an RF mount, allowing him to use smaller lenses that mount close to the sensor, resulting in better balance. "I now have an RF mount decased Pocket 6K Pro camera mounted on a drone," he reveals with a smile.
Another key reason Ellis likes Pocket Cinema Camera is the recent addition of gyroscopic metadata for stabilizing in post. "Before I had to use an external gyroscopic data logger and combine this with my footage. But now the camera embeds gyroscopic data directly into the video file. I can just load the video files into a program called GyroFlow which can read the BRAW files and gyro metadata. It is one of the main reasons I am using this camera on a drone."
The custom aircraft and camera allow Ellis to shoot in the sky with the same quality as when on the ground. He has access to the same 6K raw or Pro-res footage enabling him to edit and color grade in Davinci Resolve seamlessly.
And people have started to take notice of the quality and eye of Ellis' FPV work, with major British natural history production companies employing him to work on projects. But he is also keen to work on his own films. "I always want to bring something out that people can enjoy. I need to tell stories and capture unique moments."
Last year, Ellis shot a spectacular video of Namibia, filmed entirely on his FPV drone. However, the film was made possible thanks to working with a team dedicated to conserving and protecting wildlife.
"You always have a visual observer for the welfare of the wildlife," says Ellis. "FPV drones aren't there for observation, they are designed to fly precisely where the motion or action takes place. You don't hover around for 20 minutes until the battery starts to die. I always have to think about the shot I want and what will work best for an FPV shot."
"I work with the guides to check the animal and even how they may behave at certain times of the day as each animal is different, and I don't just mean the species. That's why the guides are there to help. If it isn't the right situation to get a shot, I won't."
In the coming year, Ellis is planning more spectacular FPV videos showing the most beautiful views our planet has to offer, and the reward is the appreciation that people worldwide have shown him.
"Many people from the places I shoot reach out to me and thank me as they are proud of their country and how I filmed it. It has motivated me to do more of these passion projects."
Get the best footage from an FPV drone
Preparation
There are some practicalities to flying a drone, particularly a blazingly fast FPV drone. One of the primary considerations is that the flight time on a single battery is around four to seven minutes. This means that Ellis takes up to 20 batteries with him while traveling, but this means planning ahead.
"Whenever I go into an airport, I make sure I allow myself at least 15 minutes to go through security on top of the usual allowance. And I always stick to the guidelines; Each battery is below 100wh, and I don't carry more than 20. But someone will always ask, 'Excuse me, is this your case?'. I've never had any real trouble but give yourself extra time, be calm and polite and explain what you are doing."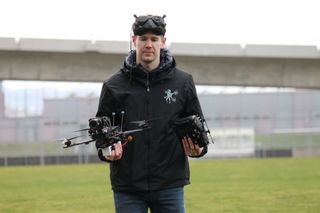 Shot Planning
'I'm always thinking about how the shot helps the story. What's the purpose behind the shot?" explains Ellis. "I was never the guy flying through things as fast as possible. I always approach each flight thinking about the angles to make the cinematography the best it can be."
Because of the speed of the flight and the short flight time, Ellis thinks about every shot before he does it, particularly when filming wildlife is involved.
"For example, hovering and filming static subjects over a longer period of time does not look good when filmed with FPV drones. As drones usually fly at relatively high speeds, they aren't good for observing behavior from a filming perspective. However, a simple fly-by at speed not only looks great but will afford you time to shoot multiple takes or different perspectives in a very short space of time due to the fast movement through the environment."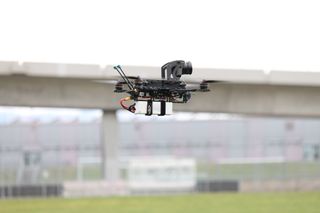 Lens selection
While the basic principles of exposure are identical, there are other considerations when shooting at speed in the air. The first thing that Ellis has to consider is his choice of lens. Small and light is a crucial feature, with Ellis choosing the Laowa 7.5 f/2 and 9mm f/2.8 Zero D lenses by Venus Optics. He and his friend have modified a Blackmagic Pocket Cinema 6K camera, adding a Canon RF mount so that he can take advantage of these smaller and lighter Canon RF lenses.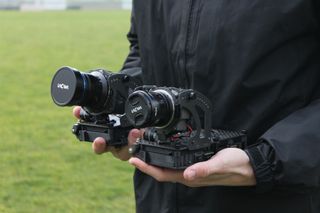 "If you fly through a gorge with a wide angle, it looks enormous, and it seems like you're flying fast the closer you are to the ground. Having a really wide lens definitely makes the FPV look more immersive."
There is another advantage to shooting in wide-angle, and that is when it comes to post-production. Ellis can use the gyroscopic data that the Pocket Cinema 6K embeds in the video file to stabilize the footage in DaVinci Resolve. With 6K resolution, the software can stabilize and crop the footage whilst still producing a high-resolution 4k output.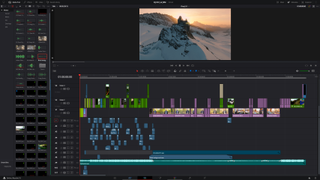 Exposure
Exposure can be very complex when it comes to drone footage, as there are many moving parts.
"You're changing direction so often, so you must consider changes to the light. If I fly in this direction, I get a lot of light. If I go in the other direction, it's dark with lots of shadows. Likewise, you will see the drone's shadow on any surface if the sun comes from a particular direction. There is so much thinking to do before you even take off."
"Once you have planned your shot based on the light, you can set your aperture. I usually go for something between f/4 and f/8. I focus just before infinity so that I have everything in focus from a few metres to infinity. I could shoot at f/22, but it is never as sharp and doesn't look as good when you are flying towards the sun."
"As for shutter speed, the 180-degree shutter rule is not designed for a camera that flies at over 100km/ph. I have to deal with rolling shutter and motion blur. The software stabilizes footage better when the shutter speed is faster; it is easier to track and reposition the image if there is less motion blur. If I am tracking a subject and have to do a lot of movements, I will typically use a 90-degree shutter."
Ellis's hard work in each shot is worth it when he gets feedback on his FPV films. He takes viewers to places where they may never set foot and shoot iconic landscapes in a way they have never been seen before.
---
You might also like the best FPV goggles for drone pilots.