Photography holds the power to awaken the mind, ignite curiosity and deliver strong messages through artistic imagery. That is precisely the purpose of this still created by photographer Peter East-Hall, who used a surreal approach to reflect upon the issue of consumerism prevailing in the world today.
"Before taking this image, I was talking to the conceptual artist Lorrain Mailer about her installations, which focus on environmental responsibility," he said.
"We spoke about how plastic is so widely used and is going to be in our environment for much longer than its use. This photograph relates to this topic, addressing how the extensive use of plastic is getting into the ecosystem, even into our bloodstream, and the consequent impact on our environment. I wanted the photograph to be dramatic, thought-provoking and visceral.
"I live near the English Channel, so we didn't have to go far to find a location for this art installation. The shingle beach at Dungeness combined with the undisturbed sky offered the ideal background – it was a one-shot opportunity, the right weather, clouds and light.
We used plastic from some packaging and my husband was the model. The wind was perfect that day, breathing life into the plastic material and adding dynamic movement and structure. However, the wind also presented a few challenges. We didn't want the plastic to be blown into the sea, so we had to work with the wind. To bring out the texture, light and folds of the plastic, I changed the image from color to black-and-white in Lightroom."
Peter Easthall is a photographer and a member of the Societies of Photographers and the Ashford Visual Artists. He lives on Romney Marsh, near the village of Lydd on Sea in England, and has been passionate about photography since childhood. Peter enjoys creating art from his images and collaborating with other artists, taking inspiration from nature and often capturing things that might otherwise go unnoticed.
Tech details
Camera: Nikon D3400
Lens: Nikkor 18-55mm f/3.5-5.6G VR
Aperture: f/6.3
Shutter speed: 1/250 sec
ISO: 200
Focal length: 55mm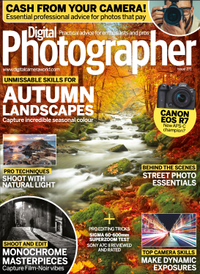 This article originally appeared in Digital Photographer, a monthly magazine, and the kitbag essential for pros, enthusiasts, and amateurs alike!
Inside, you'll find practical guides, shooting tips, and techniques from working photographers, plus all the latest industry news. See our Black Friday subscription deals
You might be interested in the best cameras for black and white photography, as well as these Lightroom tutorials and free Lightroom presets.