It's the end of another weekend working from home, and if you're anything like us then your watch list on Netflix is running a tad dry. Not to worry! We've put together a list of the 25 best films about fictional photographers – though they aren't as abundant as you might imagine.
Indeed, given that filmmaking and image-taking have so much in common, it's a little surprising there aren't more movies centered around photographers (not including protagonists who occasionally wield a camera on screen, like Julianne Moore in Jurassic Park: The Lost World).
• 10 best online photography courses
If you look hard enough, though, it's possible to find some real gems – many of them starring some of the best-known actors and actresses in the history of Hollywood, James Stewart and Faye Dunaway to Clint Eastwood and Meryl Streep.
This article brings together 25 of the best fictional movies where the main characters come complete with cameras. So whether you're looking for a drama, comedy, thriller or horror, read on to discover the top flicks about press photographers, photojournalists, fashion photographers and more.
And if you're in the mood for biopics and documentaries about real-life shooters, check out the 25 movies about real photographers!
01. Rear Window (1954)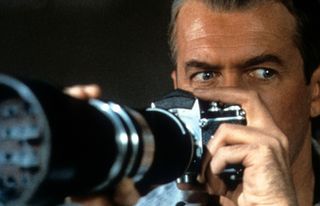 Widely considered one of the greatest films ever made, Alfred Hitchcock's classic thriller revolves around a New York magazine photographer (James Stewart) who's broken his leg and is confined to a chair during a heat wave. He passes the time by watching, and ultimately photographing, his apartment block neighbours with his Exakta. A thrilling watch even 64 years after it was made, the film also asks some important questions about the lines between public and private, and between professionalism and voyeurism; questions that in today's social media age seem more relevant than ever.
02. Blow-up (1966)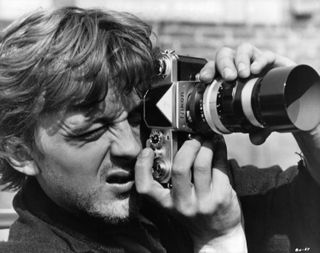 Inspired in part by the life of David Bailey, Blow-up was the movie that most successfully captured the spirit of Swinging Sixties London. A mystery thriller about a fashion photographer (David Hemmings) who believes he's unwittingly captured a murder on film, it was based on a story by Argentine novelist Julio Cortázar. It looks a bit rough and ready in places today, but there are still some terrific performances, as well as fun cameos by the movers and shakers of the time, including Jimmy Page, Jeff Beck, Janet Street-Porter and Michael Palin.
03. Eyes of Laura Mars (1978)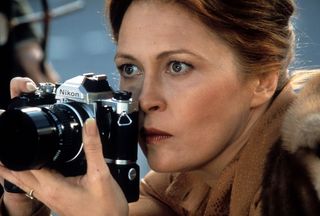 Eyes of Laura Mars is a murder mystery centred on the titular fashion photographer (Faye Dunaway), who suffers a series of increasingly strange visions. Hollywood's first big attempt to ape the Italian 'Giallo' style, this is wildly over-the-top stuff, leading it to become more of a cult favourite than a true cinematic classic. But that said, the portrayal of photographer Mars is pretty spot on; the character was heavily influenced by the work of Helmut Newton, and he even provided some of the photos used for the film.
04. The Year of Living Dangerously (1982)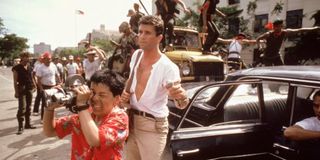 In this Australian romantic drama, a young reporter (Mel Gibson) tries to navigate the political turmoil of Indonesia during the rule of President Sukarno with the help of a diminutive photographer (Linda Hunt). It's worth the watch just to see a female actor playing a male dwarf so convincingly; if you didn't know, you wouldn't know. But more generally, it's a superb slice of intelligent cinema, that doesn't insult the audience's intelligence and rewards it with complexities and nuance.
05. Under Fire (1983)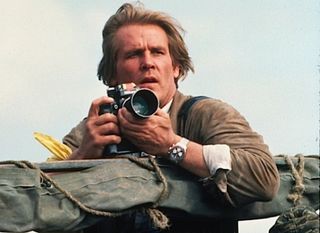 This American political thriller stars Nick Nolte as a seedy photojournalist determined to get his shot during the last days of the Nicaraguan Revolution. This fictional tale was inspired by the real-life murder of ABC reporter Bill Stewart and his translator Juan Espinoza by National Guard forces on June 20, 1979. And it does a great job in conveying the blurred lines between idealism and cynicism, adrenaline and horror, that comes with working as a photographer in a conflict zone.
06. Salvador (1986)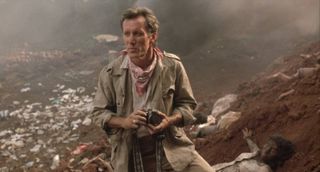 One of the first and most critically successful of Oliver Stone's movies, Salvador tells the story of Richard Boyle (James Woods), a US journalist covering the Salvadoran Civil War who tries to help his girlfriend and her children escape the conflict. While this isn't really a film about photography (it's more a critique of American foreign policy), we do get some insight into what drives war photographers, such as the scene in which Boyle and his friend Cassady discuss what makes iconic figures like Robert Capa so great. "He got why they died," says Cassady. "That's what Capa caught, he caught that moment of death. You got to get close, Rich, to get the truth."
07. Proof (1991)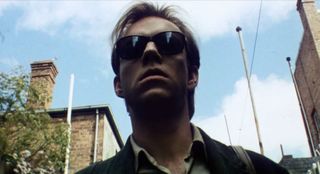 Proof is an Australian comedy-drama starring Matrix star Hugo Weaving as a blind photographer who uses a camera to record places he visits, then asks people to describe them to him. It's an unusual and original premise to examine what lies behind our societal relationship with photography. And what's more, it has some great, complex characters and excellent performances by Weaving and co-stars Geneviève Picot and Russell Crowe.
08. The Public Eye (1992)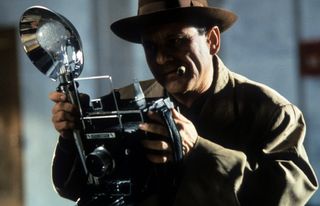 The Public Eye is a 1940s-set noir film following a character loosely based on New York Daily News photographer Arthur "Weegee" Fellig. Joe Pesci puts in a great performance as lead character Bernstein and beautifully conveys the relentless, obsessive drive of the most successful tabloid photographers. In general, the film is packed with colourful characters, benefits from a pacey plot, and some of the photography used is actually that of the real-life Weegee, which is a lovely touch.
09. Bridges of Madison County (1995)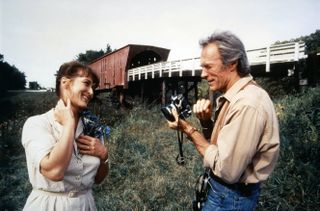 Bridges of Madison County is a gentle drama about an Italian war bride (Meryl Streep), who meets a National Geographic photographer (Clint Eastwood) while he's shooting a story on the covered bridges of the county with a Nikon F. The photography is mainly a visual backdrop for the romance, but it's a beautifully observed backdrop indeed, and a bittersweet reminder of the days magazines actually had the budget to send photographers off on epic shooting adventures.
10. High Art (1998)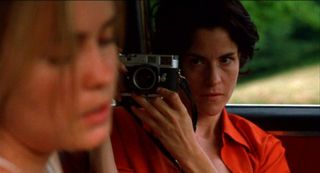 It may have been a small indie movie, but High Art has since gained a cult following and stands up well 20 years on. This moody, melanchoic and masterfully art-directed film focuses on a young intern at an art-photography magazine (Radha Mitchell) who falls for a drug addicted photographer (Ally Sheedy). As their relationship evolves, they each attempt to exploit the other to advance their careers. The photography used in the film, created by Jojo Whilden, is based on the work of Nan Goldin, and overall this is a brilliant meditation on the grey area between the personal and the professional.
11. Pecker (1998)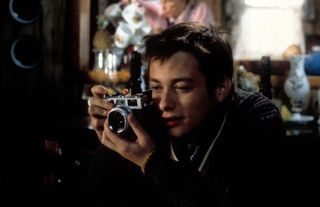 Pecker is another indie film based in the world of photography, released in the same year as High Art, but represents an altogether different proposition. This quirky comedy tells the tale of a sandwich shop worker (Edward Furlong) who stumbles into fame when his blurry pictures are "discovered" by a New York art dealer. A fun parody of the pretension and excesses of fine-art photography, this movie isn't particularly deep but it is very amusing in places.
12. One Hour Photo (2002)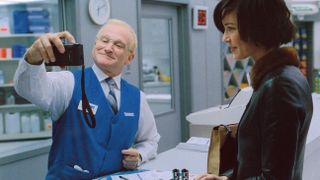 Unlike most of the films on this list, One Hour Photo is not about a professional photographer but a photo technician, who picks up a camera and becomes a paparazzi-style stalker. The main draw here is seeing comedian Robin Williams play brilliantly against type. A solid genre film about the disturbing power a lens can have in the hands of, well, basically a creep.
13. City of God (2002)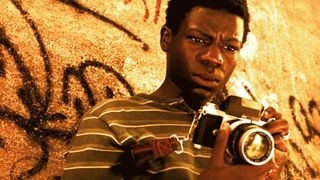 One of the best films of the century so far, City of God is a Brazilian thriller that's loosely based on real events. Part coming-of-age movie, part crime-drama, it centres around two friends in the slums of Rio, whose life-paths diverge as one struggles to become a press photographer and the other a gangster. It's a compelling drama that moves at frenetic speed and intoxicates you with its breathtaking and frequently terrifying scenes.
14. Closer (2004)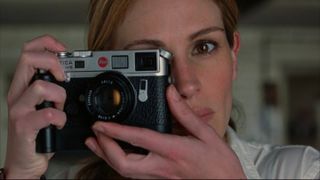 Closer is a 2004 American romantic drama revolving around a portrait photographer (Julia Roberts) who gets entangled in a love triangle with an unsuccessful writer (Jude Law) and a dermatologist (Clive Owen). While photography is fairly incidental to the plot, the scenes of Roberts' character at work are well observed and have an authentic feel to them.
15. Shutter (2004)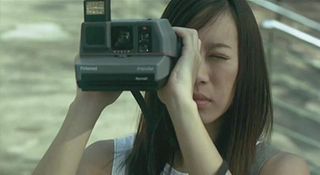 This breakout Thai horror film focuses on the mysterious images seen in a Bangkok photographer's developed pictures. It's a rich seam to mine for sinister effect, and this movie exploits it brilliantly. A twisty-turny, edge-of-the-seat, popcorn treat for horror fans everywhere.
16. Delirious (2006)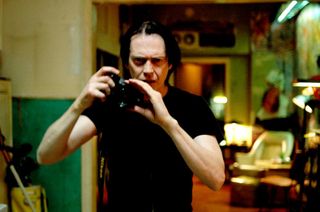 Steve Buscemi stars in this quirky New York-set film as a neurotic celebrity photographer who takes a homeless scavenger (Michael Pitt) and makes him his assistant. A fun, vibrant and energetic parody of life as a 21st-century paparazzi.
17. The Serpent (2006)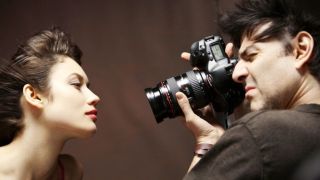 A French thriller based on the 1971 novel Plender by Ted Lewis, The Serpent (alternatively titled The Snake in some territories) tells the story of an introverted fashion photographer in the midst of a difficult divorce. If things weren't bad enough, a former classmate then brings murder, kidnapping and blackmail into his life. Atmospheric, stylish and engaging; watch it now before the inevitable Hollywood remake.
18. Palermo Shooting (2008)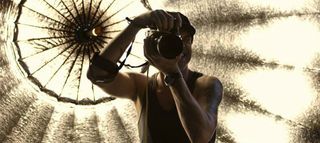 Palermo Shooting follows a famous German photographer, known for his wild ways, who comes to the Italian city to make a clean break from his past. Possibly the most out-there of director Wim Wenders' films, its pretensious philosophical musings and ludicrous plot are pretty OTT, to be frank. But it's also stylishly shot, asks some important questions about the search for meaning in life, and features a terrific performance by the main character, played by real-life German rock star Campino.
19. Triage (2009)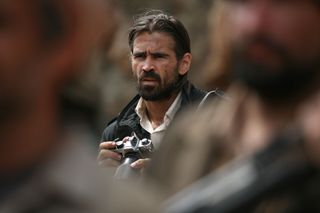 Triage is a dark tale of an Irish photojournalist (Colin Farrell) who comes home after a dangerous assignment in Kurdistan. Focusing on the psychological effects of war on those who document it, the script was based on the novel of the same name by US war correspondent Scott Anderson. Farrell reportedly dropped 40 pounds for the role, underscoring his commitment to the subject matter, and veteran actor Christopher Lee puts in a brilliant turn as a psychologist.
20. The Big Picture (2010)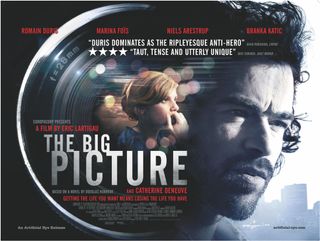 The Big Picture is a French thriller adapted from a 1997 novel by Douglas Kennedy. After a lawyer accidentally kills his wife's lover, he fakes his own death and starts a new life on the coast as a photographer. Full of twists and turns, this is a clever and enthralling spin on a well-worn fictional device.
21. For Lovers Only (2011)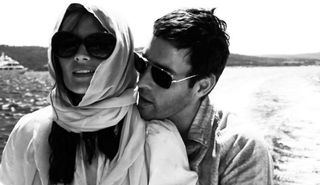 For Lovers Only is a romance about a journalist and ex-model who chances on a fashion photographer who is also a former lover. This low-budget, black and white film is beautifully shot in a fly-on-the-wall style, and features some stunning scenery, along with a compelling, if slow-moving storyline.
22. Ship of Theseus (2012)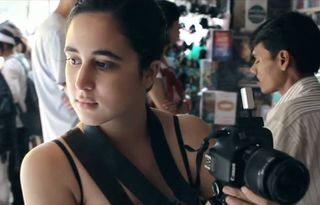 This Indian arthouse film explores questions of identity, justice, beauty, meaning and death through three people. One of these is a visually impaired and celebrated Egyptian photographer in the process of undergoing a cornea transplant that will restore her vision. Reminiscent in places of the Life of Pi, veteran film critic Derek Malcolm called this a "life-changing film". If you're looking for a movie that will make you think, check it out.
23. A Thousand Times Good Night (2013)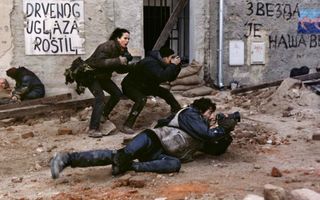 A Thousand Times Good Night is an Irish-Norwegian-produced, English language drama film about a photojournalist (Juliet Binoche) obsessed with reporting in dangerous war zones. It's fiction, but autobiographical elements stem from director Erik Poppe's own work as a photojournalist in the 1980s, covering conflicts in Central America, Africa and Asia. A number of real-life war images taken by Marcus Bleasdale and Astrid Sehl play an important role too. It all adds up to an affecting, emotional narrative about the conflicting needs of photojournalism and family life.
24. Boyhood (2014)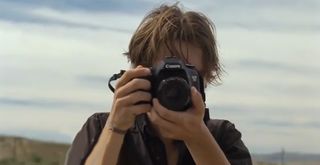 Boyhood is an extraordinary landmark in the history of cinema; a coming-of-age drama filmed between 2003 and 2014, so that the young actors age naturally throughout the story. Without revealing the ending, photography plays a small but important role in the final act, and provides something of a rewarding conclusion for the viewer who's sat through almost three hours of evolving family drama.
25. Carol (2015)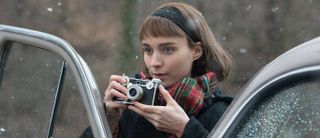 Based on the 1952 romance novel The Price of Salt by Patricia Highsmith, Carol tells the story of a forbidden affair between an aspiring female photographer (Rooney Mara) and an older woman going through a difficult divorce (Cate Blanchett). A deceptively subtle, emotionally nuanced study of human relationships, this film was well deserving of the 10-minute standing ovation it received on its first showing at Cannes.
Read more:
25 movies about real photographers – biopics and documentaries
18 best TV shows about photography
100 great quotes from great photographers
The 20 best podcasts for photographers