It is perfectly easy to spend big bucks on photographers at Christmas. Everyone can make room in their gadget bag for the shiniest new camera, or the most bokehlicious new lens. But what if you are doing your xmas shopping on a strict budget? Or just want something for your office secret santa? Or you are simply looking for some great christmas stocking filler ideas?
With the shopping days to Christmas fast running out, and the last online order dates online coming up even faster – this selection of low-cost ideas may well help you out.
We have rounded up a miscellany of Kringle-tastic ideas to entertain, educate or amuse the photo enthusiast in your life – and all these stocking stuffers for photographers cost less than ten bucks (or less than a British tenner).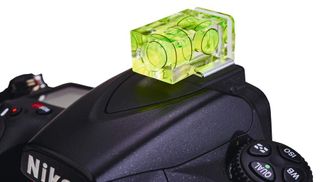 • Sold by Amazon.com for $6.45
This is the old school way of ensuring that your horizons are straight, and your buildings don't seem to lean like the Tower of Pisa. Slot it into the hotshoe of your DSLR or mirroless camera, and let the bubble guide you to get your verticals upright and your seas dead straight. This option provides a two-axis level, plus a more discrete one-axis level that you could leave in position all the time.
• Available from Amazon UK from various suppliers for as little as £9.31

This is one of the sweetest presents that we could fine. This tin is about three inches high, and looks like a retro-styled camera. It is not just a neat thing to have on your desk – it is packed full 100g of vanilla fudge. Makes a great change from the traditional tin of Quality Street!
A calendar is a classic gift – and there are plenty of options for the photographer. This one caught our eye, featuring pop-art style images of iconic cameras. The calendar measures 12 x 12 inches – so should fit any wall and gives you space to note key appointments and birthdays throughout the year.
4) Table top tripod
• Spotted on Amazon UK for £9.55
Don't expect this to carry the weight of your full-frame DSLR with a big telephoto... but this dinky little three-legged chap could be just the thing you need to accurately position a smaller camera – such as a GoPro or a zoom compact. The Konig Professional Table Tripod comes with a three-way pan-tilt head, and its centre column gives a maximum shooting height of 23cm.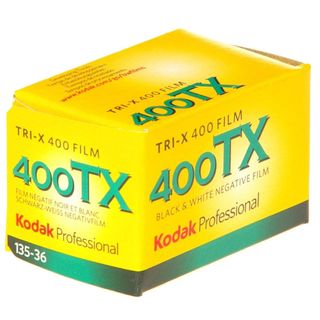 • From Amazon.com for $8.73 or Amazon UK for £7
Lots of photographers are rediscovering 35mm... and this is a little present that may just encourage a photo enthusiast to find that old SLR, and see if they can still take decent pictures without all the advantages of modern digital cameras. There are plenty of films to choose from - but black and white is a great place to rekindle a passion for analog photography. And Kodak Tri-X is as about as classic an emulsion as they come.
• This Sandisk Ultra 32GB card is $9.99 / £9.93 at Amazon
Digital photographers can never have enough memory cards – so this is a present that they will definitely thank you for. The SD format is the most popular on today's cameras - so this is the safest option if are not quite sure what camera they use. This High Capacity SDHC card is from leading manufacturer Sandisk - and offers a very useful capacity of 32GB. From the Ultra range, it is pretty quick too for the price - with a transfer speed of 48MB/s.
• This hard case costs $7.45 / £5.99 at Amazon
This rugged looking case is made from ABS plastic - creating a hard case for your memory cards. It is also waterproof and dustproof - giving added protection to your cards and the images they store. The configuration of the case means that it can store up to 27 memory cards and mobile phone SIMs. For photographers, the key speck is it can store up to four CompactFlash cards plus eight SD cards.
• From Amazon.com for $4.99 or from Amazon UK for £5.39
This lightweight device stuffs as easily into your camera bag as your Christmas stocking. It functions as a table-top support for your camera, but its design also means it can be used as a pistol grip – to help steady handheld shooting. The tripod stands 10cm tall, and weighs 85g.
• We found this at Amazon UK for £6.69 and Amazon.com for $9.99
A favorite novelty item for the photographer. This travel mug is designed to house your tea, coffee or chocolate – and is shaped like a Canon EF 24-105mm zoom. It even comes with a suitably-disguised lid, that makes the whole thing look remarkably realistic. Be careful not to give this Canon lens mug to Nikon fans though...
• We found this funky strap at Amazon for $6.99 / £6.99
This is a great way to jazz up your camera – replacing the bog-standard strap that comes in the box, with something that looks like it has beamed in from the Swinging Sixties. The style of this strap is called Bohemian Pinstripe, and is 38mm wide. It is suitable for use with most interchangeable lens cameras – DSLR or mirrorless.
• We spied this at Amazon.com for $2.99 and at Amazon UK for £3.08
A camera charm that you can attach to your key ring, or to a bag. We have seen these on sale in a variety of colors – including yellow, pink and black. It is not just a thing to look at .. if you press the button an LED light comes on, and you get a camera shutter sound.
• Seen at Amazon UK for a very reasonable £6.92
A two-in-one cleaning implement that looks like a pen. A retractable lens brush at one end is suitable for getting off dust of the front of your zooms and primes. And at the other end there is a velvet surface, underneath a protective cap, which is capable of removing grease and fingerprints.
• Giottos AA1900 Rocket Air Blaster is $9.99 at Amazon
This stylish-looking Giottos blower brush is a firm favorite amongst photographers. With a squeeze it gives out a powerful puff of air, which is capable of removing dust and debris from lens elements, or (with care) from the camera's sensor. This measure 7.5 inches long, and stands upright to look like a rocket when placed on a table or desk.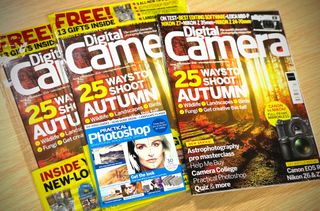 • Buy a back issue from from just £5.49 including postage
Digital Camera World magazine (called simply Digital Camera in the UK) comes out every four weeks. You could buy a subscription.... but if you are looking for a low-cost stocking filler, a back issue can be a great idea to give someone a spot of inspiration and advice on their hobby. The latest 10 issues are available - and you can have the magazine delivered direct to the recipient, or to yourself. Each 148-page magazine comes with a video disc, and a set of nine technique tips cards.
• Canon version is $8.49 / £5.99
• Nikon version is $8.49 / £6.79
A wireless remote is a great little extra present for a new DSLR user - it is not just good for selfies, but for use with long exposures where you need to minimise any camera movement. This Amazon own-brand remote is great value - and available to work with a wide range of Canon and Nikon DSLRs. Compatible Nikon models are: D3000, D3200, D3300, P6000, P7000, D40, D40x, D50, D5000, D5100, D5200, D5300, D60, D70, D7000, D70s, D750, D80, and D90. Compatible Canon models are: T4i, T3i, T2i, T1i, XT, XTi, 5D Mark II, 7D, 650D, 600D, 550D, 500D, 400D, and 350D.
• Currently half price at Adorama at $5.75
Lens wraps are a great way of protecting lenses, cameras and other delicate accessories. This Adorama version is a 19-inch square of neoprene, which you swaddle your kit in – and it keeps itself tucked up and secure with the built-in Velcro strips. Currently this is half price - so a great holiday bargain for the thrifty shopper.
An alternative, but similar product is the $2.99 Slinger Neoprene SLR Wrap - which is designed to fit a camera with lens.
• Various sizes at Amazon - for 72mm you pay $8.99 / £7.99
The worry of scratching the front element of an expensive lens for your DSLR or mirrorless camera ensures that many photographers fit a replaceable UV filter onto the front element. This Polaroid one is very affordable - with filter sizes available from 37mm right through to 95mm, ensuring there is a version to fit on the front of most lenses
• Price for pack of ten sheets of Instax Mini color film at Amazon £9.99 / $9.69
Remember the fun you had with that Instax camera the other Christmas? No need to buy another camera... it is undoubtedly hidden a drawer somewhere. All you need to do is get the owner of the camera some more film! Instax film comes in different sizes... but the most popular instant cameras use Instax Mini film – as used in the Instax Mini 9, Mini 90, Mini 70, Leica Sofort and so on. There are fun film options that give fun borders to the instant prints.. but the plain white-bordered color film is the safest gift option.
• $10 Amazon eGift card
• £10 Amazon UK gift card
• A £10 Wex Photo Video voucher
A bit of a cop out this one, but this is definitely the solution for extreme last-minute shopping - or if you are worried you will buy the wrong thing. Most retailers off gift voucher options - just choice electronic voucher or a physical card.
• This card game is perfect for camera geeks and is £8.99 at Amazon UK
How well do you know your cameras? This deck of 36 artistically designed cards can work out who is the biggest photo nerd in your family. Using the Top Trumps principle, you play for each card by reading out the spec on the camera card you have - hoping it will outperform the card your rival has in his or her hand.
• Handy clean-up accessory from Amazon for $7.99
These little lens cloths have been around for years. Made by Alpine Innovations, the Spudz cloths come in all sorts of colors – with a microfibre cloth that tucks away inside a neoprene sleeve. A clip on the sleeve allows you to attach this to your camera strap or bag so that you are never without a cloth to clean off your lens or LCD screen.
• Four lens pouches for just £9.99
Cylindrical shaped neoprene pouches that are designed to give weather protection and shockproofing to your lenses. This is a set of four pouches, in four different sizes - and at £9.99 is a small price for a bit of optical protection. In the US., these are $13.99... a bit over the ten buck mark, but still a great purchase.
See-through polythene bags that wrap around your camera and lens when the rain falls - a built-in drawstring ensures the lens opening fits snuggly around your front of your zoom. These are $12.95 at Amazon.com.
• 8x AA Duracell alkaline batteries - £9.69 / $8.47 at Amazon
Not having AA batteries in stock on Christmas Day can be a mini nightmare - particularly if you have kids who are likely to be unwrapping toys. For photographers, AAs are still essential items for powering flashguns – which you may well need to have powered up ready to capture the yuletide celebrations.
More gift ideas:
• 20 Christmas gifts for photographers
• The best photography books for beginners and pros in 2018
• 50 best photography and camera accessories
• The best photo magazine deals this Christmas
• 22 best GoPro accessories in 2018