There are lots of options for tripod heads - with ball heads and pan-and-tilt heads being the most popular. But with both of these it is hard to control the position of the head quickly and safely with one hand. And this is where the pistol grip comes in.
The best pistol grip tripod heads give you a joystick-like control of the camera's position - allow you to unlock and move the camera up and down and side to side with just one hand.
As a more specialist tripod head, there is not a huge amount of choice. However, we have put together our experiences with five tripod pistol grips that we have tried out for ourselves…
Best pistol grip tripod heads
Why you can trust Digital Camera World Our expert reviewers spend hours testing and comparing products and services so you can choose the best for you. Find out how we test.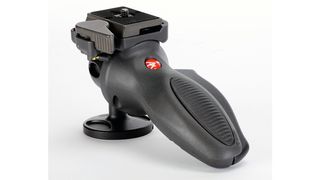 The Manfrotto 327RC2 is a bit of a beast in terms of size, yet it's surprisingly lightweight due to the hollow stainless steel ball that makes up the pivot. Increasing the pressure on the pistol grip smoothly controls the movement, allowing small adjustments to be made and to lock in place. However, there's also a wheel on the underside to increase or decrease friction. The maximum load capacity is 5.5kg, making this the ideal tripod head for photographers who love their long (and heavy!) lenses.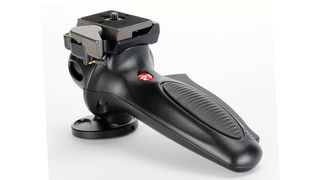 The reduced weight of the 324RC2 makes it perfect for using with monopods, as well as tripods, and the 4-inch pistol grip is great for smaller hands. As with the other Manfrotto ball head, the 324RC2 comes with a built-in bubble level, a friction adjustment wheel and a double-locking quick release plate. However, with a maximum load capacity of only 3.5kg, the combination of a mid-level camera body and a long telephoto lens will result in creep.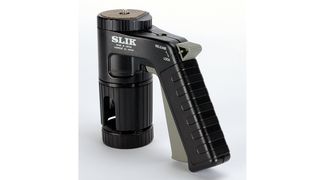 The Slik AF2100 doesn't win any marks for aesthetics, but there are a few features that are very intuitive. The trigger design is ideal for left- and right-handed users and the maximum load capacity is a respectable 4.5kg. The quick-release plate also has a locking mechanism, which ensures that your camera equipment is completely safe. The tension of the head is adjusted by applying pressure to the trigger, although this isn't as smooth as we had hoped, making it difficult to control the positioning of heavier camera gear.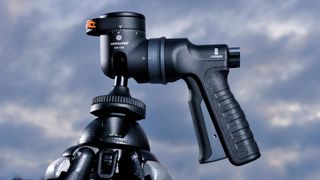 The GH-100 is packed full of why-didn't-I-think-of-that features that make it ergonomic and intuitive to use. The handle can be repositioned in any direction over 360 degrees for easy usage, and the 72-click panoramic platform with locking option is a great inclusion. The trigger design is perfect for left and right-handed users and the tension switch is neatly located within reach of your thumb. One of the few drawbacks of the GH-100 is the fact that the bubble level is positioned beneath the quick-release plate.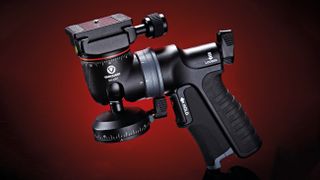 Pistol grip tripod heads are great for making fast and precise adjustments to a ball head, but Vanguard's GH-300T goes one better and incorporates a remote shutter release button into the handle.
The result is that you only need one hand to simultaneously move and fire your camera, making this an ideal platform for shooting fast action. Two shutter release cables are included for compatibility with entry-level and mid-range Canon, Nikon and Pentax DSLRs, with extra cables available separately to link certain other mirrorless models.
A maximum load of 8kg will take the strain of the bulkiest DSLR and lens combo, but thanks to variable resistance you'll get precise control over any camera weight.
A separate 72-clickpoint pan base also makes capturing level panoramas easy. However, at nearly twice the price of a standard Vanguard pistol grip head, this one-handed novelty doesn't come cheap.
What to look out for
Check the maximum weight limit that your pistol grip tripod head can handle. Overloading will lead to 'creep' – the head slowly shifting position in the direction of any unbalance. This damages the ball inside your tripod head and produces noticeable blur in long exposures.
All of the pistol grip tripod heads we tested come with a built-in bubble level. Most modern tripods come with an attached bubble level on the neck, but it's easier and quicker to adjust the head of your tripod, rather than each individual leg.
Attaching a trigger head to your tripod or monopod couldn't be easier! Twist the current head left to remove it. Then, with the ¼-inch screw exposed, twist the new head in place until secure. As most modern kit comes with the ¼-inch screw fitting, you can mix and match brands easily.
If you're travelling with your tripod, a pistol grip head can add length and weight to kit, and could look sinister on a security scanner! To avoid upsetting airport staff, pack the whole tripod in your hold luggage with the head attached.
There are many cheap, non-branded pistol grip tripod heads for sale, but most are made of plastic, rather than magnesium or steel. Plastic internal balls will crack under too much pressure and don't have the level of friction required to hold a heavy camera and long lens.
Other tripod head guides
• Best ball heads
• Best pan and tilt tripod heads
• Best gimbal heads for tripods
• Best panoramic tripod heads
• Best geared tripod heads
• Best binocular tripod adaptor