The Sony A7C II, and its companion camera the A7CR, are like second-generation versions of Sony's original A7C. While the A7CR is a high-resolution stills camera, the A7C II is more of an all-rounder, aimed both at stills photographers and filmmakers.
The handling of Sony's compact rangefinder-style A7C models may not be to everyone's taste but, when paired up with some of Sony's more compact lenses, they do make a very portable camera setup. It's true that many of the best Sony lenses are quite large and can feel unbalanced on smaller cameras like these, Sony does also make some very neat little primes these days, like the rather good Sony FE 40mm f/2.5 G, not to mention the compact Sony FE 28-60mm f/4-5.6 kit zoom.
But while the original Sony A7C might have been one of the best cameras for travel, at least among full frame cameras, it's hardly one of the best cameras for vlogging. That's where the new Sony A7C II steps in, radically ramping up the original camera's video capabilities to compete strongly with the best hybrid cameras on the market right now.
For stills photographers, the choice is less obvious. The newer A7C II does have more resolution, but it also has a reduced raw burst capacity and reduced battery life. So let's take a closer look at how these cameras compare.
Sony A7C II vs A7C in 2023
Why you can trust Digital Camera World Our expert reviewers spend hours testing and comparing products and services so you can choose the best for you. Find out how we test.
1. Sensor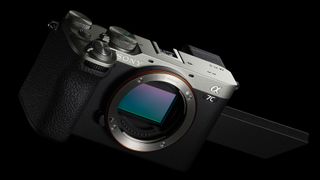 • Sony A7C II: 33MP full frame Exmor R CMOS, BIONZ XR
• Sony A7C: 24MP full frame Exmor R CMOS, BIONZ X
Perhaps the biggest step up from the A7C to A7C II for photographers is the increase in resolution from 24 megapixels to 33. It's not necessarily going to have a huge impact on image quality but it's significant nonetheless. The A7C II also benefits from Sony's more powerful BIONZ XR processor, which has an impact on the new camera's video capabilities and burst shooting, to a degree.
2. ISO range
• Sony A7C II: 100-51200, exp 50-204800
• Sony A7C: 100-51200, exp 50-204800
Despite the 37% increase in resolution, the Sony A7C II offers the same ISO range as the previous A7C, suggesting that Sony has used the extra BIONZ XR processing power for maintaining noise control, along with general sensor improvements. Sony's 24MP sensor has proved itself very good in low light, and the A7C II should do the same.
3. Autofocus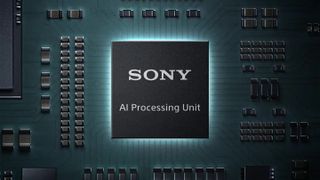 • Sony A7C II: 759 phase detect AF points, 94% coverage, AI processing unit, Subject Recognition (human, animal, bird, insect, car/train and airplane recognition, human pose estimation), Real Time Tracking, Breathing Compensation
• Sony A7C: 693 phase detect AF points, 93% coverage, AI-based Real-time Tracking and Real-time Eye AF inc animals
The autofocus on the A7C was already very good, offering Real-time Tracking and Real-time Eye AF, but Sony has taken another step forward with the A7C II by adding in the dedicated AI processor first seen in the A7R V. This can recognise humans, including human bodies and poses, animals, birds, insects, cars, trains and aircraft. You also get focus breathing compensation with the new model, though this only works with specific Sony lenses.
4. Stabilization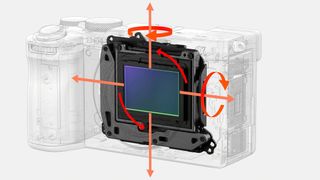 • Sony A7C II: 5-axis IBIS, 7 stops, Active Mode (slight crop) with gyro data
• Sony A7C: 5-axis IBIS, 5 stops with gyro data
Both cameras have 5-axis in-body stabilization, but where the original Sony A7C is rated at 5 stops of compensation, the A7C II raises this to up to 7 stops of shake compensation and with Sony's Active Mode for video, albeit with a slight crop. You can also use the gyro data captured by both cameras to stabilize footage in Sony's Catalyst Browse software, though this does add an extra step to your video post production.
5. Video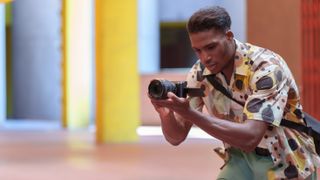 • Sony A7C II: 4K UHD 30p full width oversampled from 7K, 60p in Super35 mode, FHD 120p, 4:2:2 10-bit, Long GOP or All-I, S-Cinetone, S-Log3, custom LUTs, AI-based Auto Framing (with crop)
• Sony A7C: 4K UHD full width oversampled from 6K, 1.2x crop at 30p, S&Q up to 120fps
As we are seeing so often with new cameras right now, it's the video features which bring the biggest changes. The original A7C is a competent 4K video camera, but if you want to shoot 4K at 30p there is a small 1.2x crop.
The A7C II, however, offers full-width 4K at up to 30p, oversampled from the sensor's 7K data, plus 4K 60p in APS-C/Super35 crop mode. The A7C II also offers higher-quality compression options, including 4K 10-bit 4:2:2 and the ability to use All-I compression. Both cameras can shoot full HD at 120fps.
Clearly, the A7C II is a much better camera for filmmakers, or vloggers who want a step up in quality without sacrificing this camera's compact form factor.
6. Continuous shooting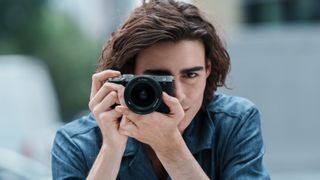 • Sony A7C II: 10fps, 8fps in Live View mode, 1000+ JPEG, 44 raw
• Sony A7C: 10fps, 8fps in Live View mode, 233+ JPEG, 115+ raw
For continuous shooting, the newer Sony A7C II doesn't necessarily have the advantage you might expect. The burst rate speeds are the same for both cameras – 10fps, or 8fps with Live View – but while the A7C II has a better buffer capacity for JPEG images, the older A7C can capture many more raw files. Both cameras use regular SD card storage, which could be a bottleneck for the newer camera's higher-resolution images.
7. Displays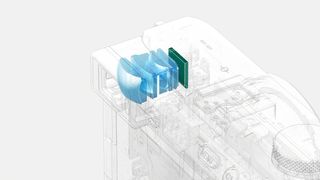 • Sony A7C II: 2.36m dot OLED EVF, 0.7x magnification, 3-inch vari-angle, 1.037m dots
• Sony A7C: 2.35m dot OLED EVF, 0.59x magnification, 3-inch vari-angle 921k dot touchscreen
The displays on these cameras might appear similar at first glance, but there have been some changes. The most visible (literally) is in the EVF, where the A7C II retains the somewhat low 2.26m dot resolution of the original camera but with an increased magnification of 0.7x. This is still pretty average by today's standards but definitely better than the tunnel-like 0.59x magnification of the Sony A7C.
On the back of the camera, the 3-inch vari-angle screens might look the same, but the A7C II brings a slight increase in resolution. More importantly, it has Sony's new menu system with touch control, so the A7C II should prove quicker and easier to operate.
8. Storage and ports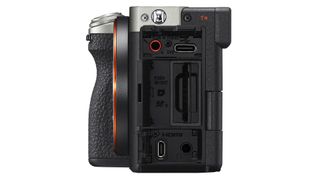 • Sony A7C II: 1x SD UHS II, USB Type-C, HDMI micro, MI interface, mic, headphone, Wi-fi, Bluetooth
• Sony A7C: 1x SD UHS II, USB Type-C, HDMI micro, MI interface, mic, headphone, Wi-fi, Bluetooth
Apart from some slight re-arranging of the ports, the A7C and A7C II are practically twins as far as ports are concerned. Both cameras have Sony's MI digital hotshoe interface – useful if you want to use Sony's digital mics – and a micro HDMI port which does allow connection to an external recorder, though filmmakers would probably prefer the security of a full size Type A port. You can plug in an analog mic and headphones for audio monitoring on both cameras.
Sony has stuck with a single SD UHS II card slot for the A7C II, which will throttle its performance somewhat, but then it's not exactly a serious filmmaking camera – and Sony can offer plenty of other models which are.
9. Power
• Sony A7C II: NP-FZ100, 530 shots EVF, 560 shots LCD
• Sony A7C: NP-FZ100, 680 shots EVF, 740 shots LCD
These cameras use the same trusty NP-FZ100 battery but the Sony A7C II uses it up rather more quickly. Its battery life is still good by mirrorless standards, but it looks as if the higher resolution sensor and BIONZ XR processor might be a little bit more greedy.
10. Size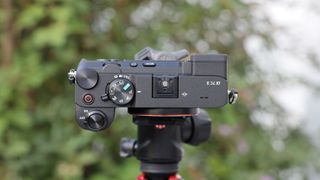 • Sony A7C II: 124.0 x 71.1 x 63.4mm, 514g
• Sony A7C: 124 x 71.1 x 59.7mm, 509g
Visually, these cameras are quite hard to tell apart. The Sony A7C II is a little thicker in the body, but only a few grams heavier. It also has an extra front dial at the top of the grip, where the older A7C is a single-dial camera.
Sony A7C II vs A7C: conclusions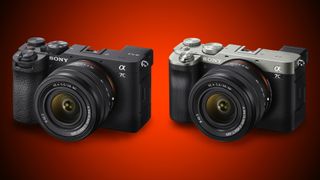 • Sony A7C II: $2,198 / £2,099
• Sony A7C: $1,598 / £1,699
Sony has made some very obvious improvements with the Sony A7C II which do make it a much better camera for video and a better camera for stills photographers too, at least in terms of resolution.
If you're trying to decide which of these two cameras to buy right now, we'd say that the improvements in the Sony A7C II easily justify its higher price, but that if 24MP is enough (and very often it is) and you don't shoot a lot of video, the A7C offers the same compact body and handling experience at a much lower price.
Having said that, it's not clear how long the original Sony A7C will stay on sale. Sony does have a habit of keeping older models on the market at steadily reducing prices, but you might have to wait a while to see any serious savings – but do keep checking!
Sony A7C II vs A7C: best prices