The laptop industry enjoys putting hot things in small spaces, and the Asus Zenbook 14 OLED we're sent for review manages to squeeze an Intel i9 processor and an Nvidia GeForce RTX 3050 GPU into a wedge-shaped chassis barely 1.7cm thick. The screen is excellent and it costs less than two grand.
This is, as you can see from the key specs, a high-performance laptop, but it balances this with a battery that will probably last you all day if you put it to sleep at lunchtime and don't push it too hard. The 14.5in screen may be a little small for heavy editing sessions, but its ability to connect to external screens through HDMI and Thunderbolt ports means you'll not be imprisoned in its small window for long.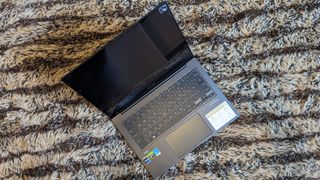 Specifications
CPU: Intel Core i9-13900H
RAM: 32GB
GPU: GeForce RTX 3050 (4GB)
Storage: 1TB SSD
Screen: 14.5in OLED, 2880x1800, 16:10
Connectivity: 1x USB 3.2 Gen 2 Type-A, 2x Thunderbolt 4, 1x HDMI 2.1, 1x headphones
Wireless: Wi-Fi 6, Bluetooth 5
Dimensions: 32.18 x 22.56 x 1.69mm
Weight: 1.56kg
Compare with the best OLED laptops
Key features
Most of the Zenbook 14X's important features are concentrated inside, but there are some notable aspects elsewhere. The keyboard is about as good as you're going to get in a 14in chassis, a tenkeyless chiclet model with 1.4 millimeters of travel, and a particularly large, clear typeface on the keys themselves. The position of the power button - to the left of Delete on the top row - may cause a moment's pause as you locate it for the first time, but otherwise, everything is conventional including a gentle white backlight.
Particularly splendid is the touchpad, which on first inspection might appear to be uninteresting, just a centered area below the space bar on which you can do the finger ballet required to move a pointer around the screen, but this one has an extra trick, becoming the numpad that's missing from the keyboard thanks to an illuminated grid of numbers that can be invoked with a press of the corner, while you can add the Windows calculator app using a gesture. It's very clever, and while it lacks the tactility and familiar position of a real numpad, it goes some way to justifying the existence of an increasingly redundant touchpad on a touchscreen laptop.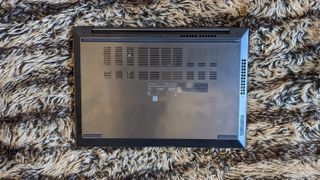 There's a decent, but not exactly generous, array of ports around the sides of the Zenbook 14X. A pair of Thunderbolt 4 ports is the big news, with these able to carry out fast data transfer, drive a screen, and charge the laptop. An HDMI 2.1 port sits next to them, along with a headset port. There's no dedicated charging socket, so one Thunderbolt needs to be free to top up the battery, meaning you might need a dock if you're connecting the laptop to a lot of peripherals. A single USB-A sits on the opposite side to the Thunderbolt ports, and it's the Gen 2 type that can transfer data at 10Gbps. There's no card reader or Ethernet, though these can easily be added with an adapter.
Build & handling
Despite some attempts at shaking things up with the Asus Zenbook Pro 14 Duo OLED, the laptop clings stubbornly to the clamshell form factor, and when it's done right it can be a rather wonderful thing indeed. The simple charcoal-grey casing (there's a sandstone beige available too) of the Zenbook 14X might not be about to win any innovation awards, but it's got it where it counts thanks to a compact but stiff frame with no noticeable flex if you pick it up by the corner, and enough connectivity to cover most use cases.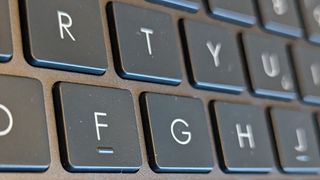 The HDR OLED screen is a stand-out feature in a laptop that consistently impresses. Its 14.5in diagonal, 16:10 aspect ratio, and 2880x1800 resolution mean it's sharp and just about large enough to work on while traveling, though you're going to want an external monitor for anything that requires a wider perspective. It has a 120Hz refresh rate and up to 600 nits of brightness, as well as covering the sRGB and DCI P3 color gamuts. It's even Pantone certified.
The touchscreen has stylus support, but the screen hinge doesn't allow it to fold back on itself or enter tent mode, though it can lay flat. This reduces the utility of the touchscreen, which is more likely to be used for occasional prodding and markup, as it can't be cradled like a tablet.
On the top edge of the screen lives a 1080p webcam that's compatible with Windows Hello, but otherwise it's relatively unadorned, with nothing visible on the rear of the casing. There is, however, some attractive linework on the back of the lid, which certainly makes a nice change from the usual glowing logo.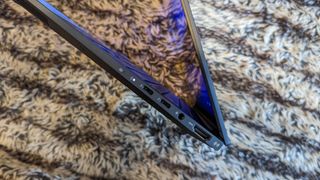 Performance
The processor inside this Zenbook 14 is an Intel i9 from the 13th generation 'Raptor Lake' series. This means it's the latest available, at the time of writing, one step newer than the 12th-gen i9 in something like the MSI Creator Z17 and with an attendant performance boost in performance.
That CPU is a 14-core chip, with six performance cores and eight efficient cores. This means you get simultaneous processing of 20 threads, more than enough to make the laptop responsive even when you've got lots of applications open at the same time. Generally silent in operation, the cooling system kicks in when processing video or exporting from Lightroom. It's noticeable, certainly, but we've heard much worse elsewhere, though as there are vents to the side and underneath the machine, it may make your lap warm.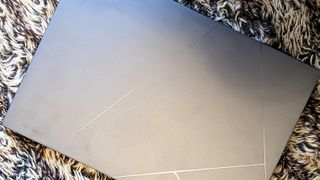 Asus backs the CPU up with a mighty 32GB of RAM, and an Nvidia graphics chip that, while it's not going to give you 4K/60 in the latest games, is certainly a step up from the Iris Xe integrated graphics processor on the CPU, especially in applications such as Photoshop and Lightroom that offload so much work to the GPU. Its 4GB of dedicated graphics memory is about the bare minimum you'll need, and if you're working on an external 4K display Lightroom may well be looking for more.
Having 1TB of internal SSD storage is really nice to have too, as it means you can store a lot of data - many 128GB memory cards' worth - without needing to carry an external drive. It's fast too, using a PCIe 4.0 connection to really get those files moving.
Battery life is very good for a laptop of this size and specification, with the 70Wh cell inside pushing it to slightly more than eight hours of constant light work. This wasn't stressing it too much, but did keep the screen and Wi-Fi on all the time, so raw image processing that opens the GPU up to full throttle will make you reach for the charging cable much sooner.
Verdict
For most people, the specifications of this laptop are overkill. No one needs an i9, 32GB of RAM and a discrete GPU if they're browsing the web and playing Stardew Valley all day. However, ultrabooks like these are perfectly targeted at photographers and videographers, as they have the power to download, display and even edit lots of files in the field, and can be taken home and plugged in for a more intensive editing session afterwards.
Being compact and relatively restrained in its design, this would make an excellent system for a photographer, equally at home on location or back in the studio.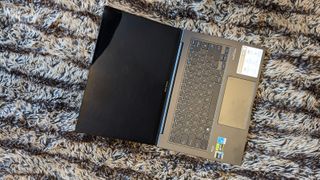 You might also like...
The obvious place to look for an alternative to the Zenbook 14X is the MacBook Pro 13-inch, which costs a few hundred pounds more once you upgrade it to have 24GB of RAM and a 1TB SSD. Its eight-core M2 processor is a close match for the Core i9-13900H: they're neck and neck in single-core performance. The i9 actually takes the lead for multi-core tasks due to having more of them, but the M2 trounces it for power efficiency and therefore battery life. The 14in MBP comes with the M2 Pro and Max chips, which are well out in front and cost much more.
Alternatively, a 15in Surface Laptop 5 can be specced with a 12th-gen Core i7 processor, 32GB of RAM, and a 1TB SSD, but this is much closer to £2,500 and doesn't have the i9's performance, leaving the Zenbook 14X looking like a bit of a bargain in comparison.
Read More: Find your next editing device with our guides to the best photo-editing laptops, and the best laptops for video editing, or if a desktop is more of your thing, check out the best desktop computers.