The Vanguard Veo Range 36M is only one of a bewildering number of camera bags made by the company in all shapes and sizes, but they all tend to combine good, practical design and value for money.
The Veo Range bags come in three sizes: the smaller 21M, the mid-size 36M which we've looked at here, and the larger 38M. What sets these two larger sizes apart is the split interior, which can accommodate camera gear in both parts or camera gear in the top part and a compact travel tripod in the bottom.
The Veo 36M can hold a travel tripod up to 33cm long when folded, so Vanguard's own Veo 2 Go tripod is a snug fit, but most travel tripods will be a little too long. For these, you'll be better off with the larger Veo 38M, which can hold a travel tripod up to 44cm long, which really opens up the field – but it is a bigger bag.
Specifications
Design: Double-deck shoulder bag
External dimensions: 400×195×300 mm (36M) , 430×210×340 mm (38M)
Internal dimensions: 360×120×240mm (36M), 385×145×300mm (38M)
Weight: 1,040g (36M), 1,200g (38M)
Max tripod length: 33cm (36M), 41cm (38M)
Laptop size: 13-inch (36M), 15-inch (38M)
Hand luggage compatible: Yes
Rain cover supplied: Yes
Design and use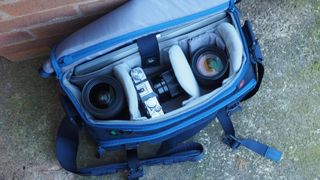 You can access the main (top) compartment via a zip towards the back of the lid, and the opening is wide enough to take out a camera or a lens, but not your laptop.
There is a second zipper in the lid, and this gives access to a storage pocket for a phone, paperwork or cables, for example. You have to remember which zip accesses which compartment, but it's certainly handy.
You pull back the lid by ripping open a strong but noisy Velcro fastener. This reveals another horizontal zipper on the front of the bag for memory card storage. It's nothing fancy, just a split compartment for unused cards on one side and used cards on the other.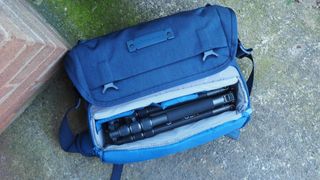 With the lid back you also get access to the lower compartment with its own dividers. You can fold these back to fit a travel tripod, if you have one that's short enough when folded, or use this lower compartment for lenses or other accessories and strap a tripod to the outside if you need to.
There are expanding pockets on the left and right sides of the bag for a water bottle, umbrella or even a small gimbal maybe, and a further zippered compartment on the back for documents.
Vanguard says the smaller 36M is designed for mirrorless camera systems, but a midrange DSLR will fit fine if you rearrange the dividers and lay it horizontally. Or, if you have a larger DSLR kit, the larger 38M bag will accommodate it a bit more easily.
Verdict
The Vanguard Veo Range 36M we tested felt pretty light and manageable even with a Veo 2Go tripod and a 13-inch laptop packed inside. Best of all, packing in all this gear didn't 'bloat' the bag and access and portability remained as easy as ever.
These bags aren't the ultimate in versatility. They don't have dedicated pockets for everyday office gear like portable drives, pen holders, notepads or all the cables you seem to need, so you probably wouldn't use them as hybrid camera/office/commuting bags, but as affordable and adaptable camera bags that can make light work of carrying lots of kit, these Vanguard Veo Range bags are very good indeed.
Read more:
• These are the best messenger and shoulder bags right now
• How to choose the best camera bag
• The best camera backpacks today