The best laser measures are a lot better than using a traditional, physical tape measure. You get much more accurate results. They're quicker and much less fiddly to use, especially when you're in a cluttered room with lots of things in the way. With advanced models, you can even get help with your calculations and store a series of readings to refer back to later. Some also come with an inclinometer, which measures the angle of an object.
See also Best laser levels
For this reason, laser measures (aka 'laser distance measurers', 'laser distance meters' or 'laser tape measures') are a standard tool for anyone working in construction, surveying, IT networking, and energy fitting. They take the hassle out of DIY work, too. After all, precise measurements often make the difference between getting a job done well, and having to scrap it and start again.
Below, we've carefully curated a selection of the best laser measures available today, covering a variety of use cases and a budgets. We explain what each has to offer, and share the facts and figures you need to choose between them.
The best laser measures in 2023
Why you can trust Digital Camera World Our expert reviewers spend hours testing and comparing products and services so you can choose the best for you. Find out how we test.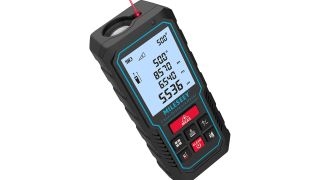 The best laser measures can get quite expensive, but if you just want one for a bit of home DIY, here's our recommendation. This device from Mileseey is quite affordable, and does a good job at measuring, with an accuracy of ±0.2mm/±1/16 inch. With a measuring range of between 16cm and 70 feet, it's dust- and splash-proof to IP54 standards, and offers some useful extra functions.
For example, you can just measure the hypotenuse, and the horizontal distance and vertical height are calculated automatically. Or you can measure only two hypotenuses, and the vertical height is calculated automatically.
This device can store up to 20 measurements at one time, and takes two AAA batteries. More expensive models promise more, but for home decoration this is probably all you need.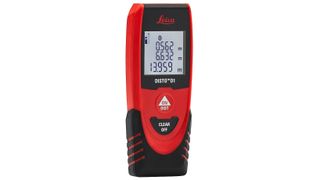 The maxim in carpentry goes 'measure twice, cut once', and the best laser measure mean you'll get the super-high degree of accuracy you need.
For these purposes, we like the D1. It's elegant and simple to use, with a light-touch keypad and no more buttons than you need. That makes this a great tool for measuring spaces and single lengths of wood, although those working on larger spaces or outdoors might look for a more powerful laser.
It has some advanced features too. Most notably, it's compatible with Leica's free Disto Plan app which – via Bluetooth and any Apple or Android phone – extends the two-button operation into a full room measurement tool. You can use this to integrate your measurements into project images or job-site sketches.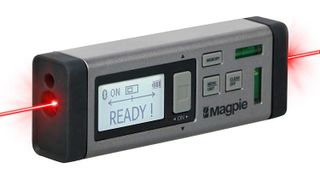 Here is a different take on the laser measure, which takes the sum distance (plus its own length) from two lasers. This means it can be pointed in three directions from the centre of a room to get all three measurements needed for an estimate of the volume without needing to take a step.
The slight sacrifice is that the device has twice the margin of error that a single laser measure would have. But for contract estimators this is unlikely to be a huge issue. On the plus side, the device has a partner app for both iOS and Android, which can not only assist with area calculations for materials but exports data and sketches in JPEG, PDF & XLS.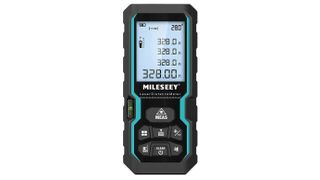 The Mileseey S6 is a versatile electronic measure with a long measuring range of 100m, making it more useful in factories and warehouses as well as large apartments and other big spaces. It also offers area, distance, volume and Pythagorean measurements.
It's reasonably robust, with IP54 ingression protection. The rubber body makes for a good grip and drops aren't much of a concern. A bubble-level is included, as well as electronic inclinometer for those just wanting to quickly check a level, or passing the tool to their older workmate and wanting to side-step a "good old days" lecture.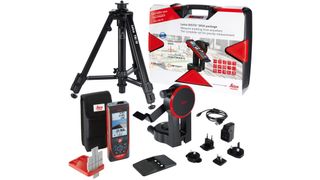 The Leica Disto S910 shows how much more can be achieved with this technology than simple straight-line measurements. Yes, it's expensive. But there are many for whom it will soon earn the investment back.
The ability to take a series of measurements from a single tripod position using the SmartBase is made easier by the built-in camera's 4x zoom, used to accurate locate points for precise targeting. Exporting the data as DXF to AutoCAD files is easy thanks to WiFi or Bluetooth, or you can go to the Android/iOS Disto App. There are also an amazing number of complicated area and volume calculation features built in, so you can deliver a verdict on site.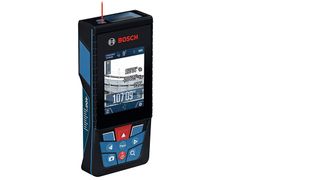 The Bosch GLM400CL Blaze is capable of taking a long measurement on a fairly bright day, but what really sets it apart is the technology it has to back that up. There are a good range of measurements, including (by virtue of the inclinometer) Pythagorean areas, but the icing on the cake is the camera. The camera has two jobs. It helps identify the spot the laser is pointing to more easily, and it records an image with the measurement.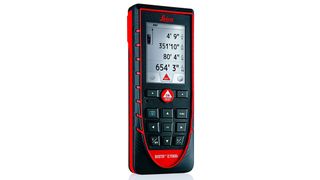 Despite its affordable price, the E7500i seems capable of providing the features required by professional surveyors, along with compatibility with Leica's Disto app and height tracking.
The IP65 rating means it isn't just splash-proof but will withstand a jet of water. The system can help with all the area, volume, and Pythagorean calculations you'd hope. In addition, the long range, long-distance measurements are easier to achieve thanks to the 4x zoom digital camera and a feature called Smart Horizontal for circumnavigating obstacles.
The only potential issue is the speed of battery consumption. And of course with any long-range measure a pro would do well to pack a tripod, target and perhaps even laser glasses to be ready for any conditions.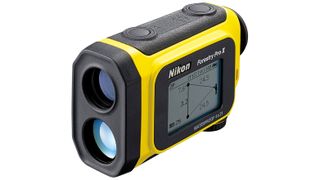 If you need to calculate the height of trees from a distance, the Forestry Pro makes the task a lot easier. It works using an optical monocular finder, and in that respect, has a lot in common with a more professional version of a golfer's laser rangefinder (for comparison, the eye relief is 18mm).
With a magnification of 6x, professionals will find their targets reasonably easily, but there's also the Target Priority Mode to helps find objects in sequence if needed. The memory of 250 measurements lets you cover a lot of ground without getting the note pad out, too, and despite the distance measurements take about 0.3 seconds.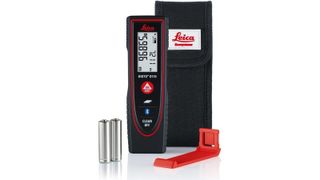 Many photographers find themselves lusting after the Leica brand, and the firm have plenty of options in the laser-measure space. This is their most compact: so small it has a removable belt clip, which has a noticeable impact on the size!
It's a good-looking design with IP54 splash proof and a backlit screen. It is relatively pricey, but the screen includes previous and current measurements. Not only that, but you can transmit measurements to your phone via Bluetooth and create floor plans and sketches with the Leica Disto app. While the accuracy is higher than many, the design deliberately doesn't include features like area calculations, leaving these to the app.
What is a laser measure?
A laser measure, aka laser distance meter, is a handheld device that uses a laser beam to measure distance. It works by sending out a laser beam and measuring the time it takes for the beam to reflect back. This allows you to take measurements more accurately than with a traditional tape measure. It also makes it easier to measure in rooms where there are obstacles to navigate.
How do you use a laser measure?
You use a laser measure by pointing the laser at the target and press a button. The distance will be displayed on the screen. Some laser measures also have extra features, such as a a digital level, calculator and the ability to store multiple measurements.
What are the different types of laser measure?
There are two main types of laser measures: indoor and outdoor. Indoor laser measures are designed to be used in well-lit environments, while outdoor laser measures are designed to be used in bright sunlight.
What does an inclinometer do in a laser measure?
An inclinometer is a device available in some laser measures that measures the angle of an object. This can be useful for a variety of tasks, such as leveling furniture or appliance, measuring the slope of a roof or drive, aligning a picture frame or shelf or checking the level of a foundation
Inclinometers in laser measures typically work by using a pendulum or accelerometer to measure the angle. To use it, simply place the device on the surface you want to measure and press the inclinometer button. The angle will be displayed on the screen.
Read more:

The best laser rangefinders
The best thermal imaging cameras
Best thermal binoculars
The best borescopes and inspection cameras
The best infrared thermometers
The best night vision goggles
The best handheld light meters