The best laser rangefinders allow you to measure distances accurately and quickly, making them a must-have for golfers. You just have to point your laser rangefinder at the green or hole, and the device will automatically calculate the distance for you. This helps you to choose the right club and improve the accuracy of your shot.
Of course, a laser rangefinder can have other uses too – for other sports such as hunting and archery, as well as professions such as construction and real estate.
So what's the best laser rangefinder for you? Obviously you'll be looking for a high degree of accuracy, as well as something that's compact, portable and lightweight, especially if you'll be carrying it around with you for hours. You'll want also good battery life, and an outer casing to protect your device from the elements.
See also
• Best rangefinder binoculars • Best laser measures • Best laser levels
With so many options on the market, it can be tough to choose the best laser rangefinder for your needs. In this article, we'll review some of the top-performing laser models on the market today, and help you make an informed decision.
The best laser rangefinders in 2023
Why you can trust Digital Camera World Our expert reviewers spend hours testing and comparing products and services so you can choose the best for you. Find out how we test.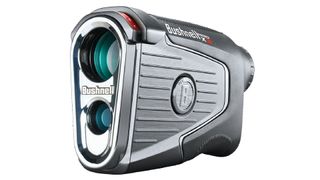 Bushnell has a reputation for making the best laser rangefinders for golfers, and this latest model only adds to that legacy. Offers 7x magnification, this makes it easy to achieve accurate results, even in environments with lots of slopes. It's also fully waterproof, with rubber armor protecting the metal housing so it won't slip from your grasp. And it comes with an integrated magnetic mount, which allows you to easily attach it to the bar of your golf cart.
Replacing its predecessor the Bushnell Pro XE, this new model adds some nifty features, including a new dual display, which allows user to choose between a bright red or crisp black display setting. There's also a new Locking Slope-Switch switch, which lets the golfer easily switch the Pro X3 in and out of Slope mode (making it legal during tournament play). All in all, this is our top pick as the best laser rangefinder for golfers today, although be warned that it is on the pricey side.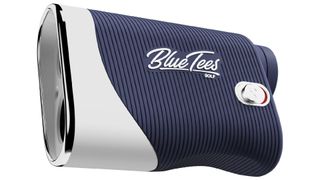 Looking for the best laser rangefinder at a low price? Here's our recommendation. While the Blue Tees Series 3 Max Laser is on the cheaper side, it still gives accurate and consistent measurements. It also provides 7x magnification and features a clear, easy to read auto-ambient display, which adjusts the view you get depending on the conditions.
You get a short vibration when you lock in on your target, and there's a slope switch to comply with tournament regulations. The magnetic strap on the case is a little flimsy, and overall it's less accurate than premium models, but otherwise this budget-beating rangefinder offers superb value.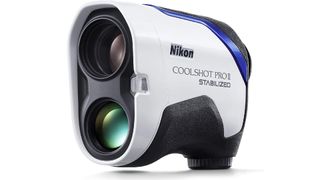 This laser rangefinder is packed with pro features for golfers. For example, it can calculate incline and decline to display a slope-adjusted distance guide to how far you should hit the golf ball. It boasts a built-in 6x monocular. The brightness of the internal OLED display, automatically adjusted dependent on ambient light levels, further enables viewing in a broad variety of conditions.
The waterproof and fogproof rangefinder can withstand a range of conditions and temperatures. It claims to pinpoint a measure in a speedy 0.3 seconds. And as the model name suggests, this laser rangefinder also features built-in vibration reduction, which provides a steadier viewfinder image.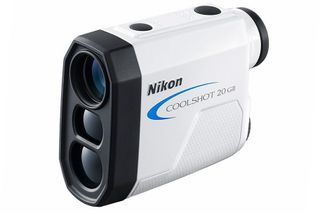 The Nikon Coolshot 20 GII packs a lot into a compact body that's light enough to cradle in your palm, including a very respectable range of five to 730 metres and a 6x magnification monocular with multi layered coating. And the on-board First Target Priority algorithm is sophisticated enough to pick out the closest target, even if the flagstick during a golf game has otherwise distracting trees or a building behind it.
Admittedly it's slower than higher priced alternatives, so you have to hold down the power button for up to eight seconds of continuous measurement – and a further four should that first measurement fail. But a long eye relief and dioptre adjustment makes Nikon's smallest available 'Coolshot' comfortable enough for spectacle wearers to use. And overall, this is a great value choice for keen amateurs eyeing up their first laser rangefinder.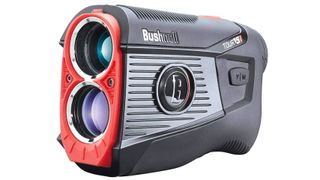 Another popular choice for golfers from Bushnell, this laser rangefinder boasts a 6x magnification with a fast focus, providing accuracy to within one yard.
Like the first laser rangefinder on our list, this option features a 'jolt' mechanism to confirm to the user that it has locked on the pin – with the unit itself vibrating – while claiming to be able to navigate and help golfers compensate for an uneven, sloping surface. A switch on the unit itself enables the user to toggle in or out of said slope mode.
On the downside, the build is plastic rather than metal, but if you don't need the ruggedized exterior and waterproofing of the Pro X3, then this more keenly priced 2020 model may be more up your street.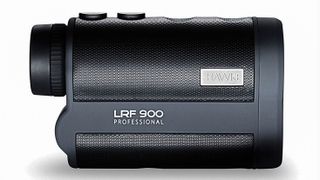 Another laser rangefinder option from a recognized specialist in optics – here, multi coated – this will conveniently fit in the palm. It handily comes with a roughened surface so it doesn't slip from your grasp, while offering a degree of waterproofing.
Able to pick out objects up to an impressive 900 meters away, sophistication comes courtesy of four user modes, with results viewable via its LCD viewfinder. These are: Distance (measuring a straight line to your subject), Beeline (the shortest horizontal distance to your target), Height (how high the target is in relation to the viewfinder) and Angle (calculating the angle of projection from the point that you are aiming at). It all adds up to a respectably comprehensive proposition for the price.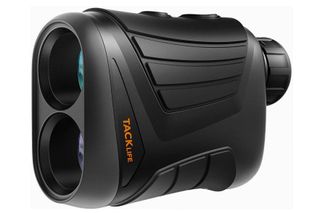 The Tacklife MLR01 can zero in on an object up to 800 meters away and offers 7x magnification into the bargain, while offering a comfortably ergonomic design that sits readily in the palm. Its rechargeable battery can be charged via USB, while there's also a screw thread provided for attaching it to a tripod, if desired, along with a hand strap gifted to us out of the box. Peace of mind comes courtesy of a two-year warranty, and the fact that you're not breaking the bank to buy it in the first place.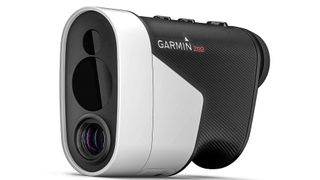 Garmin is best-known for its range of sat-nav in-car and handheld navigation devices, so it comes as not surprise that its golf laser rangefinder offers built-in GPS. Its ability to know where you are in the course is put to good use, as it can provide 2D aerial maps of the hole you are playing, in color, from a built-in database of over 40,000 golf courses from around the globe.
It also boasts the best accuracy, being able to tell your distance to the pin to within just 10 inches (250mm). Furthermore, Garmin Approach Z82 can even tell you the current wind speed and direction. Ultimately this tech makes this about the most expensive laser rangefinder that you can buy – but it brings skills and knowledge you might otherwise only get from a professional caddy.
Read more:
• The best night vision goggles and binoculars
• The best borescopes and inspection cameras
• The best body cameras for personal security
• The best thermal-imaging cameras
• The best infrared thermometers