The best satellite phones let you call others when you're away from civilization, be that out at sea, in the mountains, or hiking in the wilderness. And while they used to be prohibitively expensive, nowadays they're cheap, easy to find online, and as simple to use as normal phones.
Once you've bought your satellite phone, you can add monthly plans or use pre-paid cards to pay for the calls. If you prefer the latter, just search Amazon for a prepaid card with a SIM for your satellite network and destination, or buy one in a bundle. And when you're calling, don't forget the international dialing code.
Can't afford a full-blown satellite phone? Then maybe consider a satellite communicator. These smaller devices offer text and/or data services, so you can still check in with loved ones, or get help in an emergency. And they often also link to your standard mobile phone if you need to speak to someone.
Best satellite phones in 2023
Why you can trust Digital Camera World Our expert reviewers spend hours testing and comparing products and services so you can choose the best for you. Find out how we test.
Best for backpackers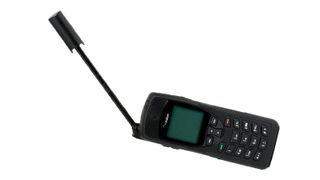 If you're heading off for a wilderness hike, here's our top recommendation. The Iridium 9555 looks a bit like a bulky version of a typical 90s cellphone with a stubby antenna, but it actually extends over 12cm and can be angled to pick up a satellite signal without craning your neck.
The case design and button layout seem to owe something to the Nokia 2110 and other phones of that era too, with a central menu up/down key flanked by two action buttons and call keys beneath that. That makes this handset very easy to cope with, even with gloved hands in cold conditions.
The phone includes short email capability and the ability to receive as well as send SMS and, usefully for those inclined to travel in one country, the option to program in a preferred international dialing code. This handset also makes a lot of sense if you're driving or working in remote locations, whatever the latitude, and able to keep the phone charged; campers will need to charge daily.
Best for rough environments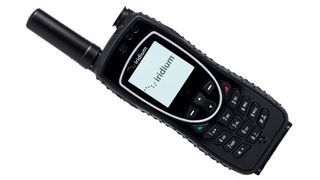 The Iridium 9575 Extreme is similar to the Iridium 9555, number one on our list, but with fully certified durability standard compliance for water jet and dust protection meeting military standards (810F).
That, combined with the 99% global coverage, makes this the best satellite phone for for travelers heading into rough environments, or off the beaten track. The integrated tracking can also help with business operation or automatically reassuring relatives.
This is still a relatively bare-bones device with a distinctly average battery life; 160 character texts feel a little retro in the 2020s, but get the job done. And perhaps more significant is the inclusion of a programmable emergency button, which is backed by the GEOS international emergency response centre, or SEND (Satellite Emergency Notification). If you lift the cap and press the button, critical rapid response will be activated and take advantage of the phone's location data. This means we'd also call this the best satellite phone for emergencies.
Best for sailing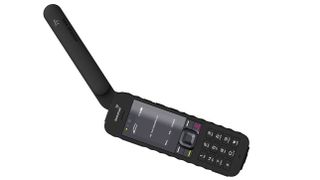 The IsatPhone 2 is the only handset easily found on the Inmarsat network and with its sturdy build and fold-out antenna is ideal for remote travelers. It is especially well suited to sailing.
On the downside, hikers and mountaineers nearer the north and south might have reasonable concerns that, in valleys, finding a signal might be an issue. Outdoorsmen sticking near the Equator, though (Florida, for example) will have nothing to worry about. Wherever you are, you'll appreciate the configurable emergency button, impossible to press by accident thanks to a flap.
The phone's menus won't impress the smartphone generation, but there is a straightforward contacts database (you'll need to remember the country code). You can also send 160-character text messages. After composing your message and hitting send, you do need to remember to keep holding the antenna toward the sky, but thankfully it can be easily repositioned. You can also send a text/email/tweet with your GPS location, and if a signal isn't immediately found, a built-in compass is activated.
Best cheap sat phone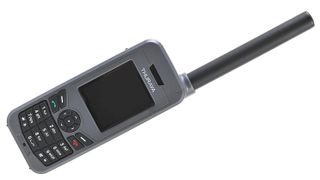 If you're short on funds, check out the XT-Lite. This a simple device with standard phone features (address book, alarms, calculator, call logs) and an omni-directional antenna which can even detect an incoming call before being extended. It's also capable of traditional SMS messaging. The handset is relatively compact compared to others on this list, and Thuraya also offer the option of a number based in your preferred country, making it cheaper for people to call you.v
As with the X5-Touch above, this phone is based on the limited Thuraya network, which operates from just two geosynchronous satellites combining to cover roughly from the west of Africa to the east of Australia, including Asia. That's 161 countries, but very disappointing to Americans (the next launch, in 2023, will replace the west-most of these rather than expand the network).
Best combo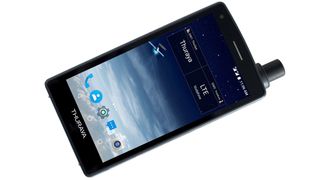 Want a satellite phone with the capabilities of a smartphone? Then here's our top pick. With obvious applications for filmmakers, traveling aid workers, and workers on energy projects who are always on the move, the X5-Touch brings the ability to pack trusted apps and a phone you can use when you're in coverage areas, all in one handy unit.
Like other Android devices, there are front (8MP) and selfie (2MP) cameras, and even a panorama picture mode. It's not the most up-to-date version of Android, at version 7, and there is no 5G support. However this isn't a device for people planning on remaining in 5G places, and all the key apps are available.
Disappointingly, the Thuraya satellite network doesn't cover the Americas; though in GSM/LTE/UTMS mode, the handset can be used pretty much anywhere there is a traditional signal. At 60kbit/s down, the satellite network provides faster data than some, but it still isn't really suited to the bandwidth phone apps need.
Best satellite communicators
Best for hikers and bikers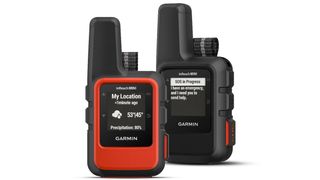 Created with the explorer in mind, the inReach Mini isn't a traditional sat-phone but allows your existing cellphone to access satellite coverage to send messages from anywhere. The four buttons make texting tiresome, though there are preset messages and – more usefully – Bluetooth connection to Garmin's 'Earthmate' app.
Since few hikers leave their phones behind, adding the smallest possible device to your straps is handy. You don't need to text constantly either; your chosen friends and family can log in and follow you on a map to check things are okay without interrupting your adventure. Typical standby time, with tracking every 10 minutes, is 90 hours, which can rise to days with less frequent tracking options set.
In an emergency, there's an SOS button that will communicate with the 24/7 GEOS centre (phone or not), which all adds up to a phenomenally useful (and reassuring) device for mountain bikers, hikers, or anyone else wanting to feel more confident they're connected to the world, without the expense of bulk of a full-blow satphone.
See also Best handheld GPS
Best internet communicator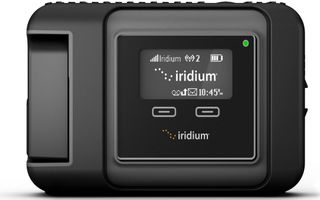 The Iridium Go! promises the ability to send and receive data from anywhere on the surface of the planet using your preferred smartphone or tablet, but you need to understand the small print. The big problem is that the data bandwidth of the network simply isn't suited to the kind of thing you're used to doing with your phone on typical phone network.
Given these limitations, the Go! actually pulls quite a few tricks out of the bag. It does this via apps which allows you to use your phone to make a satellite call. A range of other phone features look a little like a smartphone – texting, tracking, weather update and other icons are there on the main page. There is a separate email app which you'll need to set up a specific account for the email. While not ideal, this will prevent wasting bandwidth on spam.
The software is polished, and the system overcomes technical hurdles and simplifies them at the same time, though even with the Opera browser's compression web browsing is not feasible.
Best location check-in device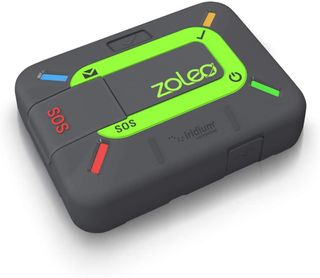 While the Garmin inReach Mini is an excellent portable device, ideal for anyone in the outdoors to have an emergency link back to reality, there is another option which makes use of the same Iridium network: the Zoleo Communicator. This offers what, for many, will be the same key function: texting via Bluetooth and an app.
In fact it makes an exceptional job of it. If you can get your recipient to use the Zoleo app too you can send much longer texts than standard sat phones. Plus the Zoleo can switch to cellular to save power if possible
The Zoleo has its own GPS, and four LEDs, which is the only means of knowing what's going on inside, though it is great to have a "check-in" button which, when pressed, simply texts your location to a defined number.
There's also a SOS button with 24/7 monitoring, meaning the paired down device has all the essentials and nothing more which makes sense for a budget-conscious backpacker or back-country explorer.
Best rugged alternative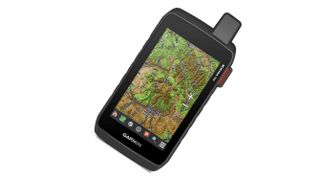 This is a chunky device, the size of a very fat version of the largest of mobile phones, but that means it can actually be held one handed and used much as you might for Google Maps in the town. Maps can be prepared in advance by downloading 15km square satellite images from Birds Eye, and followed along with GPS and the 3-axis compass. The touch screen has a glove mode, so it can be used in most temperatures, meaning the Montana 700i and 750i are essentially amazing maps combined with inReach services like messaging and weather (the 750i bringing an 8 megapixel the camera into the equation too).
The large touchscreen also gives you a more phone-like keyboard than T9 arrangements on many satelli phones. As Garmin fans would expect, the back features an assortment of mounting brackets, for example for bikers, and the many apps can track your journeys.
---
Does the iPhone 14 count?
If you're in the market for a new smartphone generally, you may have heard that the new iPhone 14 and iPhone 14 Pro series have a limited capability to make SOS calls via the satellite network, when you're not able to access normal phone coverage. This service is free for two years after the activation of your phone.
However, we are talking very limited here. Because these iPhones don't feature the kind of bulky antennas you get on a normal sat phone, you need to point them directly at the satellite, using a special orientation app. Plus, the bandwidth is so low that you can only send text messages, and even that is likely to be a challenge.
Because of this, Apple has devised an interface for emergency services with a series of prepared prompts, such as 'Who needs help?', 'Is anyone injured?', 'What type of emergency is it?' Even then, it may take a message minutes to send. For these reasons we don't consider either the iPhone 14 or iPhone 14 Pro to be a full satellite phone, and so haven't included them in our main list.
How do satellite phones work?
Satellite technology is ideal for calling and texting from remote locations, including oceans. But you'll always need to be outside, and give your antenna the best view of the sky you can, to ensure you get a signal. Be aware that satellite technology suffers some latency (delay) since your signals have a long way to travel, but you'll never be out of touch.
So what satellites can you actually use to make calls? Inmarsat, the first network originally designed for mariners, covers most of the planet with a handful of geosynchronous satellites. These orbit the equator, never moving relative to the ground, but as you go north and south they get nearer the horizon; in hilly terrain you might not 'see' the satellite at all.
The alternative is Low Earth Orbit, in which the satellites move relative to the Earth's surface, spending only a few minutes useable in any one place. The biggest of these is Iridium, with 66 satellites in total.
What are the benefits of using a satellite phone?
Satellite phones can allow you to make calls, send texts, and access the web in areas where there are no cell towers or other earth-bound forms of communication infrastructure. This makes them useful in remote or rural areas, out at sea, or when normal cell phone services are disrupted by natural disasters, war or other emergencies. For this reason, satellite phones are popular amongst hikers, climbers, sailors and globe-trotting reporters.
What are the downsides to using a satellite phone?
Satellite phones are often more expensive to operate than regular cell phones, plus they tend to be larger and bulkier. Additionally, satellite phones are unlikely to work indoors, they may not always provide good coverage in remote or rural areas, and they can be affected by weather conditions such as clouds or heavy rain, as well as geological obstacles such as mountains and large trees.
How can I get a good connection with a satellite phone?
To get a good signal for your satellite phone, position it with clear view of the sky, avoid buildings, trees, or any other objects that could block it. Holding your satellite phone in a horizontal position, with the antenna pointed upward, helps to maximize signal strength and improve the connection. It may take a few minutes for your phone to acquire a signal, depending on your location and the conditions, so you may need to be patient.
Read more:
Best walkie talkie
Best burner phone
Best dumbphone
Best head torch
Best touchscreen gloves
Best travel camera