Watch video: 6 best new features in Photoshop Elements 2021
The latest version of Adobe's beginner-friendly version of Photoshop has arrived for Windows and Mac computers. And Photoshop Elements 2021 expands on its predecessor with some very desirable new features and updates.
Elements is a popular choice because it borrows many core features from its bigger brother, Photoshop CC, but it's a one-off purchase (currently around $70 / £60) so there's no monthly subscription. What's more it can be bought with Adobe's budget video editing program, Premiere Elements 2021, in a cut-price twin-pack deal – ideal if you shoot moving as well as stills.
Photoshop Elements 2021 comes with a raft of updates, many of which make use of Adobe's Sensei AI and deep learning algorithms to simplify tasks, like adding a new sky, or creating moving images. 
In our example landscape we added a new sky, gave it a stylish duotone, and added an inspirational quote, using three of the new updates. Here's a closer look at our favorite six new features…
01. Move, scale and duplicate
If there's an object in your photo you'd like to reposition, open it and go to the Guided Mode then choose Basics > Move & Scale Object. You can then brush over your object to select it and move it or duplicate to another part of the frame.
02. Add a stylish duotone
Open the image you'd like to add a duotone to and go to the Guided Mode > Fun Edits > Duotone Effect. Now choose one of the duotone looks you like and adjust it further with the strength and opacity sliders below.
03. Perfect your landscapes
Bring the landscape you want to edit into the Guided Mode and go to Special Edits > Perfect Landscape. Now you can easily add a new sky here, then use the Opacity and Brightness sliders to blend it in and use the Move Tool to position it.
04. Add inspirational quotes
Open Elements and go to Create > Quote Graphic, then click on one of the graphic templates and hit Open to get started. Use the panel on the right to find and insert your image and then double-click on any text boxes to add your own text if needed.
05. Create fun moving GIF images
To create a 3D motion effect from a single image open it in the Expert Mode and go to Enhance > Moving Photos. With 3D Effect ticked, choose one of the options to zoom, pan or tilt and hit play to preview it. You can export it as a GIF file.
06. Adjust the tilt of a face
Open your portrait in the Expert mode and go to Enhance > Adjust Facial Features. In the interface that appears you can click between faces to select them and use the new Face Tilt option to change the tilt rotation and from left-right and up-down.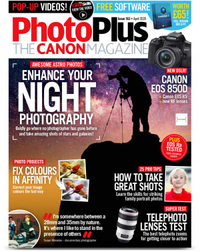 PhotoPlus: The Canon Magazine is the world's only monthly newsstand title that's 100% devoted to Canon, so you can be sure the magazine is completely relevant to your system.
Read more:
The best photo editing software: image editors for novices through to pros
The best photo-editing laptops: top laptops for photographers
10 best online photography courses – from beginner guides to masterclasses