Trouble streaming the above video? View/download it here
There are all sorts of tricks you can do with layers in Adobe Photoshop CC, from blend modes to filters. But one less well-known technique is clipping masks. Perhaps this is because it's seen mainly as a tool for designers – but this powerful feature can be equally useful for photographers. Whether you want to create eye-catching conceptual art like this or more simple layouts and photo frames, clipping masks can be incredibly useful.
Essentially, a clipping mask requires two things: a shape, and something to fill it. For our shapes here we've used a series of simple flourish designs. (You'll find a layered PSD file among the project files, below, with a choice of flourishes.) We simply copy our hand image on top of a flourish layer, then 'clip' the hand to the flourish so that only the parts directly above the hand shape are visible. From here, we can repeat the process to build up the effect while adding depth with colour changes, shadows and strokes. We'll look at the basics here, and you'll find a full walkthrough in the accompanying video.
Download the project file(s) to your Downloads folder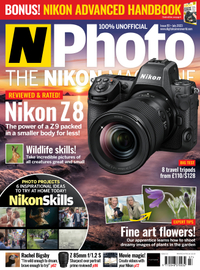 N-Photo: The Nikon Magazine is a monthly magazine that's written by Nikon enthusiasts for Nikon enthusiasts, you can be sure that all the content is 100% relevant to you! So for the best Nikon-focused news, reviews, projects and a whole lot more, subscribe to N-Photo today – with our unmissable sub deal!