As you've probably already guessed, there's a little camera trickery involved in creating this shot of our slicing, dicing, sword-swinging samurai. Although it's quite a simple and fun technique, it can lead to cool and complex-looking images.
First off, we should probably mention that we shot this image in a private car park. As you may already know, you should never take dangerous-looking items, equipment or especially weapons out into public spaces without the right permissions. So, if you need to be somewhere public, always speak to the local authorities first.
• Read more: How to capture action shots of your pets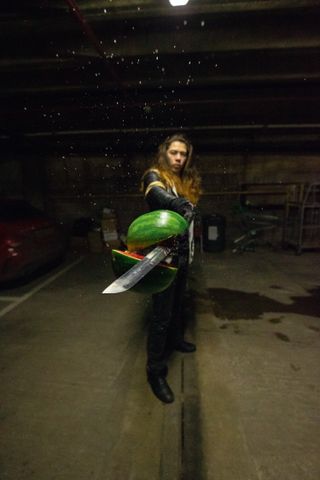 As you're about to find out, the secret to this shot has very little to do with your fruit ninja's proficiency with a sword and everything to do with having an assistant to hurl fruit into frame!
We're creating the illusion that a master swordsman is swinging a blade and cleaving a watermelon in two, which would take incredible timing and precision. In actual fact, though, the timing and precision are required of the photographer and assistant – all the swordsman has to do is stay perfectly still!
So here's how to turn anybody into a sword master…
Step by step: Become the fruit ninja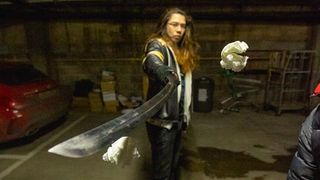 01. Practice first
Accuracy is the key here, not only for your friend throwing, but also for you taking the shot. Chances are that once you've thrown your fruit, it will drop to the floor and break apart. While it won't hurt to have a backup melon or two, it's best to practice first with some pieces of paper.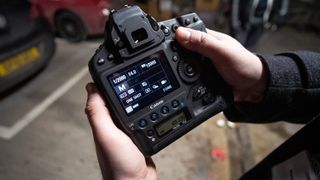 02. Camera settings
This type of project is much easier to do outside, where you can keep your ISO low and your shutter speed fast. We were indoors, but with the Canon EOS-1D X Mark III's high-ISO capability (here we used ISO10,000) we were able to keep the shutter speed at an ideal 1/2,000 sec to freeze the action.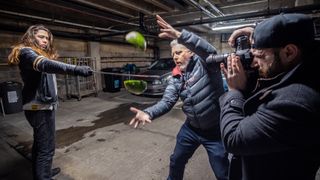 03. Go for it!
Just before we were ready to shoot, we doused the melon with water to give an added splashing effect when the two halves collided with the sword. An aperture of f/4 gave us some background detail while leaving the main focus on the action in the foreground.

Top tips for taking your samurai shot
01. Try low angles for more impact
If throwing both halves of your fruit is proving difficult for your assistant, you can place one half on the floor, where it stays still, then throw in the other…
02. Switch to manual focus
Using manual focus is essential to get a high burst rate when the action begins. Pre-focus on the area where the fruit pieces will collide to give yourself the best chance at success.
Working with low angles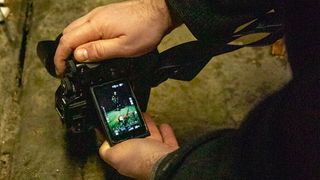 01. Get a different perspective
Getting low to the ground will always create a more powerful perspective, but in this case it also makes the technique much easier.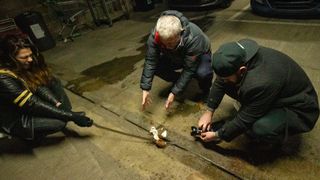 02. Use your tools wisely
For this shot, we switched to a Fujifilm X-T2. With its versatile rear flip screen, we could see and compose the shot more easily. The settings used here were: f/2, 1/800 sec, ISO 6400.
Read more:

Canon EOS-1D X Mark III review
The best action cameras
Best Canon cameras
Best Fujifilm cameras