Watch video: Inject amazing lens flare with a cheap glass prism
With the advent of digital imagery and websites now enabling us to zoom right in on images to 'pixel peep,' we've become slightly obsessed with megapixels, image quality and getting the sharpest possible shots.
Perfection isn't the be-all and end-all, though – you can get fantastic images by introducing distortion and flare when used with the right creative vision. An inexpensive glass prism can be held in front of your camera's lens to create flare, vibrant distorted colors, reflections and diffusion worthy of the best diffusion filters.
• Read more: Best lens for portraits
Glass prisms come in all different shapes and sizes and can be picked up readily online for cheap – and you can even get specialized kits, like the Lensbaby Omni system. We, however, used a 15cm tall triangular prism for our shoot that cost about seven bucks. These super-affordable accessories are well worth having in your kit bag as they open up a world of creative opportunities – particularly for portrait work.
It's best to shoot your prism portraits in your camera's Raw mode, just in case your exposure is a little off. It's also generally best to underexpose portraits slightly to preserve skin tones and stop them blowing out to pure white. Here's how you can take some brilliant prism portraits…
01 Get your prism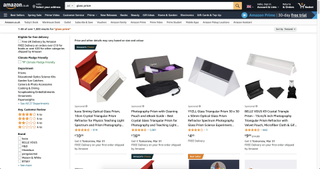 Triangular glass prisms can be found for just a few bucks on popular online stores like eBay and Amazon in different shapes and sizes, making them an affordable way to drastically change the look of your portrait pictures.
02 Choose the right lens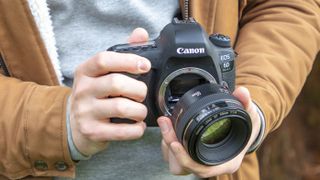 A 35mm focal length is a good choice for cameras with an APS-C sensor (thanks to 52.5-56mm equivalent full frame focal length), while 50mm is better for three-quarter or head-and-shoulders portraits on a full-frame body. The wide apertures of these primes are usually around f/1.8, making it easy to blur out the prism.
• Read more: Best 50mm lenses
03 Dial in the settings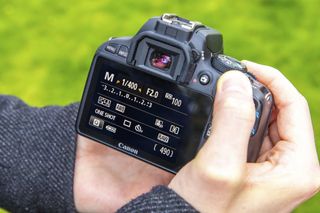 You'll be holding the camera in one hand and the prism in your other, so dial in the settings before you shoot. Go into Manual mode and set an aperture of around f/2, a shutter speed of 1/400 sec and an ISO of 100 (or your camera's base ISO) and enable Raw image quality, too. If you have in-body or in-lens stabilization, make sure that's turned on as well to compensate for shooting one-handed!
04 Take a test shot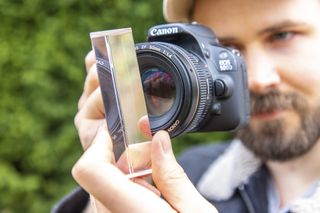 Direct your subject into position then take a test shot, leaving space in the composition for the flare to be added from the prism. Review the shot – if it's too bright increase the shutter speed, and if it's too dark increase the ISO, then take another shot until the exposure is right.
05 clean your prism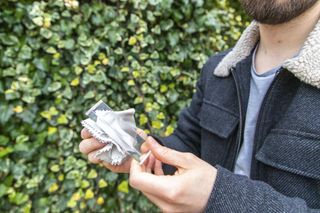 Give the prism one final buff with a microfiber cloth to get rid of any dirt or fingerprints. Then hold it in front of the camera lens to try to get the flare where you want in the frame. You may need to move your prism, yourself and / or your subject around, so experiment with how you're facing the sun to get the flare just right.
06 Take your final image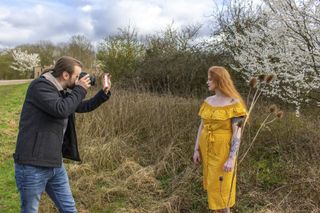 With the flare how you want it and the composition spot-on, use the directional pad or joystick on the back of your camera to move the active autofocus point directly over the top of the model's eye that's closest to you (unless you have a camera with reliable Eye Detect AF). Half-press the shutter to focus, then take the shot.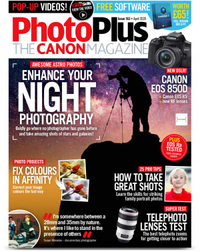 PhotoPlus: The Canon Magazine is the world's only monthly newsstand title that's 100% devoted to Canon, so you can be sure the magazine is completely relevant to your system.
Read more:
Portrait photography tips
Headshot photography tips
Best books on portrait photography