A revamped edition of Tamron's original 17-50mm zoom for APS-C format cameras, the Tamron SP AF 17-50mm f/2.8 XR Di II VC adds VC (Vibration Compensation), while retaining the earlier version's zoom range and constant f/2.8 aperture rating. The VC stabilisation system has an effectiveness equating to four stops, beating the three-stop stabiliser of Canon's 17-55mm f/2.8 lens. The Tamron's outright zoom range isn't as large, losing 5mm at the long end, but on the plus side, the lens is a bit smaller than the Canon.
While the stabiliser is worth having, the autofocus system is quite old-fashioned, utilising an electric motor. The Tamron is no slouch when it comes to autofocus speed, but the motor is relatively noisy and, as with the Sigma 17-70mm lens's ultrasonic motor-based autofocus system, handling is degraded. This is because the focus ring rotates during autofocus, so you have to take care to keep your fingers clear. Instead, you need to switch to manual focusing mode via a switch on the lens barrel. As with many comparable lenses of this type, the front element and filter ring don't rotate during focusing.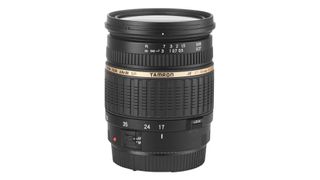 Performance
Centre-sharpness is excellent although it pays to stop down to f/4 or a narrower aperture for optimum sharpness at the long end of the zoom range. Sharpness towards the edges and corners of the frame are kind of disappointing. Colour fringing is well controlled and pincushion distortion at mid to long zoom settings is minimal. If you can live with the noisy autofocus system, this lens is good value for an f/2.8 zoom.
The optical path includes XR (eXtra Refractive) and LD (Low Dispersion) elements, controlling for distortion and aberrations. Switches are on hand for auto/manual focusing, VC and zoom lock, and the operational direction of the zoom ring is opposite to that of Canon lenses – so bear that in mind if you're used to using Canon glass.
Read more:
Best telephoto lenses for Nikon