The SpotCam Mibo could be considered one of the best pet cameras on the market for those who simply want to check in on their pet when popping out for groceries, or when at work and your fur baby might be alone for extended periods of time. The basic nature and features of the SpotCam Mibo make it ideal for those who are only just looking into the world of pet and indoor security cameras and do not desire anything that's too complicated or flashy.
With that said, the SpotCam Mibo is more than capable of acting as a home security monitor as well as a robot pet-sitter, with two-way communication through a built-in microphone allowing you to talk to your pet and deter them away from doing anything they shouldn't be or letting them know that you'll be home soon.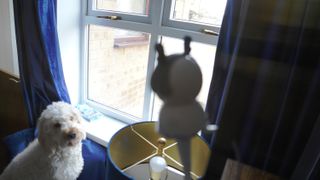 Priced at US$85 / £79.99, this camera sits on the lower-priced but still mid-tier range of indoor security cameras and pet cameras, and admittedly, it fell a little short of our expectations when compared with other similar devices we've tested including the Enabot EBO Air pet camera – which absolutely blew us away with its AI intelligence, as well as the much cheaper Petcube Pet Cam that is excellent value for money.
That's not to say that you should rule out the SpotCam Mibo, as this little pet camera has a lot to offer and a few tricks up its sleeve, and might be the pawfect addition to your home depending on your budget and lifestyle.
We'll go into much more detail about how this camera operates and what it can do in the Performance and Key Features sections of this review, but if it's only sample imagery and footage or the final verdict that you're after, then feel free to navigate through the article using the relevant section tabs above.
Spotcam Mibo: Specifications
Camera quality: 2K (2304 x 1296) at 30fps
Field of ciew: 360 degrees (horizontal pan), 90 degrees (vertical tilt)
Night Vision: 6 High power IR LEDs
Capacity: Cloud-based storage
Dimensions: 7×10.4 (cm)
Weight: 183g (6.5oz)
Charger: Micro-USB - must be plugged in at all times
Battery: 5V2A power adapter
Real-time transmission: H.264 encoding
Speed: 2.4GHz WiFi or 10/100Mbps Ethernet
Audio: Speaker and microphone
In the box: The SpotCam Mibo, Wall mounting kit, 2m (6.56 ft) power cable and adapter, Quick Start Guide.
Unboxing the SpotCam Mibo
SpotCam Mibo: Key features
The key selling points of the SpotCam Mibo include its ability to pan and tilt automatically with a Pet Tracking mode, as well as human tracking should you choose, and real-time alerts through email or the SpotCam app when motion is detected, plus two-way audio communication, 2K video quality, secure 1-day cloud storage of your footage, and cross-platform SpotCam Live viewing.
An optional Pet Care AI service can be purchased as an add-on to use with your camera which includes three features; Pet Sound Detection, Pet Video Diary, and Virtual Fence. This pet care bundle is priced at $6.95 per month or billed annually at $69 (£56.05 /AU$97.86) renewing each year. These features can be purchased individually and free trials are offered from the SpotCam website.
The Video Diary is a pretty useless feature but allows you to look back on a hyper-lapse video comprising footage of your pet from that day. Motion and Sound detection is a standard free feature included with the SpotCam Mibo, however, the Pet Sound Detection add-on will focus specifically on sounds that include barking or meowing as a trigger to let you know of any events occurring while you're away.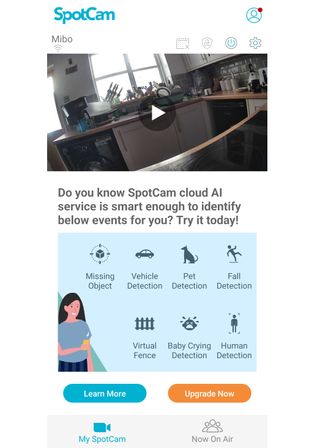 The Virtual Fence would definitely come in handy for those who have set boundaries in the home of where their pet can or cannot go, for example, if your cat or dog is not allowed upstairs you can monitor this by drawing a virtual line on the video, and AI will then monitor this specific area and detect when any objects cross it from either direction.
I set the virtual fence in my home as the front door, as my dog loves to greet the postman and will step outside any chance she gets. We have a Ring doorbell camera installed at the front of our house, but the pet sound detection was enough to alert me through the app that someone was at the door, after it detected a loud bark and movement.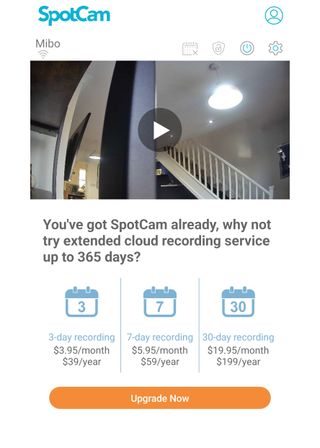 I do feel that a lot of the advertised features of SpotCam products should be the standard, without the need for having to purchase extra add-ons on a monthly or annual basis. While the cloud AI storage certainly isn't a bad thing, it might have been better for the company to include a micro SD card slot somewhere on the device to allow consumers the option of using their own storage method instead.
I also didn't like that a lot of space in the app is used as adverts to encourage you to spend more money with SpotCam. It would constantly prompt me to upgrade my cloud recording and would only go away when rotating my phone sideways.
SpotCam Mibo: Build & handling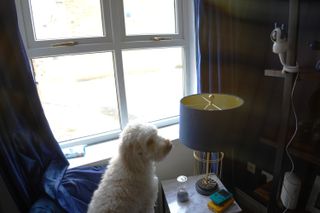 The SpotCam is activated using the app only, with no physical power button on the device, and must remain connected to power at all times otherwise it will shut down. If there is a loss of Wi-FI connectivity to the cam, then you won't be able to view any live footage when you're out. There's an ethernet port on the back of the device should you choose to opt for this connectivity instead.
As a very nosey dog, my almost two-year-old Doodle, Tilly, spends most of her time staring out of the living room window on cat watch when we're out - which is why I decided to rig up the SpotCam in this area, attached securely to my sturdy display unit using the included bendy mounting kit, which was super easy to use and adjust.
The SpotCam Mibo blended in very nicely with my home decor, with the strange silicone deer headband that was included coincidentally being the same dark blue color as my wall paint! But, it did bug me quite a bit that the device always has to be plugged in and connected to a power source for it to be functioning, meaning that a white dangly cable gave away its otherwise discreet positioning.
I probably could have used a wireless power bank to solve this cable problem, but I worried that it might not be sustainable enough or a practical solution in the long run as I'd need to keep charging the power bank up every day to ensure that the SpotCam wouldn't cut out or lose power while in use.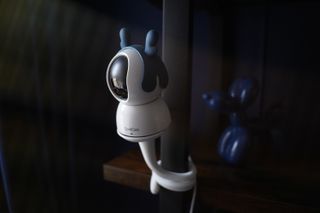 The device itself is lightweight and could be easily transported if you ever needed to travel with it. The base of the SpotCam Mibo attaches onto a separate base plate with a magnetic bottom, making it easy to attach to a magnetic surface should you choose, (although you'd still need to have a wire sticking out the back of it).
This magnetic bottom can be de-attached and leaves a screw adapter in its place similar to those found on mini tripods, this connects seamlessly to the included bendy wall stick to allow for attaching the SpotCam Mibo to almost any surface. It might even be a good idea to use a small Gorillapod with this cam instead of the provided accessories, if you plan to keep it somewhere high up.
It seems like a waste to not have made the SpotCam Mibo wireless, as no matter where you place this camera it must be within reaching distance to a plug socket, and the manufacturers obviously know this, as an extra-long micro-USB cable is included in the box.
Overall the build quality of the Mibo feels strong and sturdy, yet super lightweight and would sit securely in place without fear of it being too heavy or toppling over a shelf. The device does not move from its placement, only using the pan and tilt feature to provide a 360-degree field of view without actually patrolling about.
While this is great for remaining in place, it limits the SpotCam to only being able to cover one (possibly two) rooms in a house, so you would need to connect and purchase additional units to track your pet as they move throughout the house, upstairs, or even into the kitchen and back yard.
SpotCam Mibo: Performance
Tilly is mostly very well-behaved at home, but can be a bit of an escape artist and likes to explore her surroundings when she's bored. This isn't so much of a problem when she's home alone for short periods of time, as she can easily access her toy box and roam the house as she pleases, but we do use a Samsung Smart Tag on her collar when we go out for walkies, just in case she chases any squirrels and can't find her way back.
With this in mind, I was intrigued to see if Tilly would discover the camera and want to interact with it (or eat it) once noticing it, but despite talking to her through the SpotCam on multiple occasions, she couldn't seem to make eye contact with the camera or decipher where my voice was coming from.
This was a win for me, considering that she really didn't get on with the previous pet cam we had in the home, and would take any opportunity to destroy it (see: my dog absolutely hates this pet camera). I didn't test the two-way communication much on this device to avoid upsetting or confusing Tilly into thinking I'm in the house, but it worked perfectly fine on the occasions that I did use it and could ask my partner to put the washing on.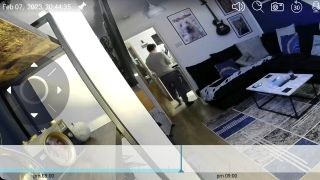 The app is straightforward to use, and once you're viewing live footage from the SpotCam, it can be remotely controlled by swiping up, down, left, or right to change the angle or field of view. The camera icon snaps a photo once pressed, the mic icon can be used to communicate through the camera, and you can also create presets to tell the camera which way to face, for example towards the window or kitchen.
Audio quality of the SpotCam Mibo is pretty standard, and while it's not an issue, the camera does make a grinding scratchy noise as you rotate it manually using the app, and remains in any captured or archived footage that you save, but this rotation noise is otherwise silent in person and you can't hear the device at all when in the same room as the Mibo.
The app is designed to support multiple camera installations and supposedly works with smart speaker apps such as Amazon's Alexa and Google Home, although my attempts at saying "Alexa, activate the SpotCam" were met with "Okay" from the speaker, but it did not actually carry out the command or turn the camera on. I made sure that the skill was fully compatible and enabled, but still with no luck.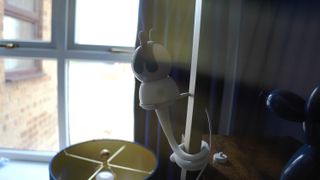 Android / Non-Apple smartphone users take note: The SpotCam app is bloody awful. I had a bad experience overall using this app with my Samsung Galaxy S21 Ultra, with the app frequently not connecting to the camera, not registering at all when toggling the on/activate button, working intermittently, and at one point I had to start from scratch and re-register the cam entirely to get it to work.
I spoke with my contact at SpotCam who advised updating the app to the latest firmware which I already had, testing it out with a different Wi-Fi network, and they also sent screen recordings of it working perfectly fine on their end - which begs the question of whether the app is buggy just for Android users, or if it simply doesn't like my smartphone or home broadband.
The screen recording above is from my phone and shows what it's like to use the app with my Samsung Galaxy S21 Ultra. I was connected to my home Wi-Fi and right next to the router box so this should not have been the problem.
As you can see, it takes a few attempts of toggling the power button for the live footage to be displayed, and on one occasion it took almost 20 minutes for the app to work. This might also be an issue for some Apple users too, but I cannot confirm if this is the case or simply an Android problem.
SpotCam Mibo: Sample imagery
The images below were all captured using the Spot Cam Mibo and automatically saved to my phone's camera roll. The image quality is perfectly fine although you can tell that it has been in some way pre-sharpened, most likely with an HDR filter applied by the camera/app itself.
The night vision images are also pretty crisp and sharp, and show the entire room very clearly even with all of the living room lights switched off.
SpotCam Mibo: Sample video footage
Video Samples from the SpotCam Mibo
SpotCam Mibo: Verdict
Overall, I was a little underwhelmed when using the SpotCam Mibo pet camera and expected more for the price. This might be because I've previously used some amazing pet cameras in the past with exceptional features, like the Furbo 360 that can disperse treats! The buggy and temperamental app experience to activate the camera plus the eye-sore cable draping out of the device was enough to put me off.
The bottom line is that the SpotCam Mibo operates as it should despite a few bugs, the image quality is pretty good but a little too HDR for my taste, it provides exactly what the product was intended for, and is pretty easy to use and set up once you figure out the app interface and untangle the poor translations.
The SpotCam Mibo can definitely make for a great addition to the home for those who are interested in purchasing a pet monitoring or indoor security camera for the first time, but the extra add-ons and cloud storage purchase options didn't sit right with me as a consumer, and for a mid-tier price, I would usually expect such features to be included as a standard as opposed to a subscription fee.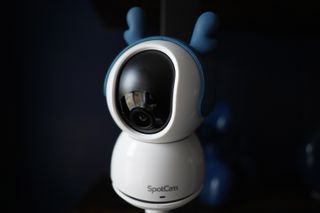 SpotCam Mibo: Should you buy?
If you already know that you're going to want to watch back footage of your pet when they're home alone, capture photos of your pet through the camera, interact with them in a meaningful way, or store a large quantity of extended video footage, go for the Enabot EBO Air pet camera instead.
It does cost extra, but there are no nasty surprises, subscriptions, or monthly payments involved with the Enabot Air camera, and it comes included and fitted with its own SD card so you won't need to faff about with any cloud storage and can easily access anything you wish to see from your phone using the superb app.
While the SpotCam Mibo might be a little bit cheaper on paper and as a one-off purchase, the fees and subscriptions you may rely on to maintain the device and make it functional extend the overall monthly cost greatly, so I would advise that it's worth investing an extra 50 dollars or so into a much more reliable camera that has everything you need from the get-go.