The Furbo 360 Dog Camera is at the most expensive end of the best pet camera list, but does that make it a good buy for pet owners? Feature-full, easy to use, and attractively designed, the Furbo 360 is a standout option in a congested market.
Manufactured from white plastic and complete with a sustainable bamboo wood lid, the Furbo 360 is an aesthetically pleasing model, and while tall and not exactly discreet, its smooth lines, slender profile, and restrained design blend in nicely when placed on a bookshelf or modern mantelpiece.
The Furbo 360 does have a few niggles. The whirr of its rotation motor (especially in its sensitive auto-tracking mode) can be surprisingly distracting in a quiet room – and you can expect your puppy to notice this too. While the treat dispenser was a big hit with my excitable puppy, it can be a little unpredictable in terms of portion size, and occasionally throws out fistfuls of treats or none at all, depending on how big or small your chosen treats are.
The Furbo 360° recommends using small (0.5-inch) round treats, however, and these do prove more reliable. It's worth noting that the treat dispenser is itself customizable in terms of treat diameter (modifiable for treats between 0.24 and 0.6 inches), but again, it's not totally foolproof, and slightly softer or irregularly-shaped treats can break up on launch.
Furbo 360 Dog Camera specifications
Size: 13.3 x 12.5 x 23.3cm
Lens: HD 160° Wide Angle
Connectivity: 2.4 GHz WiFi/802.11b/g/n
Required Operating Systems: Apple iOS 12 or newer, Android 8.0 or newer (must support Bluetooth 4.2) with Google Play, Google Services
Included: 2-meter USB-C cable, power adapter, quick start guide
Resolution: 1080p HD, 4x digital zoom
Audio: Two-way Audio
Night vision: Colour low-light, infrared night vision up to 30ft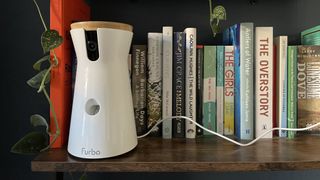 Furbo 360 Dog Camera Build & handling
With an hourglass chassis manufactured from spill-proof plastic and industrial adhesives, and topped with a sustainable softwood cover, the Furbo 360 is pleasing to the eye, and while relatively lightweight at 1.1kg, still feels relatively sturdy and able to take a few knocks, despite the slightly fragile-feeling plastic veneer.
It's worth noting that the Furbo also comes equipped with four grip pads, two of which have 3M double-sided tape, so the unit can be fixed into position once you're happy with its location.
Removing the bamboo cover reveals a generous treat hopper, with the capacity for several days worth of treats. The dispenser itself is a pleasure to use – quiet, with a default squeaky toy tone (customizable from pre-recorded options or your own recording), and with a good range, the treat tosser is able to launch treats a decent distance away, including in my case over both a projecting sofa arm and fireguard.
According to Furbo, the Furbo 360 should ideally be placed around 3ft off the ground in a relatively clutter-free space, but there's plenty of scope to use the pet camera in more cramped surroundings. One consideration is the lack of vertical tilt, however, which can limit flexibility a little, as well as introduce blind spots in the camera's field of view if positioned on a high shelf.
As mentioned, the treat dispenser isn't entirely without flaws – with treats outside the rounded, firm 0.5-inch recommendation, the Furbo 360 can be prone to launching bursts of treats, or jamming and releasing none at all – but is on the whole great fun to use for both pets and pet parents.
The Furbo 360 is so beloved in my household that my puppy has taken to sitting silently in front of it during quiet moments, beadily staring it down in the hopes of a flung treat (see below)!
Furbo 360 Dog Camera Performance
The Furbo 360 is almost effortless to get up and running – after plugging in the unit, downloading the app, and pairing the device, we were up and running in only a couple of minutes. The App design is concise and, despite the range of features and degree of customization on offer, pleasingly simple to navigate.
The fundamentals are superb – connectivity is quick and stable over both WiFi and mobile internet (we experienced almost no issues connecting, and very few instances of latency or freezing when using out and about), and picture quality itself is remarkably clear, with sharp definition and a reliably solid framerate. If needed, video resolution can be dropped from the native 1080p to 720p or 360p to adjust to your bandwidth, and motion detection capabilities are excellent, offering smooth and accurate tracking without image disruption.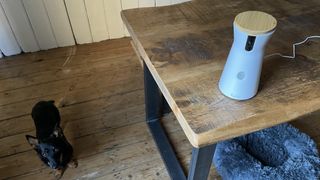 Offering both color low-light and black-and-white night vision, the Furbo 360's capabilities continue to impress even in difficult conditions, although camera clarity does understandably drop off fairly with distance in night vision mode.
The Furbo 360's app can be installed on multiple devices, allowing everyone in the household to check in on your furry companion throughout the day, and also comes with a free 30-day Furbo Nanny trial. This includes further customization options, as well as daily highlight reels, on/off power scheduling, specific activity alerts, and barking and smart alerts, where the Furbo 360's onboard AI capabilities are able to analyze and send out Push notifications for a range of motion and barking actions.
These include dog selfies (including screenshots), doggy diaries, chewing alerts, dog crying, howling, and barking alarms, and even home emergency alerts, such as listening out and alerting you to the sound of glass breaking or smoke/CO2 alarms going off.
It's debatable as to quite how useful some of these alerts are, but there's no denying the peace of mind afforded by setting up specific alarms for certain actions, as well as the undeniable fun factor of pet selfies and the Doggy Diary (a condensed 1-minute time-lapse of your dog's day). Still photos and video recordings are also recorded via Cloud storage, offering you the chance to capture cute moments.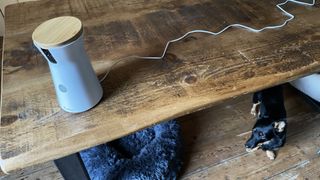 Taken as a whole, the Furbo Nanny package is competitive in terms of both price (£6.99 per month, or £69.99 annually, with your first three months currently on offer at 99p) and features, but equally, is by no means a must-have. The 30-day trial gives you plenty of room to decide if you really need the additional features on offer, but the unit and its range of onboard features as supplied never feel restrictive or stingy.
The Furbo 360 is regularly updated with new or improved features via the app's firmware, and changes and fixes are explained in more detail via frequent Push notifications.
Furbo 360 Dog Camera Verdict
With its restrained good looks, vibrant but intuitive app design, and useful array of alerts and features, the Furbo 360° is one of the rare few pet cameras that can back up its claim of being more than a glorified security camera. The Furbo 360's camera, audio, and tracking is significantly sharper, clearer and more responsive than its competitors, and while many of its more esoteric (and as such, arguably less useful) features are subscription-locked the onboard controls and options provided by default are generous, sensibly-designed, and of genuine utility to a raddled pet owner.
While the treat-tosser isn't quite perfect due to its labored motor and overzealous tracking, it's still a brilliantly fun and useful feature for quickly placating, rewarding, or distracting your errant hound. If it has a significant drawback, it's that judicious use by a gleeful owner (guilty as charged) can result in your pup becoming perhaps a little too fond of it.
Of course, the Furbo 360° does come at a price, and it's a correspondingly hefty one. The RRP certainly isn't cheap – in fact, it's almost four times the price of budget competitors like the Petcube Cam – but the wealth of features on offer, camera and audio quality, and premium feel is hard to argue with.
If you're interested in more home cameras, then you might like our guide to the best baby camera monitors, plus the best camera for streaming.