Petcube is a major manufacturer of pet cameras. Launched in 2012, the tech startup has won several Red Dot awards for the design of its cameras. The Petcube Cam is the company's entry-level option, but does that make it a good buy for pet owners?
Located at the affordable end of the best pet camera spectrum, this entry-level Petcube camera combines a compact design, sturdy construction, and a useful array of features that belie its low price point. Let's see what the Petcube Cam offers when it comes to keeping an eye on your pets...
Petcube Cam specifications
Size: 60.6 x 54 x 81.78mm
Lens: 110°
Connectivity: 2.4 GHz WiFi/802.11b/g/n
Operating Systems: iOS 11.1 and higher, Android 7.1.2 and higher
Included: 2m USB cable, Petcube power adapter, magnetic foot, 3M tape, quick start guide
Resolution: Up to 1080p HD, 8x digital zoom
Audio: Two-way full-duplex sound
Night vision: Up to 30ft
Petcube Cam features
The Petcube Cam is Petcube's budget offering, with a straightforward design ethos based on simplicity and useability. In that aspect, Petcube has largely succeeded – the PetCube Cam is easy to install, quick to set up, unobtrusive, and reassuringly sturdy given its low price point.
The Petcube Cam offers a basic but adequate camera, a two-way microphone, night vision up to 30ft, and – via a Cloud subscription package – limited motion tracking, albeit with little in the way of fine control.
The camera works alongside Petcube's free app, which enables you to view a feed of your pet remotely when you're out of the house. From the app, you can also turn the two-way microphone on and off and set up notifications to alert you when there's sound or motion detection. Unfortunately, you have to upgrade to a subscription if you want to unlock video recordings triggered by sound and motion.
Taken as a whole, the Petcube Cam does succeed in its stated mission of delivering a simple, quick way to keep an eye on your pets. However, despite its affordable price, its limitations, underwhelming app performance, and technical shortcomings may become nagging sooner rather than later. More on that below...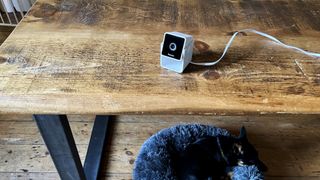 Petcube Cam Build & handling
At just 60.6 x 54 x 81.78mm, the Petcube Cam's diminutive chassis feels surprisingly sturdy and well-made. With a basic but effective manual pivot-and-swivel stand, the cam is primarily designed to sit on a shelf, but the addition of a magnetic foot allows it to be mounted on everything from fridges to shelving brackets. It's a discreet and efficient design, and, if placed high enough, the relatively generous 110° field of view generally allows the camera to take in the bulk of most rooms.
The Petcube Cam is mains-powered – almost a given in this price bracket – but the supplied 2m USB cable allows for plenty of reach and flexibility when choosing where to place the camera. Unfortunately, that same lengthy cable also means plenty of snaring potential – an important consideration when an excitable puppy (like my own Lancashire Heeler) decides to investigate exactly where the mystery voice is coming from. That said, both cable and camera feel reassuringly sturdy, and should stand up to the odd knock (or experimental chew).
Petcube Cam Performance
The Petcube Cam is pleasingly quick to set up and use, taking mere moments to move into position, download the app, set up a free account and link to home WiFi. Connecting is straightforward, with the camera emitting a tone to indicate when a connection's been established.
Given the Petcube Cam's budget-friendly nature, the camera's 1080p HD sensor is undeniably – but understandably – average. Video quality in daylight is reasonable, albeit with a tendency towards overexposure, but the appropriateness of the HD tag is arguable, especially in areas of high contrast and when using the zoom function.
When the automatic night mode takes over, these shortcomings become even more pronounced – spotting a dark cat or dog on a similarly dark sofa or carpet can quite quickly become a game of squinting at the screen, waiting for a flicker of movement to confirm your suspicions. We also found the app repeatedly downgraded image quality to 720p despite more than adequate internet speeds, introducing more visual degradation and further compounding the problem.
The app's automatic reduction in image quality, with no option to force resolution, is an indicator of further issues with the app. Connectivity is decidedly iffy – we repeatedly ran into disconnection errors or instances where the camera would unexpectedly stutter or freeze, over both fast WiFi and decent mobile connectivity. Disconcertingly, video output can lag significantly behind audio output, often stalling altogether, which can make it difficult to place quite where and what your furry friend is up to at any given time. Despite this, quitting and reloading the app can often eliminate connection issues, and leads to stable streaming for good periods of time.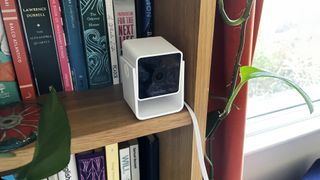 The Petcube Cam comes equipped with a basic but useful suite of features, including a two-way speaker/microphone. The audio quality here is surprisingly good, remaining crisp and distinct even at lower volumes. However, we did notice the app automatically set the initial default volume very high indeed, which could easily go unnoticed if no one (beyond your pet) is present to hear it firsthand. This can be remedied by manually setting the volume to a more tolerable level in-app, and it's certainly worth checking this prior to using.
The Petcube Cam offers several subscription tiers, in addition to a free basic package. Included in this is the ability to take both screenshots and record video clips (note that Cloud storage is only included in the significantly more expensive upgrade packages, however), and a free single-use vet consultation via an in-app chat function.
The latter feels faintly gimmicky – it's hard to see demand for this, given the bulk of users are likely to already have a preferred vet close to hand, and the in-app advice pop-ups are at pains to point out that emergency consultations and treatments should always be sourced locally – and further chats are also charged. Moreover, veterinary chat services are based in the US and as such, subject to US time zones, so these are likely to be of limited use to users based outside the States.
Petcube Cam Verdict
In an increasingly crowded market, the Petcube Cam seeks to offer a user-friendly and affordable alternative to more expensive models, and with its solid build quality, sleek design, and relatively well-rounded basic feature set, it's fair to say it largely achieves this. However, in attempting to bridge the gap between high-end pet cameras and budget home security cameras, the Petcube Cam falls squarely into the jack-of-all-trades, master-of-none trap.
While its design, price, and build appeal, the drawbacks – its unreliable app, range of subscription-locked features, and tenuous connectivity – do become frustrating after a time. Arguably, it offers little in the way of truly pet-centric utilities that a similarly priced home security camera doesn't equal or exceed.
If you're interested in more home cameras, then you might like our guide to the best baby camera monitors, plus the best camera for streaming.