There are plenty of LED light wands and panels vying for your hard-earned cash. What makes the Sirui B25R Dragon stand out from the LED crowd is that it is can bend. It achieves this feat by being a hybrid between a light wand and an LED panel.
It consists of nine LED panels that are hinged together so that you can light a subject with a straight array or bend the panels to surround the subject (such as a face or a product) with a pool of light. Some light panels require a gel to be added to change the color of their output. The Sirui B25R's LEDs can be changed to any color in the spectrum which makes it a versatile light source for creative photography and videography.
Read more: Find the best lighting for your photos and video with our guides to the best LED light panels, the best photography lighting kits, and best flash and strobes.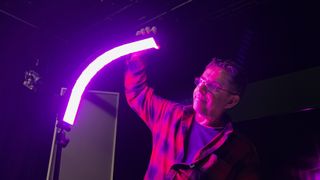 Specifications
Product Dimensions: 583x75x32.3mm
Weight: 960g, 2.12lbs
Color temperature range: 2700K to 8500K
Output: 2000 Lux at 0.5 meters
Lighting effect presets: Welding, Flash, Impulse, Lighting, Ambulance, Blast, Fire, Firework, Police car, Firetruck, Disco, Broken Bulb, RGB Cycle, Candle, TC, SOS
Color: CRI 96, TLCI 98
Power: Mains or NP-F970
Power consumption: Max 25W
Control: Onboard buttons or smartphone app
Key Features
The Sirui B25R Dragon is constructed of 9 RGB LED panels that are hinged together to create a bendable light source. You can flex the light to bend it inwards or outwards, but not quite far enough to create a perfect semi-circle. It emits up to 500 Lux at 3.3 meters (increasing to 2000 lux at 0.5 meters) and the color temperature of the LEDs can be changed from a warm 2700K to a cooler 8500K.
You can also set the light to produce any color in the spectrum for more creative lighting. There are four buttons and a tiny LCD screen at the base which you can use to trigger and fine-tune 16 animated lighting effects, though it's much easier to control the output of the Dragon using the well-designed SIRUI Light smartphone app which chats to the LED via Bluetooth.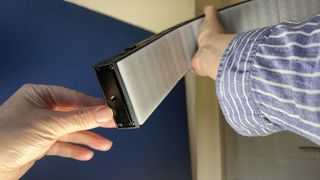 You can wire the Sirui B25R to the mains but a handy NP-F970 battery connector (battery not included) enables you to use the light in locations where there isn't any mains power supply. It has a high CRI/TCL rating so will enable you to capture accurate colors in-camera.
The B25R is designed to work in conjunction with other B25R LEDs. At each end of the light is a socket where you can clip on another B25R. This modular system and the lights' ability to bend will enable you to rig up more complex and curved lighting set-ups (though this would be expensive).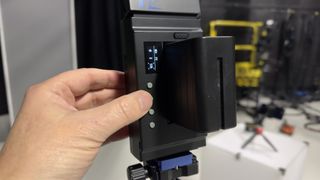 Build & Handling
My first impression of the Sirui B25R is that it was much smaller than I expected. From the press shots that I'd seen online, it looked larger than its demure 33.3mm in reality. Despite its small stature, the Sirui B25R is powerful enough to add a strong key light to an interviewee.
However, the B25R's shorter stature makes it more suited to close encounters. If you bent the LED while lighting a distant subject you'd just narrow its field of illumination. By bending the B25R's panels around a subject (such as a face) in closer proximity then you can 'model' the light more effectively to bring out the subject's shape and form.
At 960g the Sirui B25R is light enough to be maneuvered handheld but it also features 1/4-inch screw ports that you can use to mount the LED horizontally or vertically on a standard camera tripod. Its small size and bendability could also enable you to hide the light in a set.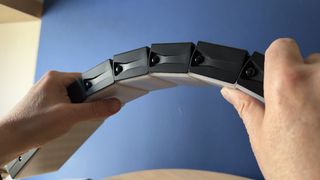 Performance
I enjoyed testing the Sirui B25R both in a TV studio and from the comfort of my home studio. In the TV Studio, it was more than powerful enough to function as a strong key light to illuminate me while I talked to camera for my video review.
In my home studio, I enjoyed using the B25R's variable LED levels and adjustable hues to creatively light some action figures for my toy photography Instagram feed. Indeed the bendable panels of the Sirui B25R looked eye-catching enough to feature in shots as well as illuminate them.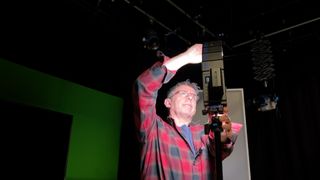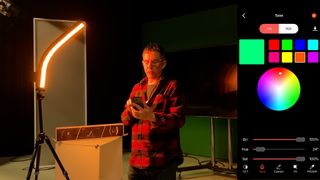 As well as being the 'World's First bendable LED' the Sirui B25R also stands out from the light wand crowd due to its well designed Bluetooth compatible smartphone app and a comprehensive collection of 16 lighting presets, from the obligatory flashing Cop Car with its alternating reds and blues to the sporadic sparks produced by the Welding preset. Each preset can be fine-tuned to adjust the frequency of the effects, making the Sirui B25R a useful tool for lighting a wide range of shoots, from horror to crime to domestic drama genres. You can also use the app's color wheel to dial in any color and tap presets to change intensity and color temperature in a few time-saving taps.
Verdict
To make the best use of the Sirui's ability to create a curved field of illumination you need to place it in close proximity to your subject. This makes it ideal for enhancing portraits or creating a soft flattering glow around products (as well as adding specular reflections to subjects made of hard and shiny materials). Although it is strong enough to illuminate subjects at a distance you don't see the benefit of the light's ability to bend when it's far away from the subject. At first, I thought the Sirui B25R's bend-ability was a bit of a gimmick but after using it to light products I enjoyed the extra level of lighting control that it's flexibility provided.