The fact that a product like the PolarPro LiteChaser Pro exists shows that camera phones have come a long way, and are now used widely by serious photographers and filmmakers.
The best camera phones have cameras that can beat regular compact cameras for features and image quality and, thanks to multi-camera arrays, can simulate many of the things that mirrorless cameras and DSLRs can do, such as differential focus.
You can get interchangeable lenses via clip-on phone cases and adapters, and now you can even attach filters, via this PolarPro LiteChaser phone case and grip.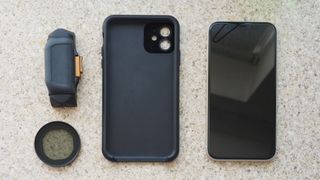 Key features
The LiteChaser Pro is a modular system consisting of a case to fit your phone model, an adjustable grip that also has a tripod socket, and a series of filters available individually or as part of a LiteChaser bundle.
The Essential kit includes just the case and the grip – and these are useful on their own, the Photography kit adds a circular polarizing filter, the Filmmaking kit swaps the circular polarizer for a 3-5 stop variable ND filter and some resellers have a Visionary kit that has both.
There are two more filters you can buy individually – fixed-density ND8 and ND64 filters. The ND64 filter might be enough to enable long exposures of blurred skies and water, for example, but both ND filters and the variable ND will be useful to camera phone filmmakers who want to slow down the shutter speed for smoother-looking video in bright light.
Currently there are cases to fit the iPhone 11 and Samsung Galaxy S20 being sold in kits, but you can also get cases to fit the iPhone 11 Pro and iPhone Pro Max and the S20 Ultra. The adjustable grip fits all of them.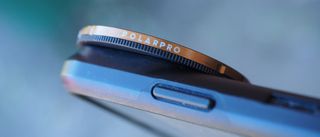 Build and handling
It's obvious from the start that this is a cut above the average phone case. Softer plastics are used for the front panel, but there's a much more rigid plastic rim that doesn't deform and holds your phone tight. The pass through buttons for the volume controls and power switch are slightly heavier than on a 'naked' phone but positive and effective.
The grip is not the regular, spring-loaded generic kind. It has notches on the top and bottom clamp to engage with four sets of grooves on the top and bottom surfaces of the phone case so that you can vary the distance from the edge of the case to suit your phone and your hand size. The grip locks into the phone case in a really solid, reassuring way, and there's no play or 'wiggle' once the grip is fitted.
The only problem we had was that the tripod sockets in the top and bottom of the grip are barely deep enough, and the threads on some of our tripod heads and quick release plates were just a little too long to tighten them on properly. A small washer would fix that, but it's not ideal.
The filters attach via four-lug bayonet fitting and cover the full camera array. Getting them lined up and twisted to lock them in position is a bit fiddly, especially with filters like the circular polarizer which have a rotating ring, but once they are in place they are very slim and you could still carry your phone in a jacket pocket, even with a filter fitted. Each filter has its own protective cap, and a little carry case to protect it when you're not using it.
Performance
We only tested the circular polarizer, but that worked exactly as it should, darkening blue skies and subduing reflections on polished and painted surfaces, glass and glossy vegetation.
One thing to remember, however, is that polarizing effects are very sensitive to the angle of the light, so with the default wideangle lens of a camera phone you may see unnatural looking shifts in depth in a clear blue sky. Otherwise this filter works brilliantly. It attaches securely, it's easy to turn, given its small size, and it has a high-quality feel.
Verdict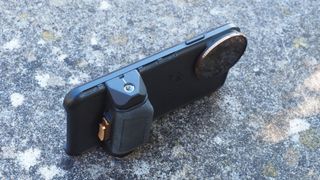 The PolarPro LiteChaser and its filters aren't cheap, but they are a step up from typical smartphone accessories both in quality and ambition. They are aimed at photographers and videographers who take their camera phones and their work seriously, and it's great to see properly made accessories for this audience.
There are a couple of niggles. The tripod threads in the grip aren't quite deep enough, and there's a knack to learn in fitting the filter bayonets, but the fact is that right now there are no other products of the quality of the PolarPro LiteChaser and its filters for serious smartphone content creators.
Read more:
• Best camera phones
• Best iPhones for photography
• Best iPhone 11 cases
• Best camera apps
• Filters photographers still need