Whether you have boxes of negatives sitting in a cupboard that you would love to digitize for posterity, or you are an active film photographer looking for a way to scan your own 35mm negatives and stop paying high lab fees, then the Plustek OpticFilm 8300i SE film scanner should be on your radar.
Plustek OpticFilm 8300i SE: Specifications
Image sensor: CCD
Light source: LED
Max scan resolution: 7200 dpi
Color: 48-bit input, 24/48-bit output
Grayscale: 16-bit input, 8/16-bit output
Dynamic range: 3.91
Infrared: Built-in
Scanning speed: 7200 dpi - approx. 141 seconds
Scanning area (W x L): 36.8 mm x 25.4 mm
Interface: USB-A 2.0
Net weight: 1.6kg (3.5 Lbs)
Dimensions (W x D x H): 120 x 272 x 119 mm (4.73 x 10.7 x 4.7 in)
Operating system: Windows 7 onwards / Mac OS X 10.7 onwards
Bundled software: SilverFast SE Plus 9
The Plustek 8300i SE comes with two kinds of film holders, the first is capable of scanning negatives in strips of six or fewer, and can even hold single frames flat, as well as a second holder that can also scan mounted slides. Unfortunately, if you are looking for a medium format film scanner then flatbed scanners like the Epson Perfection V850 are still your best option for home scanning.
As a dedicated scanner, Plustek's film scanners are measured in dots-per-inch (DPI) and not megapixels. Don't get this confused with cheaper scanners you might find on Amazon. Where those scanners use a camera to photograph your film, the Plustek uses an accurate CCD sensor and color-precise LED to line-by-line scan your negatives for the highest quality, which really shows in the results, but more on that later. The 8300i SE has a maximum 7200dpi which makes for some quite large images at the very limit of 35mm film quality.
How does it compare?
The 8300i SE is the latest scanner in a long line of 35mm scanners from Plustek. On paper, the scanner looks remarkably similar to the Plustek OpticFilm 8200i SE that came before, and that is because, in reality, it is. The maximum resolution remains the same and the design remains the same except for a new color (well, shade). Plustek claims that this scanner is 38% faster than the previous model, and considering my only real critique of the 8200i SE was its very slow scanning speed at high DPIs, this is very welcome news. The newer model also comes with a newer version of SilverFast's scanning software.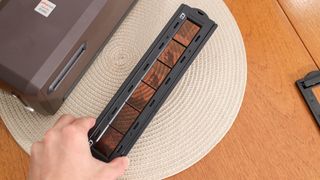 Plustek OpticFilm 8300i SE: Design & Handling
The Plustek OpticFilm 8300i SE is nice and compact, especially when compared to the other most common scanning option – flatbed scanners. The 8300i SE can easily slip into a cupboard or shelf out of the way when not in use. The scanner comes with a nylon carry case that keeps the cables and slide holders together and keeps out pesky dust during storage. The scanner is also very lightweight and easy to move from place to place if you want to take it to someone else's house to do some scanning.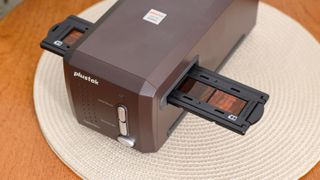 The slide holder design is unchanged from the previous version. However this is not a bad thing as Plustek's 35mm strip holder is one of the best around, being very simple to use, and holding the negatives perfectly flat for an even scan.
Unfortunately, there is no way to capture a scan with the film border which is a shame, but I'd rather avoid light leaks and uneven scans. I could always add a fake film border in later (there are lots available on the internet). When not in use, the scanner has little flaps that come down and protect dust from getting inside the openings for the slide holder which is a touch I love.
To guide the flipstrip through the scanner, there are little indents in the filmstrip holder that "lock" the frame in position under the scanner sensor, a firmer little push and then move it onto the next frame after that one has been scanned. It sounds a little more complex than it is, but in practice, is a very simple and effective system.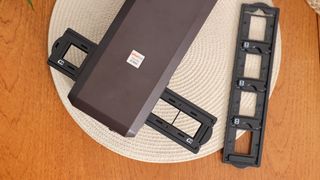 The process of scanning is unfortunately very manual and very monotonous, you have to manually push each frame on after every scan, so you can't set it up to scan and then disappear while it does its thing, like with a flatbed scanner. Although I really think the results are worth the additional effort (but more on that in a moment).
Manually moving the holder through the scanner also allows you to think more carefully about micro-adjustments to the frames, occasionally with some film cameras the spacing between frames on strips of film will be quite different, so stopping before each scan can enable you to make sure your frame is perfectly lined up with the scanner sensor.
The cable is still a USB-A connection, which is frustrating for anyone who has bought a MacBook or Windows laptop that has long since ditched these ports. There is no adapter in the box, but the scanner works fine with either my Anker USB-C hub or even the basic USB-A to USB-C adapter that came with my Pixel phone.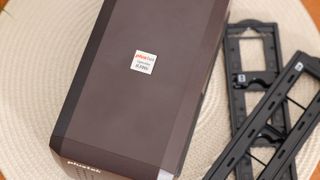 Plustek OpticFilm 8300i SE: Performance
Scanning negatives with the 8300i SE is a labor of love and you need to have a lot of patience, but I really think the results are worth it. I have extensively tried every method of scanning my film, and the results from the Plustek scanner are by far my favorite. The scanner is capable of producing a fantastic range of color, nails contrast perfectly and most importantly it manages to get a lot of detail from the film.
I do find the 7200dpi option is overkill. You can blow a photo up to a very large size, but as you increase the size, the image quality of 35mm film just can't keep up. I think 35mm film is just too small for such a high-resolution scan. Instead, I think 3600dpi is the sweet spot between quality and size and is perfect for use across the web, on social media, and for printing photos for displaying at home.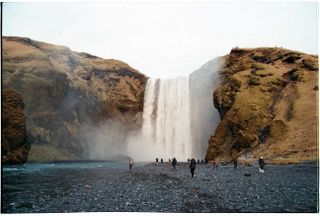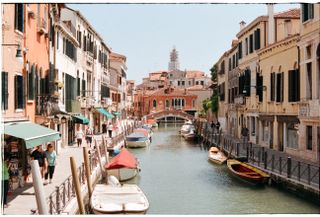 Unfortunately, despite Plustek's claims of faster scanning speeds, scanning at high DPIs still takes a long time. The good news is it is faster than the previous Plustek 8200i SE model, but by a distance that is pretty marginal, and not worth jumping up from the previous model. However, if you have hundreds of negatives to scan then a few seconds on each scan does add up, so it's up to you if you value your money or time more.
For comparison, using SilverFast to scan to a JPEG using the maximum 7200dpi setting, with one normal pass, and one infrared pass – the Plustek 8300i SE took 2 minutes and 21 seconds to complete the scan while the Plustek 8200i SE took 2 minutes and 58 seconds.
However, if you are happy to scan at the minimum DPI of 900 and with no infrared pass, then scans can be done in as little as 10 seconds, although you should consider Plustek's cheaper Plustek 8200 entry-level model in this case. A 3600dpi scan with an infrared pass took a little under two minutes each time.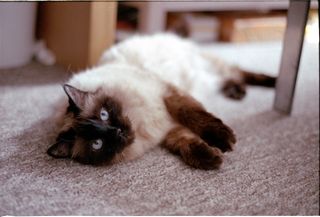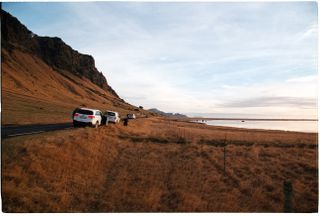 When it comes to scanning software, there are plenty of forums to debate this, but I personally do not like the bundled SilverFast software. I find it frustratingly fiddly to use, and the interface clunky and dated. I can appreciate it has a lot of powerful features to fine-tune your images, but these are hidden behind too many panels and overly complex granular controls. The software can be put into some semi-automatic modes, but I found the results inconsistent, with colors and white balances changing between frames.
Instead, I personally use VueScan as my scanning software of choice. It is an additional purchase, but works flawlessly with the 8300i SE, is much simpler to use, and has a consistent output.
Both SilverFast and VueScan also have the option to scan photos as DNG files, which is great if like me you plan to convert your photos later using software like Negative Lab Pro which can give you far more control over the conversion of your negatives into color with easier to use fine-tuning options than scanning software.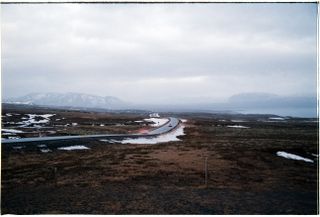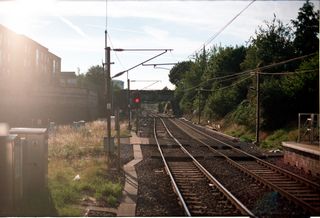 Infrared scanning is an absolute boon to the scanning workflow, no matter how careful I am to avoid scratches or how much dust I blow off my negatives there are always some imperfections. Plustek's infrared scan was fantastic at removing these small issues from my film, which saved me so much time in editing. It is not powerful enough to restore seriously damaged film to perfection, but it makes a good enough dent that AI can now assist in restoring negatives to their original glory. The infrared scan does take a long time (around one to two minutes) to complete, but I think it is worth leaving it on for every scan.
Plustek OpticFilm 8300i SE: Final Verdict
Despite the updated numerical designation in its name, the Plustek OpticFilm 8300i SE, while perhaps offering a slight boost in speed, may not elicit much excitement from owners of older models. The increase in scanning speed is so marginal that honestly, I didn't really notice it without my stopwatch on both models.
However, for those who are new to the world of film scanning and prioritize the highest possible quality for their film negatives, the Plustek OpticFilm 8300i SE should be a very compelling choice for your next purchase. This dedicated film scanner outshines flatbed scanning in terms of quality and easily surpasses the cumbersome process of scanning with a camera.
On the other hand, if value is a key concern, you might consider opting for the previous Plustek OpticFilm 8200i SE model. It delivers similar results, albeit at a slightly slower pace, making it a viable alternative for budget-conscious film fans who can tolerate a bit more patience in exchange for some cost savings.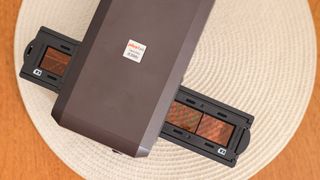 Should you buy the Plustek OpticFilm 8300i SE?
✅ Buy this if...
You want the highest quality for 35mm or slide film scans
You want a lightweight and easy-to-store scanner
You want a scanner that is simple to load
🚫 Don't buy this if...
You want to scan lots of negatives at once
You want to scan medium-format film
You want a scanner that automates the scanning process
You might also like...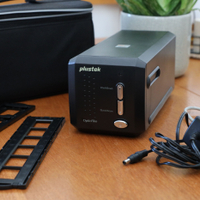 The Plustek OpticFilm 8200i SE is basically the same great scanner as the 8300i SE, except is a little slower to scan. If you want to save a bit of money, then the older scanner can be picked up for a cheaper price.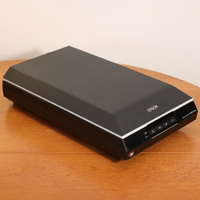 The Epson Perfection V600 is the more affordable scanner in Epson's film range. The quality of scans is very good, but can't quite match that of the Plustek. However, the Epson is the better option to suit anyone who is scanning a lot of images, as it can scan up to 12 slides with minimal user input.