Scanning film is a great way to preserve your photos and get better quality images than you would get if you printed them from the original film. With the film having a resurgence in popularity once again, many people are looking at ways to digitize and share their film or archive old memories.
Read More: See our guide for the best film scanners for digitizing your negatives.
Scanning film on a flatbed scanner has become an increasingly popular method for digitizing old photographic negatives and slides. Flatbed scanners have traditionally offered a relatively inexpensive and easy-to-use way of producing high-quality scans of film that can be used for archiving, printing, or sharing online.
However, the V850 is aimed squarely at professional photographers who require the latest advances in scanning technology, such as even higher levels of resolution, color accuracy, and dynamic range, although all these advances don't come cheap, and Epson has given it a price tag to match.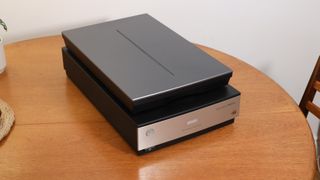 Specifications
Scanner Type: Flatbed color image scanner
Optical Resolution: 6400 dpi with Epson MatrixCCD
Color Bit Depth: 48-bit internal/external
Grayscale Bit Depth: 16-bit internal/external
Maximum Document Size: 8.5" x 11.7" (21.6 x 29.7 cm)
Film Formats: 35mm slides, 35mm film strips, medium format (up to 6x22cm), and 4x5 inch film
Light Source: ReadyScan LED technology
High-speed mode: 4800 dpi / 6400 dpi (approx. 11 seconds)
Full-resolution mode: 4800 dpi / 6400 dpi (approx. 30 seconds)
Connectivity: USB 2.0
Software: Epson Scan with Easy Photo Fix, SilverFast SE Plus 8
Dimensions: 12.1" x 19.8" x 6.0" (30.7 x 50.3 x 15.2 cm)
Weight: 14.6 lb (6.6 kg)
Key features
The Epson Perfection V850 Pro is a powerful scanner that is ideal for professional film photographers and those who need to digitize large volumes of film for photographic prints. The scanner offers a high optical resolution, with a maximum resolution of 6400 dpi with a 48-bit color depth. Using LED ReadyScan technology, the V850 can start scanning immediately without having to warm up.
The V850 supports a variety of film formats including 35mm slides, 35mm film strips (up to 6 long), medium format (up to 6x22cm), and 4x5 inch film, and includes two sets of each film holder, the film holders slot into place on the scanner and that ensure accurate film placement during scanning. The film holders can also be adjusted up and down to improve sharpness and focus accuracy. The V850 can of course also be used to scan documents up to 8.5" x 11.7" (21.6 x 29.7 cm).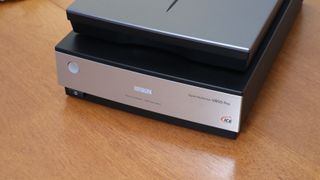 The V850 comes with advanced technologies such as optional Digital ICE for automatic dust and scratch removal, saving a lot of time and effort later in editing. The V850 comes with software including Epson Scan with Easy Photo Fix for one-touch scanning and color restoration. For more controlled and professional scanning, the V850 comes bundled with SilverFast SE Plus 8, as well as X-Rite i1 Scanner with reflective/transparent IT8 targets for calibrating the scanner should it require it or you have specific needs in your workflow.
The V850 connects to a computer via USB 2.0 using a USB type-A connector, the scanner does not have any WiFi or other wireless connection. The V850 works on both Mac and Windows OS, with CD-ROM software, included or available to be downloaded online.
Build & handling
The first thing you notice about the V850 is its sheer size, this is not a small scanner at all, and you need some serious desk space to set this up (I had to utilize my dining table), although it is not too heavy that it can't be moved in and out of storage when needed.
The scanner feels extremely well-built, especially when compared to less expensive models. The scanner lid feels solid, with the connections strong and secure, it feels like it is capable of opening and closing a lot without wearing out, which it would expect to do in a professional setting. The design also matches its Pro name, with the metallic decal strip and embossed Epson nameplate. There are relatively few buttons, with just an on/off and a quick scan button, unsurprising when its key functions all require software-based tweaks and tuning.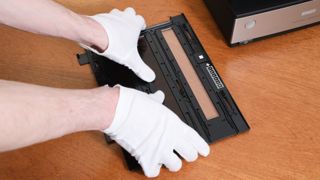 The film holders feel more secure than those of the Epson V600, with a slightly firmer plastic used. The best improvement of the V850 over the cheaper model is it can scan more film strips at once, with a wider transparency area in the lid of the scanner it can scan three rows of 35mm negatives compared to two in the V600. The V850 also comes with an additional set of holders for every film type, so you can begin loading up another series of negatives with the scanner processes the current batch, which is really handy for an efficient workflow.
The film holders use a clip-in system, which works, but is quite fiddly, occasionally the clips would just not snap in easily, and I felt I applying any more force would break them, although I am sure there is a knack to this if practiced for long enough. It was easy enough to line up the negatives in the film holders and get scanning quickly.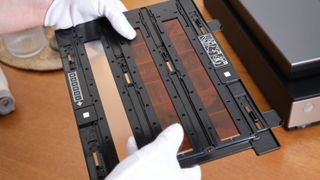 The film holders line up in the scanner using little pegs that slot into markers on the side, it took a little while to get the hang of this, as it is not the easiest to see where the holes are, dragging the film holders across the scanner glass also made me wince every time at the thought of accidentally scratching the glass.
One issue with scanning large batches of film at once is dust. You can try your hardest to remove every piece of dust from three rows of eighteen negatives, but as soon as you look away there will be dust creeping in somewhere. This is far less of an issue when scanning single frames one at a time such as with the Plustek 8200i. Although with both these scanners, they have an infrared dust removal tool, which helps a lot but is not flawless, but more on that later.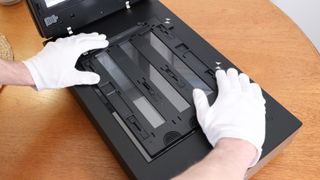 Performance
The Epson V850 can produce so many combinations of file types, resolutions, and color depth that it is almost impossible to test them all here. The V850 is an incredible professional tool for getting exactly the images you need from your negatives. The 48-bit 6400dpi RAW files offer so much room to play in editing, whether you manually convert in Photoshop or use software such as Negative Lab Pro, the dynamic range and color depth, as well as control over the color balance are just invaluable.
For scans that require less post-production work, the V850 also produces excellent-quality TIF and JPEG files. A JPEG image at 6400dpi gave a file size of around 50MB, while a TIF came in at around 350MB. The TIF files offer a much wider field of color to play with after the scan, but the file sizes for a whole roll of film can add up quickly. The JPEG files can be edited for color and lighting corrections before scanning using the bundled SilverFast or Epson Scan software, and are usually good enough to use immediately.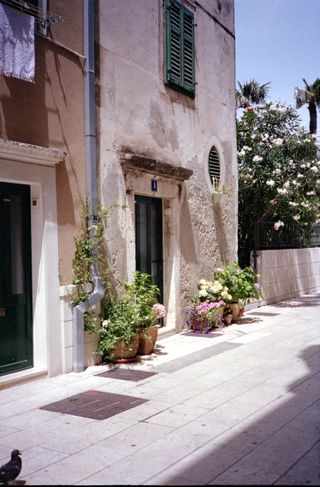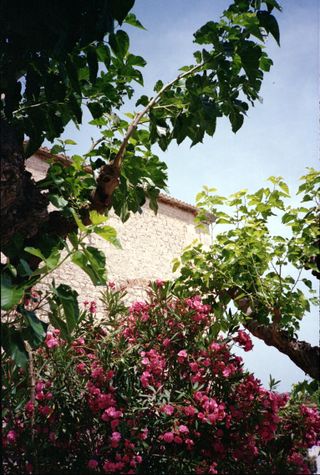 If you want smaller file sizes then 6400dpi for most purposes is probably overkill, with web and social media applications needing much more compressed file sizes, 4800dpi scans, and even going down to 1600dpi scans produce enough image quality to use for the majority of applications, with 6400dpi always useful for a specific frame that is going to be printed to large sizes. When looking at all these resolutions next to each other on my 13-inch MacBook screen, the difference between each size was imperceptible.
In terms of speed, scanning a single frame at 6400dpi took around 1 minute and 30 seconds to scan the image, however, it took 4 minutes and 30 seconds with infrared dust removal scan as well.
The infrared dust removal however is almost essential, it is not foolproof, and a lot of dust managed to slip past the filter, but it was considerably better than not using the infrared scan at all, and will save hours of editing later.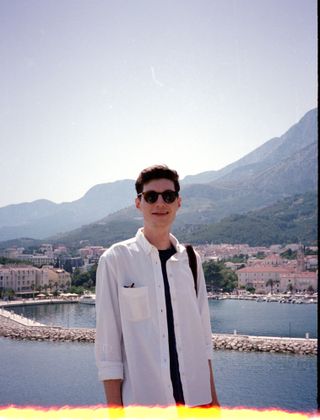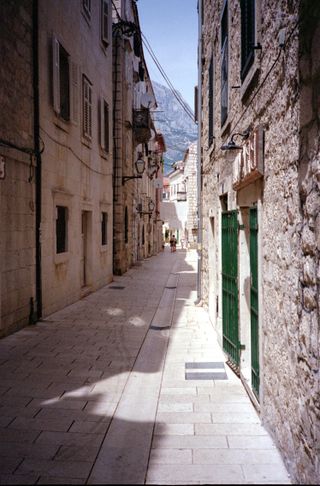 Onto software, the V850 comes bundled with LaserSoft's Silverfast 8 software for scanning. This software is really love it (well, maybe tolerate it) or hate it, I am very much in the latter camp. Silverfast 8 has an incredibly dated user interface and clunky controls, it is not the easiest piece of software to use and requires a steep learning curve.
There is much better third-party software such as Hamrick's VueScan with a much more user-friendly interface, but at an additional cost, or in many ways Epson's own Epson Scan 2 software outperforms Silverfast in useability with a clean interface and a surprising depth when it comes to fine-tuning options.
Silverfast 8 does manage to produce great-looking JPEGs and TIFs though, with its NegaFix options, you can set it to the film stock you are scanning, as well as options to fine-tune all the color and lighting prior to scanning.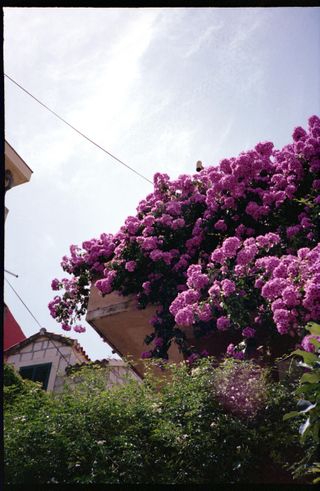 Verdict
Overall, the Epson V850 is a reliable and powerful scanner that is well-suited for both serious enthusiasts and professional photographers who need to digitize large volumes of film and photographic prints.
Its high optical resolution of 6400 dpi and 48-bit color depth allows for extremely detailed and accurate scans of film, and automatic infrared dust and scratch removal helps to reduce the need for post-processing work. Additionally, the extra large and extra set of film holders included with the V850 can improve and speed up a scanning workflow.
Simultaneous to testing the V850, I tested the Epson Perfection V600, both flatbed scanners offer a 6400 top dpi, but the V600 is several hundred dollars cheaper, and I personally could not see any perceptible difference in the scans that each produced. It is a question of how much do you really need the additional selection of holders, and is it worth such a gulf in cost.