If you thought that going mirrorless would save on size and weight, the Panasonic LUMIX S PRO 24-70mm F2.8 might make you think again. The combined weight of an S1 or S1R body and this 24-70mm lens is almost 2kg, so it's not an outfit to be taken lightly, in any sense of the word.
Compared with the Panasonic 24-105mm f/4 lens, it's wider, nearly an inch longer and 255g more heavier. It's also getting on for twice the price, while lacking the f/4 lens's optical stabilizer, 0.5x macro capability and extra telephoto reach. All in all, you're sacrificing a lot for that extra f/stop in aperture rating.
Panasonic Lumix S cameras are the best professional cameras and certainly among the best 4K cameras for filmmaking and best cinema cameras, especially with the launch of the new Panasonic Lumix S5. Panasonic is also contributing to an ambitious L-mount lens roadmap, where this new 24-70mm f/2.8 lens is just one of many.
Specifications
Mount: L-mount
Full frame: Yes
Image stabilization: No
Autofocus: Yes
Lens construction: 18 elements in 16 groups
Angle of view: 84-34 degrees
Diaphragm blades: 11
Minimum aperture: f/22
Minimum focusing distance: 0.37m
Maximum magnification ratio: 0.25x
Filter size: 82mm
Dimensions: 91x140mm
Weight: 935g
Key features
The key feature of this lens is its f/2.8 aperture rating, which remains available throughout the entire zoom range. This enables a fairly tight depth of field, especially at longer focal lengths, useful for portraiture and still life photography. The availability of faster shutter speeds also helps to freeze action and reduce the effects of camera-shake under dull lighting, without the need to bump up your ISO setting too much.
Naturally, the quality of the optical design is a key consideration in any lens, especially those with professional aspirations. Panasonic states that the 24-70mm 'satisfies the stringent certification standards of Leica Camera AG' and a notice of this is duly stamped onto the barrel. The optical path itself contains 18 elements in total, including three aspherical elements, four ED (Extra-low Dispersion) elements and one UHR (Ultra-High Refractive index) element. The aim is for optimum sharpness and contrast with the minimum of colour fringing and other aberrations.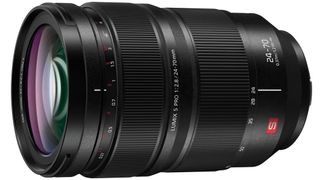 Build and handling
The lens features a dual-drive autofocus system, employing both linear and stepping motor actuators. Autofocus is intended to be quick and whisper-quiet, while also enabling smooth focus transitions during movie capture. Reminiscent of Tokina lenses, a clutch mechanism allows autofocus or manual focus to be selected by snapping the focus ring forward or backwards respectively. It's certainly quick and easy to operate but can be a frustration if you nudge the ring backwards accidentally and lose autofocus at a critical moment.
As with most standard zooms, the physical length extends at longer zoom settings. There's no zoom lock switch but, despite the fairly heavy front group of elements, we didn't experience any zoom creep when testing the lens. Weather-seals are fitted to assure dust/splash resistance and the lens is built to operate in freezing conditions down to -10 degrees Celsius. A plastic petal-shaped hood is supplied with the lens, which is of good quality and features a lock-release button.
Performance
The speedy, high-precision autofocus lives up to its billing, while manual focusing benefits from a smooth-action control ring with just over 45 degrees of rotational travel. Sharpness is a bit of a moveable feast. In the 24-35mm sector of the zoom range, centre-sharpness is excellent even when shooting wide-open, although corner-sharpness is underwhelming at apertures wider than f/5.6. In our tests, sharpness in the 50-70mm range proved less impressive than in the competing Sigma 24-70mm f/2.8 DG DN Art lens.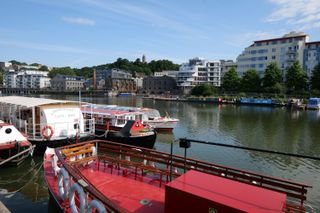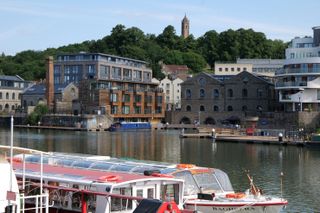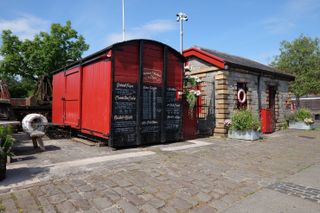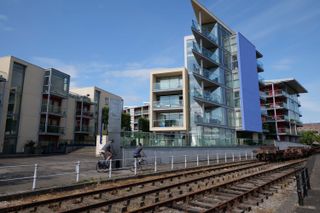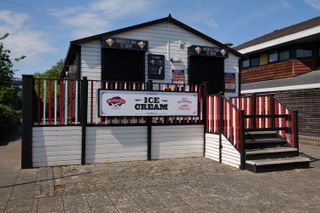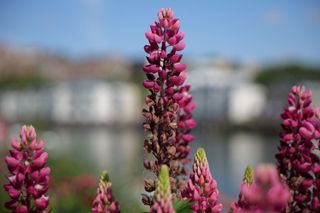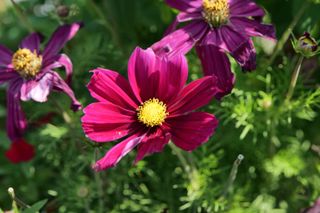 Bokeh is nice and smooth, and remains high quality when stopping down a little, helped by a well-rounded 11-blade diaphragm. Again, Sigma's lens matches the Panasonic in this respect. Both lenses display negligible distortions, thanks to auto-corrections which are applied even to raw files. Both lenses also perform similarly well in minimizing ghosting and flare. The only facet of image quality in which the Panasonic beats the Sigma is that wide-aperture vignetting is less apparent, when disabling the in-camera correction.
Lab tests
We run a range of lab tests under controlled conditions, using the Imatest Master testing suite. Photos of test charts are taken across the range of apertures and zooms (where available), then analyzed for sharpness, distortion and chromatic aberrations.
We use Imatest SFR (spatial frequency response) charts and analysis software to plot lens resolution at the centre of the image frame, corners and mid-point distances, across the range of aperture settings and, with zoom lenses, at four different focal lengths. The tests also measure distortion and color fringing (chromatic aberration).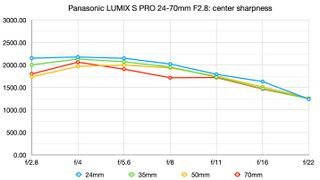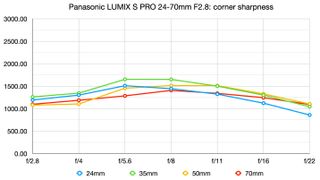 Sharpness is mostly excellent in the central region of the frame but corner-sharpness is less impressive. Sigma's competing 24mm-70 DG DN Art lens is sharper in the longer half of the zoom range, across the whole image frame.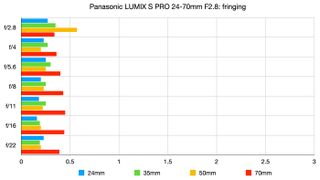 Both axial and transverse chromatic aberrations are very minimal, the latter remaining very low even at the extreme corners of the frame, throughout the aperture and zoom ranges.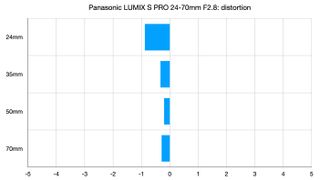 Helped by automatic in-camera corrections, distortion is fairly negligible. Our lab tests reveal very small amounts of barrel distortion throughout the zoom range.
Verdict
Panasonic's pro-grade 24-70mm f/2.8 is a first-class standard zoom with very good handling characteristics and a very sturdy construction. Autofocus is fast and reliable, although the clutch mechanism for swapping between autofocus and manual focus won't meet universal approval. Image quality is very pleasing although it's really no better than from the competing Sigma lens, which only costs half the price, making the Panasonic relatively poor value for money.
Read more:
• The Panasonic L-mount lens roadmap
• The best Panasonic cameras right now
• The best professional cameras
• The best 4K cameras for filmmakers