Where does the Xiaomi 12T Pro fit into the brands swollen line of phones? Its 'T' series offers top-tier power at a lower cost than the flagship line. It's usually launched a few months before the next flagship lands, and by dropping flourishes like wireless charging, manages to bring best-in-class screen refresh rates and incredibly nippy wired charging speeds at an affordable price. This year, it goes one better, introducing Samsung's huge-resolution 200MP ISOCELL camera to Xiaomi phones.
Xiaomi's no stranger to taking a punt on powerful camera tech. The Xiaomi 12s Ultra was the first to feature Sony's 1-inch IMX 989, which has since landed on the Vivo X90 Pro 5G. This incredible sensor is also set to return on the upcoming Xiaomi 13 – expected to be announced globally at Mobile World Congress 2023.
Also read our guide to the best Android phones.
Back to the T-series, and we really like the Xiaomi 11T Pro. Its camera was a standout, marrying OIS with a 108MP Samsung ISOCELL sensor, and it also featured wildly fast charging – 120W, faster than many flagship phones have over a year later; see the best Xiaomi phones.
The 12T Pro marks the return of this 120W charging, refines the design, adds a more diffuse, frosted finish to the glass back, and upgrades the power and camera system with that high-resolution sensor.
While the Motorola Edge 30 Ultra introduced 200MP imaging to the smartphone world, its processing didn't win us over. So can Xiaomi's 12T Pro do a better job with the same high-res sensor?
Xiaomi 12T Pro design
Even though it isn't super heavy at 205g, the 12T Pro is a relatively clunky-feeling phone. It's got a smaller footprint than the Samsung Galaxy S22 Ultra, but its flat screen and large camera bump mean the whole package feels less sleek and fancy than curvier phones with tapered sides like the Xiaomi 12 Pro and Pixel 7 Pro.
Its plastic frame also means it misses out on feeling as rich as an iPhone 14, further contributing to the whole package feeling a little bit bland.
Xiaomi's done some smart things to save the 12T Pro's design from complete mediocrity. For starters, the phone has a glass back that curves into the frame on all sides – this makes it sit well in hand and feel relatively premium.
The fact it's got a frosted finish also ups the quality factor and fends off fingerprints. For its punchy asking price of £699 (about $850), though, we'd expect a little more, and its design is most certainly shown up by the Motorola Edge 30 Ultra – its main competition.
Xiaomi 12T Pro screen
The Xiaomi 12T Pro's screen is an AMOLED panel with a 120Hz display, complete with support for Dolby Vision and HDR10+. For folks who like flat screens, this is a good one. Xiaomi includes loads of options to customize visuals, from usual suspects like dark mode to a dappled, paper-like effect reading mode and a host of color calibration options.
If you live somewhere sunny or use your phone outdoors a lot, the 12T Pro's outdoor viewability isn't quite as great as some other phones like the OnePlus 10 Pro, thanks in no small part to its typical brightness of 500 nits and a peak in auto brightness mode of 900 nits.
At 6.67 inches and with a resolution of 1220 x 2712 pixels, you get an ample-sized display with plenty of clarity, delivering 446 pixels in every inch of screen (PPI). That's not far behind an iPhone 14 Pro, which clocks in at 460 PPI.
The 12T Pro has a pre-fitted screen protector, as well as Gorilla Glass underneath, and comes with a case in the box, so has layers of protection. This phone isn't water resistant, though, so while it can handle a light round in your pocket with a pair of keys, we wouldn't suggest dunking it.
Xiaomi 12T Pro camera specs
Here's a twist: Samsung's 200MP image sensor on the Xiaomi 12T Pro, its ISOCELL HP1, is larger than the 200MP sensor in its brand-new Galaxy S23 Ultra, which features the newer HP2.
While Samsung's flagship's sensor does have some advantages – superior analog gain and autofocus, it also means if you pick up the much cheaper 12T Pro, you're getting a bigger primary camera sensor, so can logically expect a more shallow depth of field, and possibly even better hardware-based noise handling. Other main camera specs include a 0.64-micron pixel size, PDAF, and OIS.
Before you write off the excellent S23 Ultra, though, we should talk about the 12T Pro's secondary cameras, which are wholly inferior. Firstly, there's a 2MP macro module that needs to be fed sensational lighting to pull out a decent shot, and then there's the ultra-wide camera, which is a fixed-focus, 8MP setup.
There are plenty of shooting modes to eke out as much as possible from the 12T Pro's hardware, with the usual suspects – Photo, Video, Portrait, Night, and Pro mode, being supplemented by Ultra HD (50/200MP mode), Short video, Panorama, Vlog, Slow motion, Time-lapse, Movie effects, Long exposure, Dual video, Document, and Clone modes.
Unlike the 12s Ultra, the 12T doesn't feature Leica co-branding and so doesn't include the camera maker's UI color tuning. It's also worth noting, anyone keen to snap a 200MP RAW photo, you're out of luck. RAW pictures are 12MP, and the only way you can capture a 200MP JPEG photo is in Ultra HD mode. You can see an example of a 200MP photo crop in perfectly lit conditions below.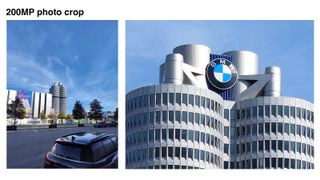 Selfies are shot on the 20MP f/2.2 front camera, and anyone looking to pick up the 12T Pro for video, shooting resolution caps out at 8K (24fps), with 4K capture at up to 60fps.
Xiaomi 12T Pro camera review
For the most part, the Xiaomi 12T Pro's main camera swings and hits. Photos captured in bright to middling light look rich, both when it comes to detail and colors.
The 12T Pro's dynamic range is respectable, and while shadow detail won't best the mightiest HDR-style cameras out there (like the new Samsung phones), Xiaomi definitely wins against Motorola's Edge 30 Ultra when it comes to photo processing.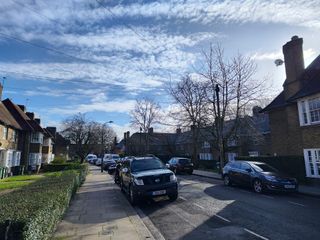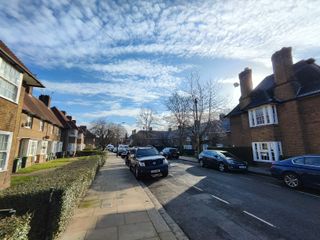 Subjects nearer than a meter will pull focus, set against a pleasing, soft background. This is where the phone's physical sensor size definitely helps the 12T Pro edge ahead, perfect for good-looking food, flowers, and small pet pictures and videos.
Xiaomi also does a great job of dialing back over-sharpening and processing in general, so its photos should appeal to anyone who likes a more natural look.
Moving objects are a bit more tricky to capture on this phone, especially when the lights drop. Photos can look muddy, miss out on resolved detail, and generally underwhelm indoors unless your room is bright or you and your subject are very still.
The 12T Pro's secondary cameras also underwhelm. Firstly, the 2MP macro camera performs worse than a crop of a photo taken on the main camera. For anyone who likes capturing ultra-wide shots, the 8MP, fixed-focus snapper isn't any better than you might get on a low-cost Poco X4 Pro 5G, for example.
This disparity across the three cameras is also acutely felt in video capture. While the main camera does a fine job in all but the most dimly-lit environments, the ultra-wide crumbles unless outdoors in bright sunlight.
As for the selfie camera, it does a great job in well-lit scenes, capturing accurate skin tones (tested specifically with a light-skinned subject). When the lights drop, its results are good enough for a Snapchat filter or low-res video call, but if you need a higher-quality shot, we'd suggest switching back to the main camera and using the handy voice shutter or a timer to take it.
Xiaomi 12T Pro additional specs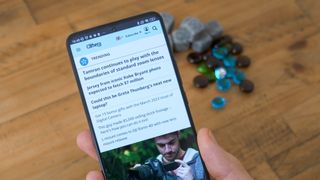 As with every Xiaomi T series, the 12T Pro packs flagship power in the form of a Snapdragon 8+ Gen 1 chipset – a proven winning performer. You can definitely get great gaming performance out of the 12T Pro, though we did notice the phone did get warm when we fired up the most demanding titles. But for more casual games like Marvel Snap, it kept its cool.
Running Android 12 with Xiaomi's MIUI 13 interface, we're surprised it hasn't been updated to the latest version of Android just yet, but its app support and features are still excellent.
We found the UI to run smoothly, no apps force closed in our time with it, and while dark mode did throw one notification widget off, so we couldn't see a couple of interactive buttons, this was a one-off blip after almost a month of using the phone.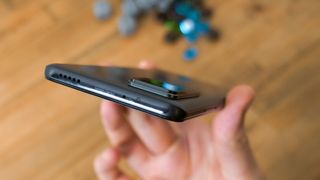 Xiaomi squeezes in a few other flourishes on the 12T Ultra that help differentiate it from the competition, like an IR blaster, for example. That means the phone doubles up as a remote control for TVs and audio systems. It also has native Miracast support, making screen casting to compatible monitors or any Amazon Fire TVs a breeze, and there's a 'Second space', which means you can partition the phone into a work and personal device – or create a profile for a child or loved one.
We love the fact Xiaomi's 12T Pro ships with 256GB storage as standard, which makes the most of this Second space feature. So even though there's no microSD card slot, you probably won't run out of storage even if you keep the phone for a few years.
The large 5000mAh battery also helps Xiaomi's handset last all day irrespective of whether you're taking a lot of photos or gaming on the go, and with its very fast 120W charging speeds, you can power up in under half an hour, which is impressive.
Xiaomi 12T Pro verdict
Xiaomi's 12T Pro is far from perfect or from being the winning camera phone we hoped it would be when it launched. Still, its main camera does a great job of proving a point – Xiaomi's photo processing is better than that of Motorola. It also showcases just what you can do with a 200MP camera sensor when the lighting is spot-on – capture a poster-resolution photo.
At its price, the 12T Pro is a strong combination of power, storage capacity, smart features, and an impressive main camera. As a package, though, if you're prepared to take a hit on storage, you can get more for less in the OnePlus 10 Pro, and if you're happy to spend a bit more, the Motorola Edge 30 is a much better-looking phone with wireless charging and a richer feature-set.
So while the Xiaomi 12T Pro isn't the best camera phone of 2023, it still makes a case for 200MP camera sensors and whets our appetite ahead of our Samsung Galaxy S23 Ultra review.
You can buy Xiaomi phones in the UK and Europe, but they're still not available in the US. For a great alternative that's available globally, the Google Pixel 7 Pro is a fine choice – and if you want a lower-cost pixel, check out our best Google Pixel phones guide to help you find the right one for you.