These Nikon Prostaff 3S 10x42 binoculars are ideal for general-purpose outdoor daytime use and robust enough to withstand the vagaries of the weather system while offering high quality viewing and affordability with it.
A previous Red Dot design award winner, this ergonomically styled mid-range Nikon model with a rubber armored, non-slip construction comes in either 8x42 or 10x42 options. We're taking a look at the latter here, which, in weighing just 575g despite its robust build, won't give you shoulder or neck ache on an afternoon's romp.
The Nikon Prostaff 3S 10x42 also features a highly reflective silver alloy mirror coating on the surface of its prism lenses to, in practice, provide its bright and clear view, while a long eye relief – eyecups are extendable via an anti-clockwise twist – enables comfortable viewing, particularly for those who wear glasses. O-ring sealed, this binocular is not only weatherproof, but is also nitrogen filled by way of fog proofing with it, making it particularly suited to those who enjoy the great outdoors and wildlife observation in all weathers.
Specifications
Magnification: 10x
Objective diameter: 42mm
Field of view at 1000m: 122 metres
Closest focusing distance: 3 metres
Eye relief: 15.7mm
Weight: 575g
Dimensions: 150x130x52mm
Key features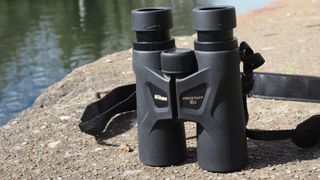 Once again here the 10x specification refers to the Nikon's magnification factor, while the '42' denotes the diameter of the objective lens in use. Here that's 42mm, theoretically offering a wide and bright field of view to the user. As we touched on in our intro, this roof prism type bino's lenses feature a multi layer coating, while the mirror surfaces of the prism in use feature a silver alloy mirror coating – both contributing to bright and clear viewing during our test period.
While it is all about bringing the faraway closer here, closest focusing distance is a useful 9.8ft – particularly useful if tracking a subject from far to near(er). On a practical note, our review unit came supplied with front and back lens caps – the latter of which can be threaded through the provided next strap to prevent accidental loss. We can imagine the cheap plastic front caps being easily mislaid; luckily an additional spare pair was included in the box with our review sample.
Build and handling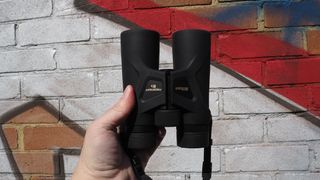 As we touched on earlier, the Nikon Prostaff 3S 10x42 features a long eye relief, with manually extendable eyecups for extra comfort whether you're viewing without or with glasses.
Like other models in Nikon's range, these binos feature a central folding mechanism to enable the user to more comfortably match up the inter-pupillary distance of the eyepieces with their own eyes – again allowing for more comfortable, crisp and clear viewing.
As expected, a large and obvious ridged focusing wheel sits between the eyepieces – it's sufficiently obvious that your fingers can readily locate it to adjust focus while your eyes are otherwise glued to observation via the eyepieces themselves.
Operation feels very intuitive here – the result being that users can be up and using the binoculars without reference to the manual almost as soon as the box they arrived in is opened.
Performance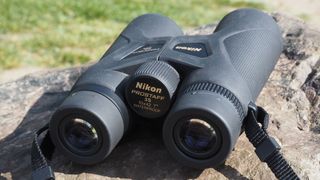 Offering a sharp and bright performance under regular daylight conditions, for the money being asked we don't find too much to grumble about with regard to the Nikon Prostaff 3S 10x42.
If we're being particularly picky we did notice very, very slight chromatic aberration/ purple fringing on occasion when viewing a high contrast subject – the delicate dark fronds of water reeds silhouetted against a bright blue midday sky for example, but this was rare. And, while, we'd have to say that overall clarity is not quite up there with Nikon's premium Monarch HG binocular line up – you will pay more for those models for the privilege. For the price point overall the performance is really pretty good.
Verdict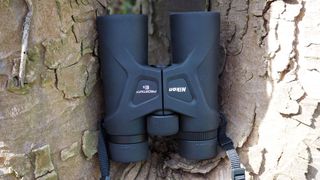 Simply put, this is a good all-round option for observing skittish wildlife and more in the great outdoors that delivers plenty of visual 'bang' for your buck. For the money being asked we feel that you really cannot go far wrong with the Nikon Prostaff 3S 10x42.
Read more:
• Best binoculars
• The best monoculars
• Best night vision binoculars
• Best opera glasses
• Best spotting scopes
• Best binocular tripod adaptor
• Best binocular harnesses