For DSLR users, there's an important question to consider: Nikon D780 vs D750 – how does Nikon's newest digital SLR match up to the model it replaces? We've broken down all the key points – the sensor, the photo and video specs, the AF system and more – to help you determine which camera is right for you.
The Nikon D780 launched in January 2020 as an upgrade for the four-year-old Nikon D750. Although technology from 2016 may be almost prehistoric when it comes to digital cameras, the D750 is nonetheless still a worthy DSLR – and remains a very attractive option for enthusiasts eager to progress from smaller sensors to full-frame imaging, without spending the earth.
• Read more: Nikon D750 vs Nikon D850 | Best lenses for the Nikon D750
Indeed, being a few years old does wonders to the Nikon D750's price. So in terms of ticket price, the deals put a rather large feather in the cap of the older model. Of course, the newness of the Nikon D780 puts different kinds of feathers in its cap – such as inheriting some of its features from the higher end Nikon D850 camera.
So, both cameras are among the best DSLRs, and they're also two of the best Nikon cameras featuring the manufacturer's full-frame sensor and 'FX' camera mount (though they can still use the APS-C 'DX' lenses, albeit with a cropped image to accommodate the smaller image circle). Let's break down the specs and see which is the best choice for you…
Nikon D780 vs D750: Sensor and processor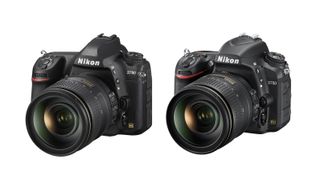 • Nikon D780: 24.5 megapixel Full frame (FX format) CMOS sensor (35.9x23.9mm) and EXPEED 6 processor
• Nikon D750: 24.3 megapixel Full frame (FX format) CMOS sensor (35.9x24mm) and EXPEED 4 processor
With the size of their sensors a match for a frame of conventional 35mm film, on parchment the Nikon D750 and its D780 suggest the possibility of improved image quality over standard, lower priced, APS-C sensor DSLRs. With both cameras offering their users 24 megapixel effective resolutions – the D870 just marginally nudging ahead at 24.5 effective MPs as opposed to 24.3 MP – ensuring that output can be printed bill board poster sized if required, the newer D780 would appear to have the slight edge.
It also boasts a newer generation image processor in the EXPEED 6, as opposed to the original EXPEED 4 processor in the older D750, which was put there at the time to allow for faster frame rates when shooting video. Obviously since 4K video capture has been newly introduced on the D780, a revamped latest generation processor was required to meet the latest DSLR's increasingly data hungry requirements.
Video
• Nikon D780: 4K at up to 29.97fps
• Nikon D750: Full HD 1920x1080 pixels at up to 59.94fps
The Nikon D750 DSLR offers the possibility of shooting Full HD resolution video at up to an actual maximum frame rate of 59.94fps, as opposed to the now expected 4K video capture option offered by the newer Nikon D780 thanks to 6K image sensor resolution, with frame rates of 30fps, 25fps or 24fps and what Nikon reminds us is a zero crop factor.
While the new model does seem to be the better option for videographers needing that edge when it comes to resolution, the D750 does tick certain boxes in offering both stereo microphone and headphone ports, which will satiate videographers to a certain extent. When using the D750's built-in microphone, a setting can be applied which reduces wind noise when filming. The tilting LCD screen on the same camera is another definite boon for shooting 'movies' – the screen on the D780 also tilts too – while a light sensitivity range from ISO100 up to 51200 equivalent is accessible in video shooting mode.
In the older D750's 'defense' it could also be argued many amateur photographers will be perfectly happy with Full HD capture – even if the option of 4K on the Nikon D780 does make the newer of the two DSLRs more 'future proof' because of it. For those for whom such technicalities are important, the D780 additionally allows for recording in N-Log at a high 10-bit depth, which its maker suggests enables 4x more information to be retrieved when compared to a standard 8-bit recording. We also get built in stereo audio recording – or the ability to add an external microphone. All said and done, if it's 4K you need, then the D780 is the obvious one of our two contenders to go for here.
Nikon D780 vs D750: Burst shooting (FPS)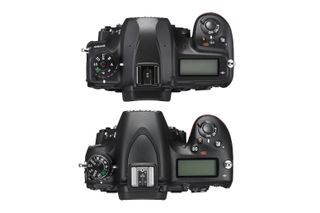 • Nikon D780: Up to 7fps (or 12fps in Silent Photography mode)
• Nikon D750: Up to 6.5fps
The new Nikon D780 ups the fast shooting ante to compete with the likes of the manufacturer's own higher-end D850, in offering a swift 7fps capture speed, or an even faster 12fps in Silent Photography mode, selectable when Live View shooting is chosen. The Nikon D750 by contrast is no slouch mind you, being capable of delivering a respectable 6.5fps in continuous shooting mode, which, while it isn't quite top-of-the-range, is fair for this class of camera. This level of spec makes both DSLRs suitable for both occasional sports and wildlife photography – with the D780 obviously coming up trumps with that blisteringly fast silent shutter option; perfect for shooting the tennis at Wimbledon!
Both the D750 and D780 are intended to be all-round offerings for enthusiast photographers shooting a variety of subjects, but the frame rate newly introduced on the D780 inevitably makes its class of DSLR even more of a serious contender for action shooters than ever before.
Nikon D780 vs D750: AF system
• Nikon D780: 51 point auto focus system + 273 point Hybrid AF system
• Nikon D750: 51 point auto focus system
It initially seems to be a case of 'if it ain't broke, don't fix it' when it comes to the AF system of the newer Nikon D780 when compared to its Nikon D750 forebear, as both offer a highly proficient 51 point phase detection AF (auto focus) system when shooting through the viewfinder, with very reliable metering to boot.
However on the D780 we get not one but two AF systems, as the DSLR also offers a dedicated 273 on-sensor point Hybrid AF system for Live View shooting via the LCD, which Nikon tells us is the same as that found in its Z 6 mirrorless camera.
This new system covers approximately 90% of the frame, whether shooting horizontally or vertically. On the D780 we also get eye detection AF to enable it to lock swiftly and accurately on to subjects, even when they're in motion – with the user able to select which eye it focuses on using the camera's multi selector control – while low light AF performance is said to be functional all the way down to -6 EV in Low Light AF mode (otherwise it's a still very commendable -4 EV).
Even when shooting through the viewfinder, its manufacturer describes the D780's AF tracking performance as 'flagship' grade. Again, if it's a straight choice between the two cameras, then the AF system of the newer camera would seem to offer the greater potential creative flexibility.
Nikon D780 vs D750: Viewfinder & LCD
• Nikon D780: Eye level pentaprism single lens reflex viewfinder offering 100% frame coverage; 3.2-inch touch screen LCD with 2,359,000 dot resolution
• Nikon D750: Eye level pentaprism single lens reflex viewfinder offering 100% frame coverage; 3.2-inch LCD with 1,229,000 dot resolution
The Nikon D750 supplements its traditional eye level pentaprism type viewfinder with a 3.2-inch tilting LCD screen at the rear. Whether we're shooting photos or in video mode, the monitor's high resolution of over 1.2 million dots is capable of delivering a life-like image. Of course the alternative is to utilize the eye level optional viewfinder to compose images, though you'll need to refer back to said LCD screen to review what has been captured.
As wholly expected, the Nikon D780 again incorporates the traditional optical viewfinder, which at 0.70x offers a wide field of view and 100% coverage. The newer camera also features the same larger than average, tilting 3.2-inch LCD screen, which likewise offers 100% coverage. Except on this model the resolution of the latter has been hiked up to 2.359 million dots, bringing it more closely in line with Nikon's higher end D850 model and delivering even more life-like image clarity. Being newly a touch screen, features such as touch shutter release and the ability to direct the AF point with a finger tap are welcome additions here on the D780, increasing the camera's user friendliness and overall functionality.
Nikon D780 vs D750: Build and design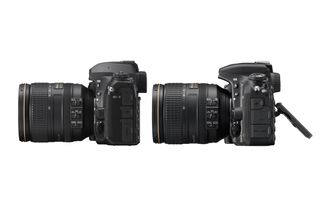 • Nikon D780: Magnesium alloy body, capable of operating in temperatures between 0°C and 40°C
• Nikon D750: Polycarbonate construction, capable of operating in temperatures between 0°C and 40°C
Both these cameras offer the peace of mind of weather sealed bodies. Aimed at both the enthusiast and the professional on a budget, the D750 offers that familiar Nikon DSLR look and feel that will enable you to pick up and start using this camera straight away if you've been used to handling DSLRs either lower down or further up the range.
The D750's control layout inevitably feels a lot more consumer than professional DSLR, should that promote pause for thought, while the manufacturer describes the similarly weather sealed D780's magnesium alloy construction as 'tough'. Nikon claims that the D750's kevlar/carbon fibre composite shutter has been road tested up to 150,000 releases, while the camera's 'monocoque' (single shell) construction aids durability.
In terms of overall portability, the D780 weighs 840g with battery and memory card, while its dimensions measure 143.5x115.5x76mm. In comparison the D750 is an identical 840g with the same lens-less set up. Its own dimensions differ slightly, however, in measuring a marginally more compact 140.5x113x78mm. In truth though, there is a barely a millimeter or two between the two DSLRs, size wise.
Nikon D780 vs D750: Other features
As we mentioned in our introductory paragraph, the D780 betters its bigger brother the Nikon D850's ISO range, with its core ISO100-ISO51200 extendable up to a whopping ISO204800 equivalent, or down to ISO50. In theory this should provide low light shooting flexibility in spades and makes the D780 the preferred option of the two cameras here if low light work is important to you.
We also get the ability to shoot time-lapse photography, or up to a blistering 120 fps if dropping down to a resolution of two megapixels per image. Alternatively, as perhaps expected, 8 megapixel stills can be grabbed from 4K footage, with the obvious advantage here that frame rate is selectable up to 30fps when shooting in this manner.
On the D750 we get various effects modes, including the ability to combine two shots to achieve High Dynamic Range imagery. Time lapse functions, two card slots (SDXC and UHS-I compatible) plus built in Wi-Fi for connecting to your other smart devices (as likewise offered by the D780) further the D750's overall usability. It may not offer the 4K video of the newer D780 or its revamped image processing engine, but the D750 is hardly featherweight in terms of its own overall feature set; there is a reason for its longevity after all. Incidentally, the D780 also offers dual card slots, both accepting the swift UHS-II SD cards.
But, while consumers may appreciate the fact that there is a built in flash on the D750, on the D780 this built-in bulb has been removed. The thinking may well have been that the audience for the newer camera will want to use off-camera flash for more professional results anyway.
Nikon D780 vs D750: Battery life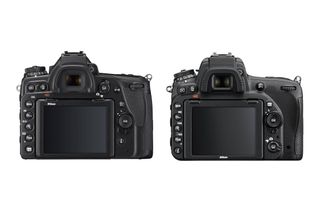 • Nikon D780: Up to 2,260 frames per charge of its EN-EL15b rechargeable lithium ion battery
• Nikon D750: Up to 1230 frames per charge of its lithium ion EN-EL15 battery
The Nikon D780 utilizes a newer EN-EL15b lithium ion cell, though older EN-EL15a and EN-EL15 batteries – the latter of which the D750 utilizes – can also be used, albeit with a reduced performance in terms of images captured from a single charge. If using the EN-EL15b battery supplied with the D780, however, then power duration is claimed to last sufficiently for the capture of an extremely impressive 2,260 shots.
Less impressive but still perfectly respectable is the performance given by the D750 in conjunction with its own older generation EN-EL15 cell, in being able to eke out up to 1230 images from a full charge. However if it is battery life we are comparing these two cameras on, then with practically double the number of images delivered from a full charge, the newer D780 is the clear winner.
Nikon D780 vs D750: Verdict
Full frame DSLRs aimed at high-end enthusiasts typically cost a fair whack more than smaller sensor, more obviously consumer orientated APS-C DSLRs. But with the Nikon D750 being upgraded in the shape of the D780, that older model can now be grabbed for a price very close to what a brand new, high-end APS-C DSLR will cost you. So instead of the latest deal, why not go for the greatest deal?
Yes, the Nikon D750 has been around for a while now, but, as we've noted above in our comparisons, that doesn't mean that its feature set makes it yesterday's news. In short, this is still an appealingly cost effective full frame DSLR, as long as potential purchasers don't mind the fact that, for video, 'just' Full HD video capture is offered here, rather than the increasingly contemporary 4K.
If you do want 4K recording however and faster in-camera processing power to go with it, then the Nikon D780 is the obvious choice of the two contenders here. Factor in that the newer DSLR also includes some technology that has trickled down from the higher end D850 camera – and when it comes to ISO performance arguably betters that bigger brother – and it's clear that in the D780 we have the more 'future proof' DSLR alternative. For battery life too, higher resolution touch-screen LCD screen at the rear, and ever-wider ISO range, the D780 blows the D750 out of the water when comparing spec for spec.
While the D750 may currently continue to present itself as something of a bargain buy, for keen photographers looking to make the step up to full frame photography, then, the latest kid on the block in the D780 comes with performance and power enhancements along with improved video capability. So, at the end of the day, those factors will inevitably aid and influence your purchase decision.
How we test cameras
Why you can trust Digital Camera World Our expert reviewers spend hours testing and comparing products and services so you can choose the best for you. Find out how we test.
We test mirrorless and DSLR cameras both in real-world shooting scenarios and in carefully controlled lab conditions. Our lab tests measure resolution, dynamic range and signal to noise ratio. Resolution is measured using ISO resolution charts, dynamic range is measured using DxO Analyzer test equipment and DxO Analyzer is also used for noise analysis across the camera's ISO range. We use these real-world testing and lab results to inform our comments in buying guides. For compact cameras and phones, we judge on real world handling and photographic results alone.
Read more
The best Nikon camera: including Nikon DSLRs, Nikon Z and Coolpix compacts
Best Nikon lenses: expand your Nikon system with these lenses
Nikon D750 vs Nikon D850: what's the difference?