The Fujifilm X-Pro2 is a unique camera unlike almost any other – unless you go the hyper-expensive Leica route. It's a modern digital camera designed to look, handle and feel like a classic rangefinder camera, right down to its optical direct vision viewfinder – though even this has a modern digital twist.
It deserves its place on our list of the best Fujifilm cameras not necessarily because of its features or its performance, but because of the sheer uniqueness of its design. (The X-Pro3 looks set to steal its place, however.) But is it one of the best mirrorless cameras generally? Not really, because it's just a little bit too specialized for that.
The X-Pro2 picked up the baton from the ground-breaking X-Pro1, bringing in a new 23.4MP X-Trans CMOS III sensor and an upgraded X Processor Pro, together with a raft of changes across the rest of the spec sheet.
The X-Pro1's existing autofocus system, which was notable for its shortcomings, has been replaced with a new 77-point system in the X-Pro2. This sees 40% of the frame covered by phase-detection pixels and a 273-point-expansion option, together with Zone and Wide/Tracking options for moving subjects.
The hybrid viewfinder has also had its electronic panel upgraded from 1.44 million to 2.36 million dots, while the optical finder now offers the option of a small electronic rangefinder in its corner to assist with focus, exposure and white balance. A new three-inch LCD screen offers an impressive 1,620k-dot resolution.
Even though the X-Pro2 has been technically superseded by the X-Pro3, its specs and performance still feel fresh and current in today's market, so it's by no means out of date.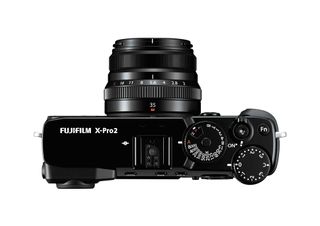 Specifications
Sensor: 24.3MP APS-C X-Trans CMOS III
Crop factor: 1.5x
Memory: SDHC/SDXC (UHS-II in slot 1)
Viewfinder: 0.48in Advanced Hybrid Multi Viewfinder, 2.36million dots
Max video resolution: Full HD (1,920 x 1,080) up to 60p
ISO range: 200-12,800; expandable to 100-51,200
Autofocus points: 77 points (expandable to 273 points)
Max burst rate: 8fps
Screen: 3in LCD, 1.62 million dots
Shutter speeds: 30-1/8,000 sec (to 1/32,000 sec in electronic shutter mode), Bulb
Weight: 445g (body only)
Dimensions: 141 x 83 x 46mm
Power supply: Rechargeable lithium-ion battery (NP-W126)
Key features
The Fujifilm X-Pro series is unique amongst modern mainstream cameras in attempting to recapture the look and feel of classic rangefinder models. The key feature here is its hybrid optical/electronic viewfinder. In optical mode it offers brightline frames for key lens focal lengths and, crucially, it shows you what's happening just outside the frame too, to help you see what's about to happen and plan for it. In electronic mode, it acts as a regular electronic viewfinder, showing you the view through the camera lens – you need this for lenses outside the relatively narrow focal range handled by the optical viewfinder.
Elsewhere, the X-Pro2 has the traditional exposure controls found on other Fujifilm X-mount cameras, with a shutter speed dial on the top of the camera and aperture rings on many (but not all) of the Fujifilm lenses.
This is quite a big camera for an APS-C model, but that's part of its character and not necessarily a fault. The X-Pro2 is designed to be comfortable and satisfying to handle, not simply to be as small as possible.
Build and handling
The magnesium-alloy body is fitted with two SDHC/SDXC card slots on the side, which means the X-Pro2 doesn't have to be taken off a tripod for these to be accessed, unlike the X-Pro1. The body is sealed against dust and splashes. Other notable features include uncompressed raw recording, Wi-Fi connectivity and a top shutter speed of 1/8,000 sec (expandable to 1/32,000 with the camera's electronic shutter).
The main design change sees Fujifilm gracing the X-Pro2's front plate with a new command dial. This joins the previously seen rear dial, while a control for the ISO setting has been integrated into the shutter-speed dial on the top plate. This is adjusted by pulling the dial upwards; while perfectly usable, it's somewhat fiddly, and also means that the ISO setting can no longer be changed through the menu system.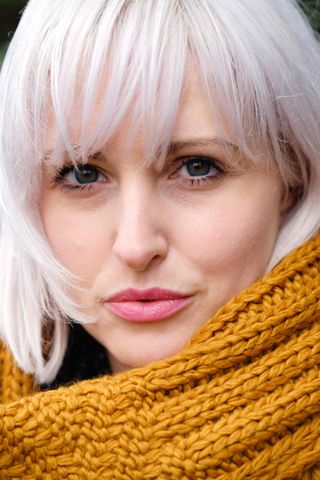 The shutter speed dial itself, however, is less obstructed than the X-Pro1's, and thus easier to turn. The exposure compensation dial is also now larger than before and can apply up to -/+3EV compensation (and up to -/+5EV on its new 'C' setting), although it suffers from the common issue of being inadvertently knocked out of position all too easily.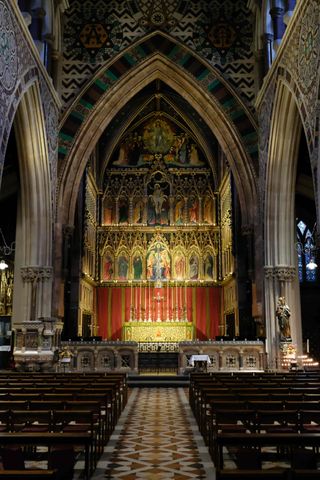 The viewfinder is much improved, with a faster display rate of 85fps (in the camera's High Performance mode) meaning that details appear smooth and natural when moving around the scene. Its high resolution means that clarity is excellent. It also does well to keep the feed relatively clean when lighting conditions fall.
While it's a shame that the LCD screen beneath the viewfinder is neither touch-sensitive nor physically adjustable in any way, it similarly displays details well and has a decent viewing angle when used away from the face (at ground level, for example).
Performance
Focusing speeds are noticeably improved over the X-Pro1, bringing this more into line with rival models. The new Zone and Wide/Tracking modes also mean that the camera can be used to follow moving subjects where its predecessor could not, doing well to stay with the subject in good light and contributing to a high hit rate when combined with the camera's 8fps burst mode. Now and again, the system is distracted by surrounding subjects, but this is true of many similar systems.
Images from the X-Pro2 are characterised by accurate white balance in most conditions, with the automatic setting only really showing any serious errors under certain mixed natural/artificial sources. Colours are accurate and pleasing on the default Standard/Provia Film Simulation option.
The metering system does well in unbalanced scenes dominated by highlights or shadows, although highlights can occasionally roll off sooner than expected.
There's typically a little noise visible in images at the camera's base sensitivity of ISO 200, although this is generally well-controlled throughout much of the sensitivity range. The camera's noise-reduction options can successfully process out the worst of this without too many artefacts remaining, although better results can be achieved through manually processing raw images.
While both the X-Pro2's sensor and many of the lenses ideally partnered with it lack image stabilisation, the OIS system found inside certain lenses does make a difference to the sharpness of images at longer focal lengths and slower shutter speeds. This seems to offer an advantage of around 3EV on average with the XF 50-140mm f/2.8 R LM OIS WR, for example, although this varies with subject distance.
It's great to see more control over video recording options than before, not to mention a port for external microphones, as the camera's built- in microphones can be troubled by wind noise when recording outside. Footage is recorded smoothly and with good detail, and artefacts aren't as visible as on the X-Pro1.
At 210 frames on the camera's High Performance setting and 250 on the Standard option, you may need a spare battery. There's an Economy setting that boosts this to 330 frames, although the drop in electronic viewfinder performance may discourage you from using this.
Lab tests
The X-Pro2 is unique – what on earth can you compare it to? We chose Fujifilm's own X100F, which has the same classic design and hybrid viewfinder, but with a fixed 35mm equivalent f/2 lens. The far cheaper and smaller Panasonic Lumix GX9 does offer something of the flavor of a rangefinder camera together with a similar choice of compact and affordable prime lenses, though the experience of using it is not at all the same. Finally, we chose the Sony A7R Mark II, a very different kind of camera but at a similar price. The Sony offers a full frame sensor and almost twice the resolution, so if you care more about image quality than the shooting experience, it's an extremely strong rival.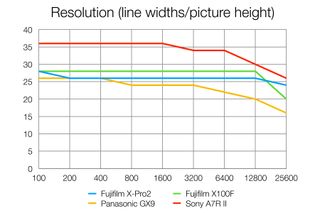 Resolution
Predictably enough, if it's resolution you want, the Sony A7R Mark II wins by a mile. Right now there's nowhere else you can get this kind of detail rendition at this price. Otherwise, the X-Pro2, X100F and even the Panasonic Lumix GX9 are quite well matched. We found the X100F had a slight edge in our lab tests, and that the GX9's resolution fell away more quickly at medium-high ISO settings, as we'd expect from its smaller Micro Four Thirds sensor.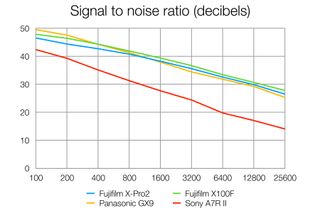 Signal to noise ratio
The older sensor in the Sony A7R Mark II suffers in this comparison, so although it's great for resolution, it's not so good for noise. The X-Pro1, X100F and Panasonic GX9 deliver very similar results across the ISO range, however.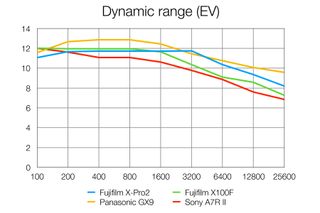 Dynamic range
The Lumix GX9 takes the lead in our dynamic range results, despite its smaller sensor size – we see this a lot with Micro Four Thirds sensors. The X-Pro2 and X100F deliver very similar dynamic range figures and low-medium ISO settings, but the X-Pro2 edges ahead at higher sensitivities. The Sony's dynamic range figures aren't bad, but not quite up with the others.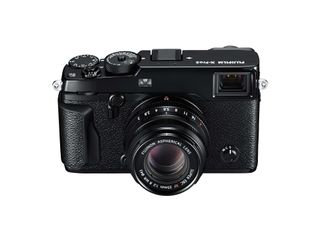 Verdict
The X-Pro2 is a worthy update to the original X-Pro1 and still worth considering today as an alternative to the newer X-Pro3 – especially if you want a traditional rear screen rather than the 'hidden' screen on the newer model! Ultimately, though, this camera is all about the experience rather than the results. There are cheaper cameras that can match it for image quality and cameras the same price with better features – but what none of them have is the X-Pro2's unique hybrid viewfinder and its classic rangefinder-style handling experience.
Read more:
• The best Fujifilm cameras in 2019
• DSLR vs mirrorless cameras: How do they compare in 2019?
• The best camera for beginners in 2019
• The best mirrorless cameras in 2019