DxO FilmPack 7 was recently released alongside DxO PhotoLab 7 (see our review). PhotoLab 7 is a tool-packed digital darkroom designed to let you manually organize and process your pictures to perfection.
In essence, FilmPack 7 features a comprehensive collection of filters that emulate a wide range of old film stocks. In some ways, DxO FilmPack 7 does for photography what vinyl does for music. It lets you travel back in time by taking the crisp clean pixels of your digital photos and giving them an analogue look. This retro look evokes images captured on decades-old cameras using a wide range of darkroom techniques. Analog artifacts such as vignetted edges and film grain also help your retro images stand out from the social media crowd's artefact-free digital images as well as enabling you to produce striking and frame-able classic prints to hang on your wall.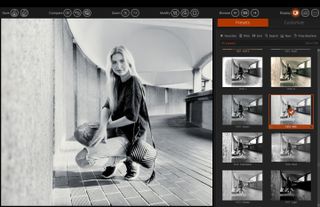 DxO FilmPack 7: Specifications
Swipe to scroll horizontally
| Recommended setup: Windows | Recommended setup: Mac |
| --- | --- |
| Intel Core processor or AMD Ryzen with 8 cores | M1 |
| 16 GB RAM | 16 GB RAM |
| 4 GB available disk space | 4 GB available disk space |
| 1920 x 1080 display | 1920 x 1080 display |
| Microsoft Windows 10 version 20H2 or 11 (64-bit) | macOS 12.6.8 (Monterey) |
| NVIDIA RTX 2060, AMD Radeon RX 6600 with latest drivers | M1 or Intel Mac with AMD Radeon Pro RX570 |
DxO FilmPack 7: Key Features
After two decades of research, DxO has enabled FilmPack 7 to work its magic by digitizing classic film stocks. This research has enabled FilmPack 7 to create convincing analog prints that feature a wide range of analog artifacts such as film grain from a range of positive and negative film formats.
FilmPack 7's 280 presets are gathered into themed collections such as Negative Films and Slide Films. There's also a Time Machine mode that lets you browse back through the decades to view 104 presets that emulate film stocks - from the dawn of photography to the present day. Time Machine is also an educational tool that explores the work of pioneering photographers and lets you imitate the look of their photography in a click.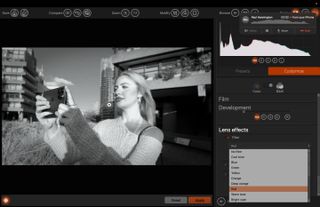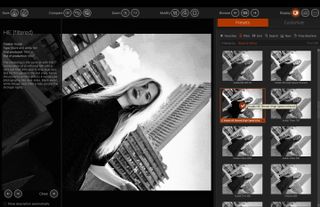 DxO FilmPack 7: Interface & Usability
FilmPack 7's interface is reminiscent of apps designed in the noughties, with a bar at the top containing large white circles that feature chunky icons (such as crop or rotate). When you've finished adjusting a shot the Apply or Save buttons have a beveled 3D edge that evokes the skeuomorphism of noughties apps that felt the need to emulate 3D buttons on 2D screens. Given that DxO FilmPack 7 is all about emulating the past we can forgive (and even embrace) this retro look to its workspace.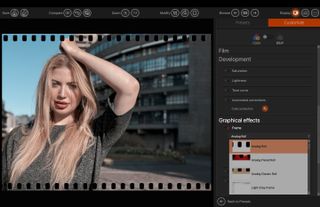 Once you've explored and applied a preset analog look to a photo in the Presets workspace you can click the Customize tab to access a wide range of tools to fine-tune the look. Here you can pick and mix different film rendering options and then add a custom grain effect. There's also the option to add other filmic artifacts such as light leakage effects and blurred vignetted edges.
The new Luminosity Masks panel enables you to sample and isolate specific areas based on color or tone and tweak a wide range of properties with precision. The Customize workspace also contains a collection of classic digital darkroom tools - such as Curves and a Histogram - that enable you to adjust colors and tones, though this darkroom is not as comprehensive as the one in DxO PhotoLab 7.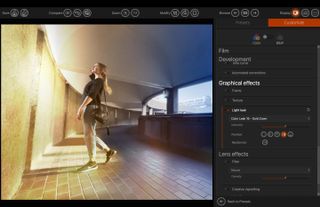 DxO FilmPack 7: Results
To get assets for this review I hired a model and snapped her on my iPhone 15 Pro Max. It must be noted that DxO doesn't support .dng files from an iPhone (on FilmPack 7 or PhotoLab 7), so if you shoot in Apple ProRAW then you'll need to export the images as .jpg files first.
Despite this lack of .dng support I enjoyed exploring how FilmPack 7's one-click presets gave my digital photos a retro analogue makeover. By adding artefacts such as film grain to portraits I was able to send my Eli my model back in time to earlier decades. This visual variety motivated me to populate my Instagram feed with many more images than I usually do after a shoot.
I also enjoyed the ability to customize a preset's look by adding extra analog artifacts such as light leakage effects (which add patches of color and fogged tones to parts of the frame). You can also add textured paper and a range of framed edges which is an effective way of making a modern shot look like a retro snap that has been weathered by time. This technique worked particularly well on retro subjects such as the vintage engine I snapped on the iPhone 15 Pro Max at Nene Valley Railway.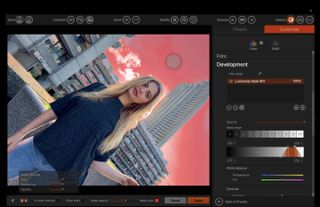 DxO FilmPack 7: Verdict
If you own DxO PhotoLab 7 then I don't think FilmPack 7 is an essential purchase. The more expensive PhotoLab 7 also has hundreds of analog-imitating presets (including Time Machine), plus it's packed full of a wider suite of digital darkroom tools. However, if you use another app as your main photo editor (such as Apple Photos or Adobe Photoshop) then DxO FilmPack 7 is well worth a punt as it enables you to produce a wide range of nostalgia-inducing looks in seconds (and it's considerably cheaper than PhotoLab 7).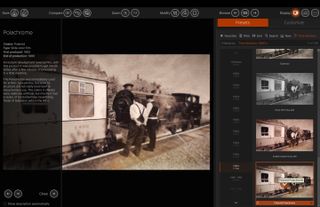 Read more: check out our top picks for the best photo editing software. Or if you want to create real film photos then you can find out more in our guide for the best film.