Point-and-shoot compact cameras don't always make it onto the lists of best film cameras, but in this case, Canon did something different, it put a wide aperture high-quality lens on an otherwise cheap, simple, and unassuming body, and the results are pretty interesting.
The Canon AF35ML is a compact point-and-shoot film camera released by Canon in July 1981. Some of you may know it by its popular nicknames, the Super Sure Shot or Autoboy Super. These names refer to the camera's niche claim to fame at the time of having the widest aperture of a compact 35mm autofocus camera, a title which it held for the entire decade.
The camera has seen a small resurgence in popularity in recent years, as a new generation discovers its simplicity to use and compact build, it has become a great fleeting moment camera rather than one for artistic masterpieces. Its price has still not managed to climb to the heights of the fabled Contax point-and-shoot cameras, and there are thankfully still quite a few around as they can take a few knocks and keep going.
Canon AF35ML Specifications
Type: Fully automatic 35mm Lens-Shutter autofocus camera
Picture Size: 24 x 36 mm
AF System: Triangulation system with CCD (charged-couple device), focus lock enabled.
Lens: 40mm f/1.9 (5 elements in 5 groups)
Shutter : Electromagnetic programmed shutter. EV 4 (f/1.9 at 1/4 sec.) – 17 (f/18 at 1/400 sec.). Built-in electronic self-timer.
Viewfinder: Reversed Galilean viewfinder with projected frames. Within the image area are the AF frame, zone focusing marks for near, medium, and far distances (in-focus LED lights), and parallax correction marks. 0.5x magnification.
Film Speed: ISO 25 – 400.
Built-in Flash: Guide No. 11 (at ISO 100 in meters). Manual pop-up.
Power Source: Two 1.5 V size-AA batteries (for AF, film transport, built-in flash, and beeper). Battery check provided.
Beeper: Beeper alerts for camera shake (slow shutter speeds), self-timer operation, film end, etc. Beeper sound varies according to the type of alert.
Continuous shooting: 1 fps
Frame Counter: Counts up. Resets automatically when camera back is opened. Counts down during film rewind.
Film Rewind: Power rewind with R button and rewind switch.
Dimensions & Weight: 122 x 73 x 55 mm, 440 g (with batteries)
Canon AF35ML Features
The camera's headline feature is the fast 40mm f/1.9 lens. The lens is completely automatic though, so it is difficult to push it to that fully open aperture in most daytime circumstances. The lens is 40mm and is made up of 5 elements in 5 groups, and unusually has a filter thread for 49mm filters. This focal length is the perfect choice for a camera of this nature, wide enough for street photography and group photos, but also capable of an environmental portrait.
The camera had an autofocus lens which was still very rare at the time, the autofocus used a triangulation system with a CCD (charged-couple device). The lens was also able to lock focus while the shutter was half-pressed. It notifies that focus has been achieved with a small beep and a light-up LED lighting up a little pictogram on the left of the viewfinder suggesting a focus on a near object (flower), medium focus (portrait), or infinity focus (mountains).
The camera would also emit beeps if the shutter speed would be too low for handheld shooting, for its self-timer function, and at the end of a roll of film. The film counter counts upwards during shooting, and then down as the film is rewound using the battery-powered mechanism. The camera also has a battery check, which lets out a rapid or slow stream of beeps to let you know how much juice you have left.
One issue some users might find is that the maximum ISO is 400, meaning that faster films simply cannot be used (or must be used at 400, which is not always a bad thing). This won't affect everyone, as the majority of consumer film bought today is ISO400 or less. But it is something to be aware of if you use a lot of higher-rated films.
Canon AF35ML Build & Handling
The camera is built to be sturdy, with a combination of metal and plastic in the body, the camera under test has taken quite a few knocks and spent a lot of time at the bottom of a backpack and has come out the other side without a mark. After over 30 years, this very mechanical camera also is functioning very well, with no repairs needed.
The camera feels good in the hand, the lens itself is a little plastic feeling but as it is a fixed lens, you won't touch it often. The grip is small, but functional, and has a little hook at the top for catching your finger, which is a useful addition.
The camera uses AA batteries, and while designed for alkaline batteries of the time, it still functions with the latest rechargeable AA batteries with a similar 1.5V power output, although there is some question on if this might affect the metering (more on that later). With AA batteries showing no signs of going anywhere, this camera will be usable for the foreseeable future.
The viewfinder is good, but quite small and it is very difficult to see the autofocus symbols in daylight as the LED is not very strong.
Canon AF35ML Performance
This is a point-and-shoot camera that was never designed to challenge the image quality of SLR cameras, the lens is good, but it is still a light and compact point-and-shoot. However, it does punch far beyond its diminutive weight, with sharp clear images, and with lots of color (depending on the film used). It falls down a little on contrast, with blacks coming out a little grey, but this is easily fixed by modern scanners and editing software.
The metering is not always perfect, and it tends to veer towards the underexposed, this could potentially be the modern lithium batteries affecting the metering with a slightly different power output. The exposure is consistent though, and only ever gets confused during very close-up photography.
Autofocus is more hit-and-miss, but on the whole, is a hit. Maybe it is that the camera was used for mostly street photography and portraits, but the images were majoritively well focused. Again, like the exposure, when I tried to get close to my subject the autofocus struggled more.
My biggest issue with the Canon AF35ML is just how loud it is. After taking a photo, the film automatically winds forward, which if you are in a quiet place will turn everyone's head. Maybe this was the quietest motor in 1981, but this camera is entirely too loud for any subtlety.
Canon AF35ML Sample images
Below are sample images shot using the Canon AF35ML and a mix of 35mm film types including Kodak Portra 400 and Kodak Gold 200.
Canon AF35ML Verdict
The Canonet G-III QL17 is a camera to be seen taking photos with, the camera build is exquisite, with looks that will make you just want to keep picking it up. But it is also a camera that will produce incredible images. The lens is overhyped sure, but the hype is not misplaced. The images are of stunning quality and wide open and are simply beautiful.
The camera is not for the uncommitted photographer, this is not a run-and-gun camera, and may be too fiddly for many photographers, the camera does require a lot of metering and work to get the perfect photo, but if you love photography, then that work is more than worth the additional effort.
Where to buy the Canon AF35ML
There are a few things to be wary of when buying an old camera, check that mechanically it is in working condition – the wind lever turns smoothly, the aperture rings are not stuck and the light meter is functioning. Ask to see images of the lens and eyepiece to check for fungus damage, as this is very hard to repair.
You may always need to do minor repairs on any old camera no matter the condition unless it has been serviced or refurbished before the sale. Common jobs include replacing crumbling light seals or lubing internal mechanisms that have dried out.
Check out the latest Canon AF35ML deals on eBay in the US & the UK below!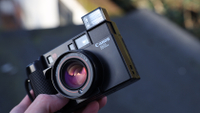 Find the Canon AF35ML on eBAY US
You can pick up the Canon AF35ML very cheaply, with good models costing around about $100. There are not that many common issues with the camera, so just be sure to check for mechanical faults, as well as dust and fungus in the lens.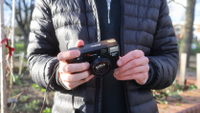 Find the Canon AF35ML on eBay UK
You can pick up the Canon AF35ML very cheaply, with good models costing around £50-100. There are not that many common issues with the camera, so just be sure to check for mechanical faults, as well as dust and fungus in the lens.
---
Love shooting film? You might also like the best darkroom equipment, the best film scanners and the best Lomography cameras.