The BenQ SW321C is the flagship monitor in BenQ's premium PhotoVue photographer monitor range. It lines up alongside the 27-inch SW271 in BenQ's extensive range of monitors for photo editing and is built to a pro-spex standard throughout. The SW321C has already been awarded Best Professional Photo Monitor in the 2020 TIPA World Awards so we were keen to get our hands on this enticing display to see what the fuss is about.
Key features
At the heart of the SW321C is a 32-inch (708.48 x 398.52mm) 4K display with a native resolution of 3840 x 2160 pixels. This equates to a crisp 137ppi and 0.1845 dot pitch. The 10-bit wide-gamut IPS display boasts excellent colour space coverage - 100% sRGB, 99% AdobeRGB - particularly impressive - and 95% coverage of the DCI-P3 video color space (the cinematic equivalent of sRGB). Wide 178/178-degree viewing angles promise accurate contrast regardless of your viewing position, helped by an anti-glare and anti-reflective coating. A 5ms response time is more than fast enough for photographic applications, as is the maximum 250cd/m2 brightness.
To further enhance its appeal to enthusiast and pro photographers, every SW321C is pre-calibrated at the factory to ensure an average Delta-E color accuracy of below 2 (zero being perfect color reproduction). The monitor also incorporates hardware calibration (via an external colorimeter) to keep it performing perfectly. This works by directly adjusting the monitor's in-built processing chip via BenQ's Palette Master Element software, rather than changing the look-up table of your computer's graphics card.
Another pro-orientated feature is Paper Color Sync. This enables you to choose color gamut, printer model and paper you're working with, then the monitor adjusts its color to match what you'll see in print. The screen's anti-reflective coating further helps with preview accuracy.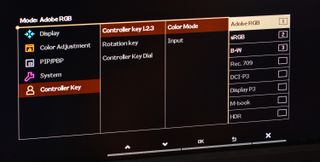 There's a total of 14 color modes (including three calibration settings), an 'Advanced B&W' mode (with three presets), built-in SD card reader and, for video-makers, an HDR mode which supports HDR10 inputs. Very handy is a feature called 'GamutDuo' which works in the monitor's picture-by-picture (PBP) display and provides mirrored images in two different color spaces. Better still, each image is fully adjustable independently. Normally, this is something that would need two monitors side-by-side to achieve, so it's a much more convenient option (as well as being a lot less expensive).
In addition to a HDMI and DisplayPort connectors behind the monitor, there's also a USB-C port supporting Thunderbolt 3. This allows video, data and power to be transmitted over a single cable.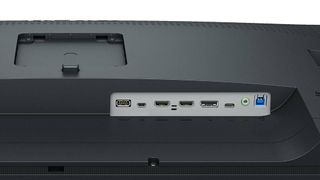 Build & handling
From the moment you try lifting the huge, 25kg packing box containing the SW321C, you can feel this is a quality monitor. Contributing to the hefty weight is a very sturdy stand with -5˚/- 20˚ of down/up tilt, 45˚/45˚of left/right swivel, and 90˚ of pivot adjustment, enabling a switch from landscape to portrait mode. The stand also allows for a generous 150mm of height adjustment.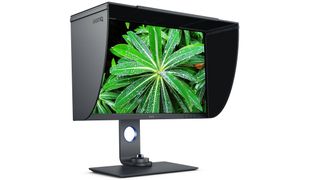 Also in the box you'll find an equally well-made five-piece modular hood to surround the screen, and it can be configured to work in both landscape and portrait orientation. With the aid of the panel's anti-reflective coating, it really helps keep glare and reflections off the screen and lets the panel's color accuracy show through at all times.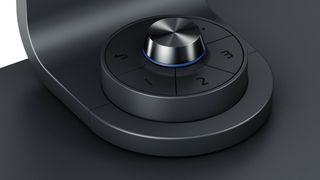 Then there's the included Hotkey Puck G2. A BenQ exclusive, this wired circular remote control enables more convenient and ergonomic adjustment for switching between input sources, as well as changing the monitor's preset display modes and settings. The well-positioned buttons on the front of the lower screen bezel already provide intuitive control over the monitor's on-screen display, but the size and shape of the Hotkey Puck takes convenience to another level.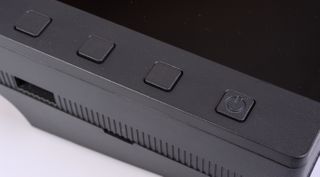 Monitor aesthetics come a fairly distant second to display quality with a device targeted at pro users, which may explain why the SW321C isn't exactly a design classic. Form definitely follows function here, with the simple matte black plastic casing and base being styled to blend into your editing environment, providing minimal distraction from your workflow.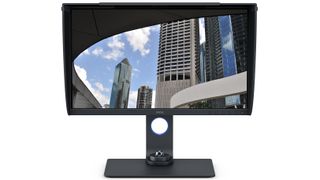 Performance
Even without testing the monitor with our trusty colorimeter, the SW321C impresses with its excellent screen brightness uniformity and lack of backlight bleed. BenQ's Uniformity Technology plays a part in this, as the technology measures the brightness and color across hundreds of regions over the display to ensure the whole panel displays consistently from corner to corner.
Color vibrancy, contrast and brightness are all excellent to the naked eye, and although the outright maximum brightness is a fairly mediocre 250cd/m2, you really don't need any extra brightness for serious image editing, as highlight detail will start to blow out. In fact, when calibrating, 120cd/m2 is considered optimal brightness.
Even without the included hood fitted, the panel's anti-reflective matte finish does a great job of minimizing reflections, while the IPS panel stays true to its 178/178-degree viewing angle specification. Contrast remains consistent not just when viewing the screen from an extreme angle, but also in a more typical scenario when you need to compare image quality at the corners of screen to in the centre, as the sheer size of the SW321C means the difference in viewing angle between the centre and corners is significant.
However, to really test how color-accurate any monitor is, as well as its color and brightness uniformity, you really need a more objective means of testing than the fallible human eye. For this we use Datacolor's latest SpyderX Elite calibration colorimeter to really put a screen through its paces:
Lab data
Brightness & contrast: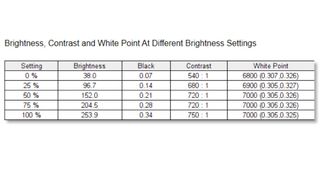 BenQ claims the SW321C has a maximum brightness of 250cd/m2 and a max contrast of 1000:1. We recorded 253.9cd/m2 and 750:1. The latter is likely due to max contrast only being available by manually selecting User Mode in the Picture Mode menu.
Color Gamut: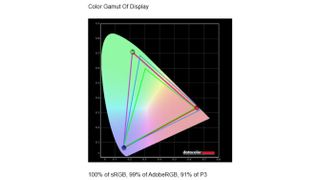 Our testing found the SW321C covers 100% of the sRGB color space and 99% of the AdobeRGB color space - exactly as BenQ claims. Our 91% DCI-P3 score is slightly below the 95% coverage that BenQ claims, though this could be due to us not having selected the monitor's P3 display preset for this particular test.
Color uniformity: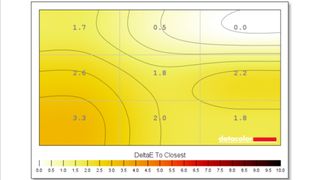 Color uniformity is excellent across the entire screen.
Color accuracy before calibration:
A high quality monitor for photo editing should have accurate color, so we measure how close a monitor's color output is from perfect. A perfect result on the charts below would be zero, with no visible color bars. A higher Delta-E score and longer bars on the chart indicate a larger deviation from ideal color accuracy, and therefore a worse performance. Short bars and a low Delta-E number are what we're after here.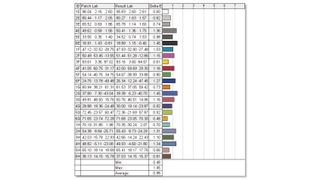 BenQ advertises the SW321C as being factory calibrated with a Delta-E average of less than 2. Our testing found this to be rather conservative, as our monitor recorded an exceptionally accurate Delta-E figure of 0.98 straight out of the box.
Color accuracy after calibration: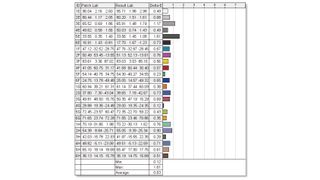 After calibrating with a Datacolor Spyder X Elite colorimeter, the SW321C managed an even more impressive Delta-E of 0.63 - this is about as good a result as you can expect to see without spending considerably more money.
Verdict
BenQ has a well-established reputation for producing high-spec photo editing monitors at a fair price, and the SW321C is a fine example of the breed. Its superb color accuracy, uniformity and color space coverage are a match for the very best photo editing monitors on the market, and extras like hardware calibration, an included hood, high-quality stand and the convenient hotkey puck remote control further add to the value.
However, even with all these plus points, $2,000/£1,500 is still a serious amount of cash to splash on a monitor, and the SW321C does have some stiff competition. For less than half the price of the big BenQ, Viewsonic's VP3268-4K offers the same screen size, resolution, 100% sRGB coverage and factory color calibration with a Delta-E of less than 2. You'll have to sacrifice built-in hardware calibration and 100% AdobeRGB coverage, but invest in an aftermarket monitor calibrator for around $150 and you've still got money left in your pocket. It's also worth remembering that BenQ's own SW271 27-inch monitor boasts the same resolution and sRGB/AdobeRGB color space coverage as the SW321C, as well as hardware calibration, an included hood and the same Hotkey puck, but the SW271 is almost half the price of the SW321C in the US.
There's no doubt the BenQ SW321C is an exceptional monitor, and we can hardly fault it in terms of build quality, features and performance. But when it comes to bang per buck, the 4K SW271 is equally impressive for substantially less cash - you've really got to want that extra 5 inches of screen real estate for the SW321C to be the better buy.
Read more
The best monitors for photo editing
Best video-editing monitors
Best monitor arms
The best USB-C monitors
The best ultrawide monitors
The best camera for streaming
The best portable hard drives for photographers
The best all-in-one printers