Fisheye lenses can be a great way to experiment and find new creative subjects in photography, with an array of new angles to explore, allowing you to capture the full scene in front of you for epic street photography and landscape shots.
Most photographers will use a fisheye lens for the circular aesthetic and extreme barrel distortion that it creates, but not all of the best fisheye lenses on the market are the same, and this budget lens, in particular, didn't always create the perfect circle but more of a fishbowl effect with a bulging center depending on the subject.
Where can I get the AstrHori 12mm f/2.8 Fisheye?
You can order the AstrHori 12mm f/2.8 Fisheye directly from Pergear, and it's available worldwide via Amazon too.
During our test of the new AstrHori 12mm f/2.8 Fisheye lens, we found that it worked perfectly for a short time, and captured sharp enough shots - but as we explain in the performance section of this review, there was a bit of a hiccup when shooting with this lens during a trip up North.
The budget-friendly nature and superb price of this lens make it desirable for those looking to experiment with fisheye lenses without having to commit to an expensive purchase for something they're not too familiar with. Great for beginner photographers and pros alike, this lens should cater to all who are looking to delve deeper into the waters of fisheye photography and receive pretty decent quality at a bargain price.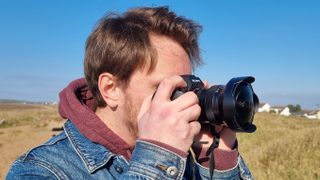 AstrHori 12mm f/2.8 Fisheye: Specifications
Release Date: December 2022
Mount: Sony E / Canon RF / Nikon Z / L-Mount / GFX
Full frame: Yes
Image stabilization: No
Autofocus: No
Lens construction: 11 elements in 8 groups
Angle of view: 185 degrees
Diaphragm blades: 5
Aperture: F/2.8 to F/16
Minimum focusing distance: 0.2m
Filter size: Not specified
Dimensions: 90mm wide x100mm long
Weight: 757.5g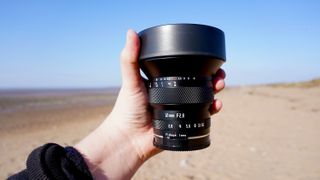 AstrHori 12mm f/2.8 Fisheye: Key features
The AstrHori 12mm f/2.8 Fisheye lens boasts a large viewing angle of 185 degrees, with a minimum focusing distance of 0.2m, and has been optimized for use with full-frame mirrorless cameras. The lens is pretty big and has been equipped with a multi-layer coating which is said to suppress any light flares and enhance color fidelity.
This lens was tested using a Sony A7III camera body, and put into action during four separate shoots including a dynamic TFP cosplay session hosted at a prison, as well as a 7-hour journey up north to delve into some street photography and landscape shooting which is where this lens truly shines.
The nature of ultra-wide angle lenses makes them exceptional at capturing dynamic scenes, especially at night, and the maximum f/2.8 aperture of this lens not only helps in low-light conditions but it also allows for subtle bokeh too!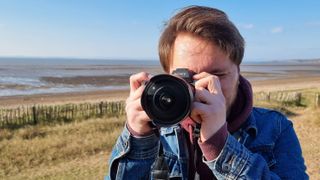 AstrHori 12mm f/2.8 Fisheye: Build and handling
Probably the most convenient part of this lens is the on-body clicked aperture ring which controls the lens diaphragms with ease and can allow you to change your f-stop in seconds. To focus the lens, the barrel itself conveniently twists in scale to shift the focus and allows for focusing to infinity, ensuring crisp quality throughout.
This design is particularly helpful for those like myself who struggle when the luxury of autofocus is taken away. Manual focus is definitely something that takes some getting used to for photographers who have always relied on autofocus, but it's a worthwhile learning curve and will help to sharpen your photographer's eye.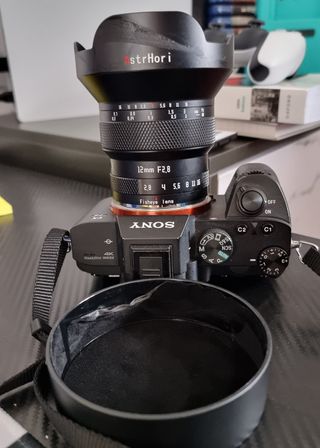 Handling this lens is a breeze, and the all-metal lens barrel and metal mount feel great and super sturdy in hand, while also offering the reassurance that it can withstand a knock or two should the worst happen.
The lens cap is also very durable and could sometimes even be a big struggle to remove from the lens due to the tight grasp that it has on the front lens. I noticed once when removing the cap that it had actually left a glue-like residue on the lens hood from where it had stuck so tightly (see image above).
Overall the build quality of this lens is superb given the unbelievably low price that AstrHori and Pergear have it retailing for, at less than US$300 / £200 at the time of writing this review.
AstrHori 12mm f/2.8 Fisheye: Performance
The first time I used the AstrHori 12mm f/2.8 Fisheye lens was at the beach, and the second time was in low-light conditions during a cosplay photography shoot set in a prison cell. The lens performed exceptionally well during the quick 5-minute shoot, but I imagine it would have struggled a lot more without the additional lighting (thank you to Digital Camera World's Alistair for coming to the rescue!).
The image below was captured at the event using the fisheye lens, I had never considered using this type of lens for portraiture or cosplay photography before but was pleasantly surprised with the results that it produced. I had no reason to suspect any issue with the lens at this point and the image is pretty sharp.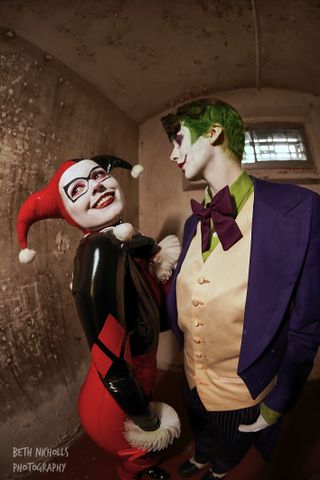 The third time using this lens however was when out and about exploring the streets of Sunderland in the UK. It was at this point that I noticed after capturing a photo of a bridge near the marina that the image featured a bizarre central blur. It's worth noting that I did not use any kind of cleaner or lens wipe on the fisheye prior to shooting, I always use a microfiber cloth when necessary.
The blur can be seen in several images from the below image galleries, but the strange part is that this mysterious blur could physically be seen on the lens - and would not wipe off - but it would also completely vanish occasionally too and then re-appear throughout the day when checking and using the lens.
Very confused by what on earth was going on with this lens, I googled the issue and found only one helpful resource. It turns out that blogger Yukosteel had a similar problem with another budget fisheye lens, made by 7Artisans. Yuko disassembled this lens and found that it had thick traces of glue all throughout the construction, being cheaply made, which would be prone to melt in direct sunlight.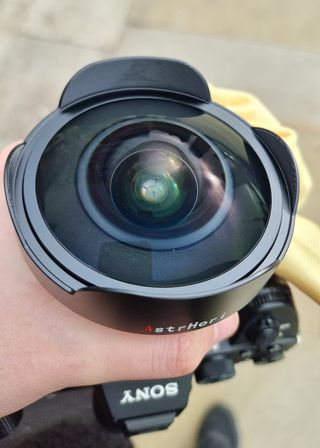 The UK weather isn't hot at all right now, so I predict that the heat from the thick lens cap might be what's causing the weird blur to disappear or melt away, and then return once the lens is back to colder or room temperatures. I'm not brave enough to start disassembling this lens just yet, and its strong construction doesn't seem to allow for it either with no visible screw holes.
I contacted AstrHori and Pergear in the hopes of discovering if there is a quick fix for this issue, or if it is a common fault when manufacturing affordable lenses. Pergear confirmed that there is a blur spot that is dependent on the temperature. The full response can be seen below.
"That is common that the lens is all made of metal if the environment is cold it might find a "blur spot". It will disappear when the lens's temperature is the same as the environment's temperature. It will be gone after a while as well. Just like our eyeglasses when you are in the winter outdoors."
AstrHori 12mm f/2.8 Fisheye: Sample images
Some of the images in the gallery above are super sharp without any blur on them, but others as you can very distinctly notice have the obvious blur circle in the middle, despite being taken both before and after the other shots on the same day.
The same can be seen in the image gallery below of portrait-oriented shots from the same shoots using the AstrHori 12mm f/2.8 Fisheye lens.
The photos of fish below were also captured at the same location as the nature photos. I realize that photographing fish with a fisheye lens might be a little on the nose, but I can never resist shooting a koi fish pond when I see one, and this one in the Sunderland Winter Gardens was especially beautiful.
You might also notice as the images go on that the first few are blur-free, but the following have a subtle fog circle as the shoot progresses longer in duration and, if my theory is correct; the lens begins to get colder.
AstrHori 12mm f/2.8 Fisheye: Verdict
This AstrHori 12mm f/2.8 Fisheye lens is without a doubt a fantastic bit of kit for those who don't want to spend a fortune on investing in an expensive professional fisheye lens. As you can see from the unedited image galleries, it's very capable of taking a sharp photo when focused correctly, and is very user-friendly in its design.
Manual lenses will definitely take some getting used to for those who rely on autofocus all the time (guilty) but if this isn't a dealbreaker for you then it's a great way of practicing to perfect your focus and it will make you a better photographer in the long haul. This lens is heavy, though. So keep that in mind if you're looking to travel around with it or take it on your next vacation.
The downsides of this lens are of course its lower quality manufacture, resulting in the magical disappearing blur spot that I experienced, but I've since found that keeping the lens cap off lessens this defect. If you can afford to splurge a little bit of cash and get a higher quality fisheye lens then there are definitely better options out there than this one, but for the budget-conscious; look no further.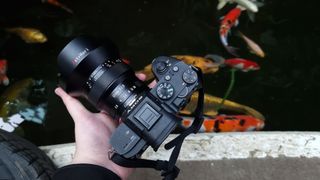 ---
Read more: If you are a photographer on a budget, then you might also want to check out our guides to the best cheap prime lenses, as well as the cheapest full frame cameras. We also have some helpful tutorials on how to take striking images with a fisheye lens and these ideal fisheye lens camera tips to help you get started.