The question of the best laptop for photo editing used to be simpler, with most of the top computers using a lot of the same internal components, including processors from behemoth Intel, with the separation in devices coming either in design or operating system preference.
Apple Silicon refers to Apple ditching Intel's x86 processors and instead using its own custom-designed ARM-based processors for its Mac computers. Apple Silicon has set the world of computing alight, with its headline-grabbing speeds and efficiency.
The first Apple Silicon Mac was the M1 chip which debuted in November 2020 in the MacBook Air, MacBook Pro, and Mac Mini. Apple Silicon has already delivered improved performance and battery life, due to better integration and optimization between Mac hardware and software. Apple Silicon also allows Mac computers to natively run iOS (iPhone) apps.
Apple is now back with the new and improved versions of its second-generation M2 chip, with the latest evolutions of the M2 Pro and M2 Max. In this review, I'll be testing out the M2 Pro chip in the latest Apple MacBook Pro 14.
MacBook Pro 14 (2023) Specifications
Processor: Apple M2 Pro chip with 10-core CPU and 16-core GPU
Configurable to: M2 Pro with 12-core CPU and 19-core GPU, Apple M2 Max with 12-core CPU and 30-core GPU, or M2 Max with 12-core CPU and 38-core GPU
Screen: 14.2in Liquid Retina XDR display, 3024x1964 native resolution at 254 pixels per inch
Display Technology: 1,000,000:1 contrast ratio, 1,000 nits sustained brightness, 1 billion colors, Wide color (P3), True Tone technology, ProMotion 120Hz adaptive refresh rate
Memory: 16GB unified memory
Configurable to: 32GB (M2 Pro or M2 Max), 64GB (M2 Max), or 96GB (M2 Max with 38-core GPU)
Battery: 70wH battery, 67W/96W MagSafe power adapter
SSD: 512GB
Configurable to: 1TB, 2TB, 4TB, or 8TB
Ports: SDXC card slot, HDMI port, 3.5mm headphone jack, MagSafe 3 port, 3x Thunderbolt 4 (USB-C) ports
Connections: WiFi 6E (802.11ax), Bluetooth 5.3
Size: 1.55 x 31.26 x 22.12 cm
Weight: from 1.60 kg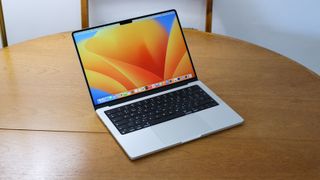 MacBook Pro 14 (2023) Key features
The headline feature of the latest Macbook Pro 14 is its new M2 Pro or M2 Max processor, this is the absolute latest silicon from Apple's own in-house chip design team. Both chips have up a to 12-core CPU, with the M2 Pro also being able to be configured with up to 19-core GPU, 32GB of unified memory, and a 200GB/s memory bandwidth. The M2 Max is able to have an absolutely monstrous up to 38-core GPU, 96GB of unified memory, and 400GB/s memory bandwidth.
By Apple's own metrics, it claims that the latest M2 chips are up to 3x faster for photo editing and 15.7x faster for video editing than the last Intel-equipped MacBook Pro, which admittedly was released three years ago.
The model I am testing here is the M2 Pro with a 12-core GPU, 19 graphics cores, and a boosted 32GM of RAM. This calibration currently is listed on Apple's store for $2,899/£3,099.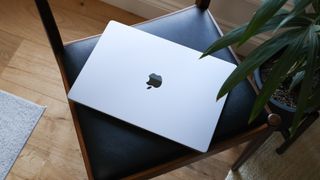 As the name suggests the MacBook Pro 14 screen measures 14.2in, with a pixel ratio of 3024x1964 and 254ppi. The screens have been upgraded too, now using Liquid Retina XDR panels, this enables a much wider dynamic range and a broader range of colors, with each display being factory-calibrated color grading, photography, and design. The screens also feature ProMotion found on the latest iPhones, which boosts the screen to 120Hz, making movement on the screen much more fluid.
For those of us that now spend a lot of our work day on video calls, the Pro 14 has a 1080p webcam and a three-mic array, with what Apple claims are professional-level microphones. The laptop is also equipped with a six-speaker setup that supports Dolby Atmos.
Creatives everywhere rejoiced last year at the news that Apple was adding an SD card slot back on its Pro models, as well as a headphone jack for sound editors and audiophiles. The laptop also features the return of MagSafe charging, three USB-C cables with Thunderbolt 4, and a 2.1 spec HDMI connection.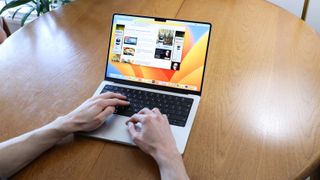 MacBook Pro 14 (2023) Build and handling
The new MacBook Pro 14 is very stylish as expected from an Apple device. The laptop is almost physically unchanged from last year's revamped 14in model, which is fine, redesigns don't need to happen every generation. For those coming from Intel models, the shape is much more rounded than the 13in Pro with all sharp edges nixed.
The shape just feels chunkier than the 13in M2 model. If this is entirely a design choice or a necessity for the M2 Pro or M2 Max chips being physically larger, or requiring more cooling it is unclear, but the rounded shape and thicker body make it feel much more substantial in size than the 13in MacBook Pro with its more svelte wedged design.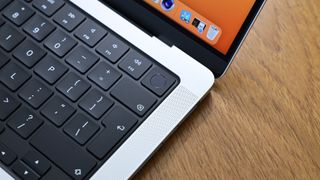 The keyboard is excellent, and MacBook keyboards really are some of the best around for typing on, (let's confine the butterfly keys to history). Also banished hopefully forever is the touch bar, with Apple continuing to use the tried and tested row of function keys. The fingerprint reader is very fast and hasn't given me many rejections yet, the larger key and depressed center make finding the reader that much easier.
The keyboard still continues to be black keys on a painted black background, which I find a divisive choice, I don't dislike the look, but I find it makes the keys harder to distinguish from one another, sure they have backlighting, but the MacBook Pro 13 or MacBook Air's border around each key is much easier to see in dark environments.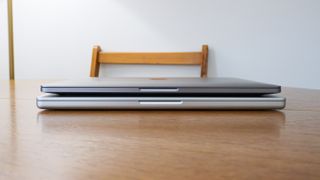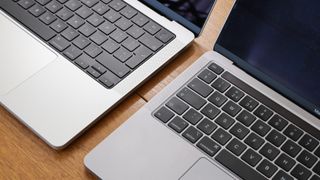 The notch at the top of the screen, while doesn't really affect use all that much, is still just an annoying addition. Dell has already shown several years ago that a webcam (as well as an entire Windows Hello array) can be tucked into the tiniest of bezels, so it really does just feel like this MacBook Pro has a notch just because it is an Apple 'thing'.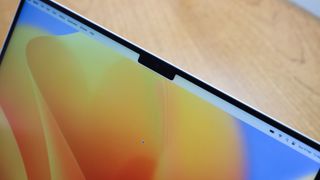 The port selection continues to be terrific, with three separate Thunderbolt-equipped USB-C slots, I never found myself without enough connections, especially as the power has returned to the MagSafe connector, freeing up a USB-C that would usually be used for power. The SD card slot is also a hugely welcome addition for a photographer and videographer who is constantly forgetting to pack dongles.
I question the need for a HDMI port, with both video upstream and downstream, and power over one USB-C cable starting to become the norm with modern monitors. For connecting to other screens HDMI to USB-C cables are cheap and effective.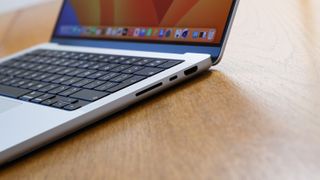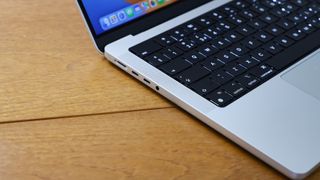 MacBook Pro 14 (2023) Performance
We ran a series of benchmarking tests on the new MacBook Pro 14 with M2 Pro, the results of which you can find below:
Swipe to scroll horizontally
| Header Cell - Column 0 | MacBook Pro 14 (M2 Pro) | MacBook Air (M2) | MacBook Pro 13 (Intel i7, Iris Plus) |
| --- | --- | --- | --- |
| GeekBench 5 Single-core CPU score | 1,974 | 1,936 | 1,261 |
| GeekBench 5 Multi-core CPU score | 14,831 | 8,917 | 4,908 |
| GeekBench 5 OpenCL score | 45,922 | 27,558 | 9,190 |
| Cinebench R23 Single-core CPU score | 1,646 | 1,597 | 1,130 |
| Cinebench R23 Multi-core CPU score | 14,768 | 8,098 | 5,031 |
You can see in the benchmarks that not only has the M2 Pro managed to make gains on the M2 released less than a year ago in the MacBook Air, but when you compare it to an Intel i7-powered machine from 2019, the improvements are truly incredible, with it being absolutely creamed on CPU benchmark tasks, especially when it comes to graphics tasks, with the Intel Iris Plus looking very obsolete.
Benchmarks are one thing, but how does this translate to real-world experience? Well, this Mac simply flies! I threw a couple of tests at it, exporting a batch of 200 edited RAW files to JPEG in Adobe Lightroom, exporting a 4K video in Apple ProRes using iMovie, and editing 10 RAW files at once in Adobe Photoshop. The M2 handled all of these with uncanny ease, still allowing several other tasks to be completed at the same time. The Intel i7 MacBook I compared it to ground to a halt several times during the same task, rendering the whole computer unusable until it finished.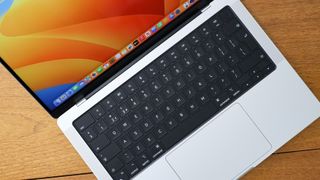 Much of the negative press around these latest MacBooks seem to be complaining about the 'slow' SSD hard drives. I copy a lot of folders of mixed media files both to and from external drives and on the internal SSD as well as export photos and videos. Anecdotally, I cannot notice any perceptible difference between the write speeds of this MacBook Pro 14 and other machines I regularly use. Unless minor speed differences are absolutely critical for your work, I would say this is just not a problem.
The speakers on the MacBook Pro 14 are some of the best I have ever used on a laptop, or really any device, and are only surpassed in quality by the larger MacBook Pro 16. They offer a very rich sound, with a lot of nuisance between the highs and lows, vocals in songs are very clear and the bass is punchy but lacks a true rumble.
The webcam is a huge improvement over the terrible webcams that Apple continues to put in their 13in Macbook Pro, with a sharp, clear, and well-lit picture that no longer smudges and smooths all my features in Meet calls. I also had no complaints from anyone on my call about my audio, but it also didn't come off as better than anyone else's on other devices.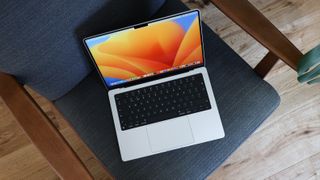 MacBook Pro 14 (2023) Verdict
If I was rating this based solely on the M2 Pro silicon that resides inside the MacBook Pro 14 then I would not hesitate to give this laptop the full five stars, as the processor is just unbelievably good. Apple has a habit of going overboard with its marketing claims, but in this case, there is just nothing that competes in the same league as the M2 Pro in this form factor. For photographers and videographers, this will just power through your work, all without completely tanking your battery life.
A lot of the overall design of the MacBook Pro 14 bothers me. I don't like the rounded thicker feeling chassis, the notch, or the keyboard color scheme, and small touches like the laser cut 'Apple MacBook Pro' on the base feels a little tacky. But the abundant port selection and return of the function keys go some way to making up for its other design shortcomings.
However, it is clear the MacBook Pro 14 with M2 Pro is the ultimate creator's companion, probably the best small-ish laptop on the market right now, and an almost necessary upgrade for anyone working on Intel-powered machines from previous generations. However, this power does not come cheap starting at over $2000/£2000 for the base model, start saving now.
If the latest MacBook Pro isn't right for your needs (or budget!) these are the best photo editing laptops, and the best laptops for video editing. Or if you want the additional power a desktop can bring, check out our guide to the best desktop computer for photo editing.