Ever since Apple stopped including chargers in the box with purchases of new iPhones, and then every other phone manufacturer followed suit, more and more people need to ask the question of what is the best charger.
However, by Apple taking away the charger, it wasn't conceding that its own chargers are not worth having, but you should only need to buy them if necessary, saving huge amounts of electrical waste being dumped. Apple still would very much like you to buy one of its chargers, and the Apple 20W charger is its latest.
The plug comes in most countries' plug configurations, and although there are slight design differences, the speed and technology are the same in all versions of the Apple 20W charger, the one I am testing is the UK Type-G plug.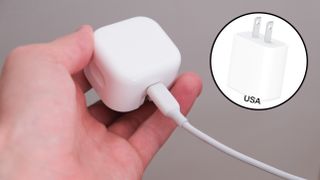 Apple 20W Charger: Specifications
Swipe to scroll horizontally
| | |
| --- | --- |
| Max output | 20W |
| Ports | USB-C x1 |
Apple 20W Charger: Key Features
The Apple 20W is pretty much as basic of a charger as they come. But that is no bad thing, as simplicity is also one of its strong suits. The charger has a single port that outputs 20W of power, which will satisfy the charging needs of all iPhone models, as well as Apple's AirPods, iPads, and the Apple Watch.
The newer iPhone 15 models support up to 27W of charging, so you can eke out a slightly faster charge by using another more powerful charger, but Apple claims that an iPhone can charge up to 50 percent in 30 minutes.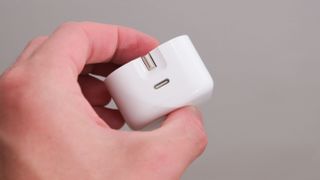 Apple 20W Charger: Build & Handling
The Apple 20W charger is very small and compact. In the UK the charger comes complete with a set of folding pins for travel so you don't scratch your other devices in your bag or damage the prongs, but these are missing from the US version, which is unusual as Apple uses folding prongs on a lot of its other chargers.
Like all Apple chargers, the charger is a shiny white minimalist cube devoid of any branding, with two small divots on either side to help with pulling it out of the plug socket. On the US version of the plug, the USB-C is at the back and is easy to access, while on the UK version, it sits underneath, which is much less handy.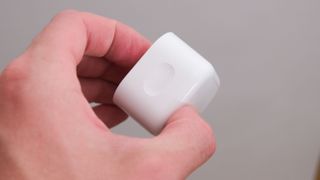 Apple 20W Charger: Performance
With only one power port, there aren't any complicated maps of different outputs to remember, the charger's single port simply just outputs as much power as your device can handle up until its 20W limit. In testing this managed to charge my iPhone 14 Pro to 50% in around 30-35 minutes, which is about spot on for Apple's claims, it then took just under two hours to charge the device to full power.
The charger is not really powerful enough to charge more demanding devices, while it will charge laptops like the Apple MacBook Air while powered down, during use, the laptop will likely drain its battery faster than this 20W can recharge it.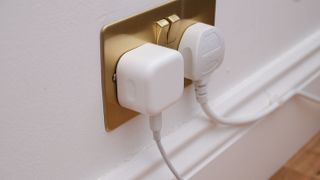 Apple 20W Charger: Verdict
The Apple 20W power adapter appeals to Apple enthusiasts with its sleek and minimalist design, seamlessly blending with your existing collection of Apple chargers and devices. While other power adapters in the market may surpass the Apple 20W charger in terms of power output or the ability to charge multiple devices simultaneously, none can rival the iconic design that Apple's charger boasts.
Although the 20W output falls slightly short of the maximum charging capacity of modern Apple devices, it remains more than sufficient to charge your iPhone, AirPods, or iPad quickly and efficiently.
Read more: check out our top picks for the best iPhone charger, or for something more powerful, check out our guide to the best GaN charger.