The latest model in the Yuneec Typhoon drone range sees the Chinese UAV specialist tying up with German lens and camera experts Leica for the first time. As such, the 'co-engineered' Yuneec Typhoon H3 packs in an impressive ION L1 Pro camera that boasts a one-inch sensor with a 20 megapixel resolution, which an shoot video in 4K at 60fps – all adding up to a package that could see it feature in our best camera drone top ten when it is launched.
Specifically developed for photographers and videographers, the camera offers DNG Raw shooting, and a 10-bit Log shooting mode – both designed to offer wide dynamic range recording, and maximum flexibility in post production. Flight time on a single charge is 25 minutes. The camera is mounted on a 3-axis gimbal, and features a Leica Elmarit-D with an effective focal length and maximum aperture of 23mm f/2.8.
The software is said to be designed to work like a photographer is used to with a traditional camera, with Semi Auto modes, ISO increments or EV intervals. The Cruise Control feature is designed to keep the speed of the drone constant, so that you can fully concentrate on your camera shot. Using the built-in 3-axis gimbal and the drone's retractable landing gear, the camera can rotate through 360° for unrestricted panoramic shots.
The Typhoon H3 comes with it own ST16S controller, that runs on Android and has a built-in 7-inch LCD screen. This can show footage in 720P, but thanks to an HDMI socket can also be hooked up to a larger external monitor. Live video can be transmitted over distance of up to 1.6 kilometers say the manufacturers. A second controller can be used to operate the drone in team mode - so one user can concentrate on shooting video, and the other on stills, say.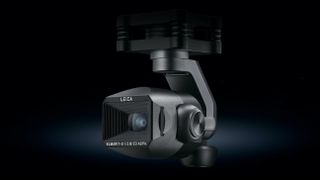 The Typhoon H3 uses a six rotor design, like previous models in the range. But a new feature is that if a rotor is damaged or fails, the H3 automatically activates 5-rotor mode, so enabling it to be safely flown and landed with just 5 rotors. Other advanced safety features include safety features such as a redundant control signal, a Return Home function, and an adjustable virtual fence that ensures that the drone does not fly beyond a specified radius.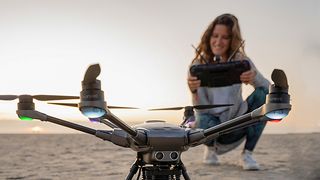 Yuneec Typhoon H3 specifications
Take-off weight (including camera & battery): 2000g
Flight time: up to 25 min
Maximum flying altitude: 500m
Maximum rate of ascent: 5m/s
Maximum rate of descent: 3m/s
Maximum flight speed: 20m/s
Camera sensor: 1" CMOS
Effective resolution: 20 Megapixel
Camera lens: 23mm f/2.8 equivalent
Lens field of view: 91°
ISO range: 100 - 6400
Shutter speed range: 4 - 1/8000s
Price and availability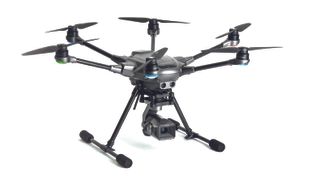 The Yuneec Typhoon H3 will be sold in a kit with the camera, controller and two batteries. The European price has been announced as being €2,399 - which would mean a US price of around $2,600.
Read more: