In celebration of Earth Day last month, Adobe partnered with an elementary school in England to bring children's art to life.
Fourth graders at Vaughan Primary School in Harrow were asked to draw their ultimate climate superhero, who could help fight against climate change using a unique set of skills. Five of the best images were then selected to be transformed by digital artists using Adobe Photoshop.
• Check out the best monitors for photo editing – high resolution, big screens that make editing and designing more enjoyable
Widely regarded as the best photo editing software, Photoshop's extensive range of tools also makes it ideal for creating works of art. Photoshop comes pre-installed with a range of brushes, so you can create different textures, but there are also hundreds of brushes out there for you to download that will enable you to achieve any look you want.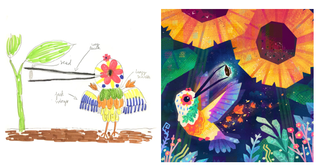 The artists involved in bringing the climate superhero drawings to life include Gemma Gould, a block illustrator based in Shropshire, used bright colors and abstract shapes to transform a drawing of a hummingbird dashing around planting seeds into a bold, beautiful print.
Art director and The Times best-selling illustrator Amrit Birdi applied his signature, anime style to give Allison's drawing of Terra a video-game aesthetic. Terra is a leaf-based superhero with the ability to grow new plants and restore green spaces.
London-based artist and animator, Tommy Spencer, made his bright and colorful take on a climate-fighting superhero – who can collect plastic with their hair and plant seeds with their shoes – using a flat illustration style.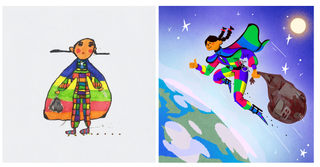 Corah Louise, who is perhaps the best-known illustrator to get involved with the Imagination Gone Wild project, harnessed her classic children's storybook style to turn Alexander's drawing of a tree hero into a beautiful work of art. Armed with goggles able to detect carbon dioxide, Alexander's tree hero is able to convert CO2 into O2, heal other trees as well as sew seeds.
Last, but certainly not least, illustrator and animator Nuria Boj transformed Josefia's drawing of a cyborg girl with artistic legs into a 3D drawing that looks influenced by Japanese art. Stood in front of a backdrop of a turquoise sea and pink mountains, Josefia's climate superhero is multi-faceted with the ability to plant trees, turn trash into art and pick up rubbish from the beach and ocean – all while protecting the air.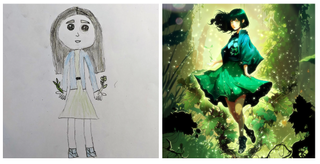 Companies all over the world are currently trying to tackle climate change by initiating new policies to reduce their carbon footprint, make the switch to renewable energy, and find ways to be a more sustainable business.
With creative companies such as Adobe engaging with younger generations to get involved at such an early age, they are helping to inspire the next generations of conservationists, environmental experts and real-life climate-fighting heroes.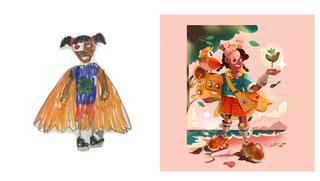 If you enjoyed this article, check out these Photoshop tips to add some new tricks to your arsenal. You might also be interested in the best monitors for photo editing, as well as the best photo-editing laptops.