Every heard of Google Trusted Photography? Well, it's a thing – an important thing. And almost anyone can be part of it.
Google Street View is an innovation that has revolutionized how we experience and interact with the world around us. Whenever I'm going somewhere new, I use it to check what the outside of the building and its surroundings look like, just to be sure I am definitely in the right place! Almost everyone who uses Google Maps would've seen or heard about the Google Street View car, but Google's Trusted Photographers also play a massive role.
• Check out the best 360 cameras - perfect for capturing panoramas, 360 video, selfies, action and so much more
Since Street View launched in 2007, over 220 billion images and more than 10 million miles of streets have been captured. What started as a farfetched idea to build a 360° map of the world has been a remarkable success, enabling people to explore cities, towns and landscapes from anywhere on the planet. For both businesses and travelers, it is an incredibly useful tool that helps increase visibility and can keep you safe (from ending up somewhere you don't want to be).
While a large proportion of the world has been photographed on a sophisticated 360° camera mounted on a vehicle, trekkers and even underwater vessels, lots of images have been uploaded by the general public who have a passion for panoramic shots.
Google's Trusted Photographers are made up of people who have shared more than 50 high-quality, seamlessly stitched-together panoramas to the Google Street View app. While technically anyone can upload, there are some strict criteria that need to be met – and phone snaps just won't cut it.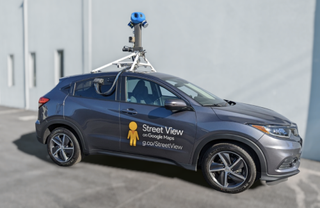 How do you become a Google Trusted Photographer?
1. You should already have a background in photography and access to the necessary equipment, including a DSLR or mirrorless camera and a fisheye lens.
2. Have a look at Google's online training resources; they will help you understand the best practices for capturing 360° images and cover essential topics such as camera setup and post-processing techniques.
3. When you're ready, apply to become a Google Trusted Photographer through the Google website. Then it's just a waiting game while Google reviews your portfolio to ensure you meet its criteria.
4. If your application is approved, you'll need to complete a certification process whereby you upload a high-quality, 360° image that shows off your skills and technique.
5. Only once you have your certificate will you gain access to the Google Street View app and associate tools, which enable you to capture photos and upload them directly to Google Maps for everyone to see!
Before you get any crazy ideas to quit your job and become a Google Trusted Photographer full time, it's worth pointing out that the role is in fact unpaid. Boo. There is potential to earn a steady income if you reach Trusted Pro status, but only if you manage to sell your services to local businesses looking to invest in virtual walkarounds.
The role of Google Trusted Photographers remains integral to how we experience and engage with our surroundings, and we have a lot to thank them for. So, the next time you embark on a virtual journey using Google Street View, remember the skilled individuals behind those captivating images who make it all possible.
Stay safe in your car with the best dash cams, along with the best front and rear dash cams and the best backup cameras.