Christmas is now so nail-bitingly near that if you listen closely enough you can almost hear the pitter patter of reindeer hooves on the roof. If you're anything like us, you might be mid-panic about what you could possibly get your loved ones for Christmas. With other 'helpful' family members having already nabbed the best options on their Christmas wish list, you might be resigning yourself to the bog standard gift card. However, don't despair just yet!
Photo books are a fantastic way to create a unique gift that your loved ones will relish. Collating a collection of cherished memories is a perfect strategy for making the most of the festive season. But, with time marching on, how long do you actually have left to get your last photo book orders in?
• Read more: Best stocking stuffers for photographers
Luckily, you still have a couple of days to order your photo books in time for Christmas from Mixbook - one of our favorite photo finishing sites. With so many products to choose from (not just photo books, but calendars, cards, prints and even blankets!), you'll be a veritable Christmas hero this festive season. See below for the full shipping guidelines!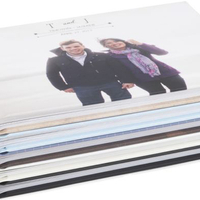 Mixbook Photo Books
With themes from family, to wedding, to travel, to everyday, you can personalize your Mixbook photo book with the beautifully created designs and templates. Choose from softcover, glossy, matte and leather covers and semi-gloss or pearl paper.
Mixbook US Shipping Guidelines
If you want to purchase a Lay Flat Photo Book or a Foil Card, you'll have to submit your order on Saturday 14 December. However, for everything else you have until Sunday 15 December to purchase your photo finishing product!
Contract Length
Read more
Best photo books in 2019: great printing services for your photographs
Photography lover gifts for Christmas: Quirky & unusual Christmas camera gifts
Best photo printer in 2019: top regular and wide format photo printers