The ability to lock and unlock a device using a fingerprint is something we take for granted on many smartphones and laptops, but Verbatim is taking it to the next level with its Fingerprint Secure Hard Drive.
In addition to the ability to biometrically secure your information, the external hard drive also boasts AES 256-bit hardware encryption that encrypts your data in real time. The only way to access and decrypt your drive is via the device's fingerprint scanner.
This makes the Verbatim Fingerprint Secure Hard Drive both faster and more convenient to use, as scanning your finger is much quicker than hammering in a password, as well as much better protected than traditional drives.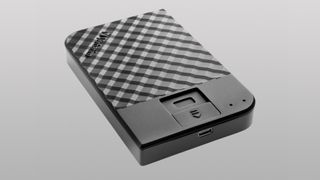 So if you have the misfortune to leave your drive somewhere or lose it altogether, you can rest assured that no one will be able to read what's on it.
Up to eight authorised users can be "enrolled" for shared access using their individual fingerprints, as well as a single administrator who can access the drive using a password. Since the drive doesn't store passwords in the computer or system's memory, it is much more secure than software encryption.
The Verbatim Fingerprint Secure Hard Drive uses a USB-C 3.1 GEN 1 interface, enabling transfer speeds of up to 5Gbps (if you don't have a USB-C connection, it comes with a USB-C to USB-A cable along with a USB-C adapter).
Another bonus is that, once a fingerprint has been registered, the drive can connect to a TV – something that traditional encrypted hard drives aren't capable of.
Nero Backup is included in the package, which enables you to easily back up or schedule auto-backups – though somewhat irritatingly, the software is PC-only.
The Verbatim Fingerprint Secure Hard Drive, which is compatible with both PCs and Macs, is available now priced £149.99 for the 2TB model and £114.99 for the 1TB. We will update with US pricing details as soon as we have them.
Read more:
The best portable hard drives for photographers in 2019
Best external hard drives: desktop storage for backing up images
Lexar JumpDrive Fingerprint F35 - photo protection at your fingertips