Vanguard has just launched its tallest and most stable tripod ever – the Vanguard Alta Pro 3VL.
The Alta Pro 3VL could become one of the best video tripods as it sets new standards in height and stability with an extendable height of 1.8 meters / 71 inches (without a central column) and robust 30mm diameter legs providing outstanding stability.
It comes in two versions, an aluminum model which weighs 3.26kg / 7.2 pounds and a lighter, more travel-friendly carbon fiber edition which weighs 2.92kg / 6.44 pounds. Both tripods are capable of taking a maximum payload of 25kg / 55 pounds making them perfect for mounting camcorders and cameras with cine lenses, and pack down to 85.5cm / 34 inches.
These are 7 ways video tripods are different to regular ones
Vanguard has replaced the standard central column with a cutting-edge leveling system, CNC machined from a solid block of aluminum. This process not only delivers smooth and precise movements but ensures the highest quality finish. The levelling system can rotate through 360 degrees and the vertical cab be moved 15 degrees allowing for fast and easy camera leveling on any terrain.
The three-section tripod features convenient twist leg locks that operate silently and securely lock each joint in place ensuring the tripod remains stable at all times. It also comes with a choice of retractable rubber or spoked feet so can be used on a wide range of surfaces from polished marble to sand or stone making it incredibly versatile. Legs can be easily cleaned so should they get covered in salt when shooting at the beach you can prevent rust and corrosion ensuring the tripod's longevity.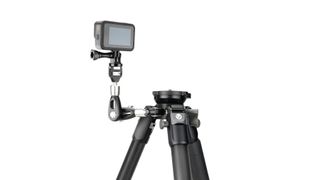 Mounted on top of the leveling system is the VEO PV-18 Video Head with an Arca-Swiss plate. Just like the leveling system, it has been CNC machines to ensure smooth and precise movement with a maximum load capacity of 15kg / 33 pounds. It includes pan-and-tilt locks, tilt dampening, and extra-long telescopic handles, providing users with precision and accuracy when setting up shots. The large maximum payload of the tripod head makes it perfect for use with bird photography and wildlife lenses, spotting scopes, and telephoto lenses. It also includes a 3/8-inch thread with a 1/4-inch adapter that allows you to attach a magic arm that could mount an action camera or a video light alongside the main camera.
On the side of the head is a 3/8" thread with a 1/4" adaptor, with non-slip bayonet slots on each side. This allows you to attach a magic arm to the side with an accessory that can make the most of your shoot. While you can fit any brand's magic arm, we would recommend the VEO TSA DLX as these incorporate Vanguard's non-slip bayonet fittings that ensure that the magic arm can't slip in use.
Both the aluminum version and the carbon fiber version come with a luxury padded tripod bag, complete with handles and a shoulder strap, ensuring it can be transported safely and comfortably. This is undoubtedly a tripod aimed at professional photographers and videographers who need ultimate stability and versatility. The aluminum is now on sale for $399.99/£349.99 while the carbon fiber one is priced slightly higher at $499.99£449.99. The VEO PV-18 Video head can be purchased separately for $169.99£159.99 for use on other tripods.
Read our guide to the best video tripods for other options, and don't forget that other creative options exist like the best gimbals for DSLR and mirrorless.