The iPhone 12 hasn't even been announced yet, but that hasn't stopped luxury brand Caviar from announcing its own line-up of opulent modifications. Leading the way with an 18-karat gold case is the Caviar iPhone 12 Pro Victory Pure Gold. The body of this phone is made entirely of gold, save for eight diamonds encrusted around the edges of the back. The phone is even decorated with ornamentation in the 'Russian national style' – for a little extra pizazz.
However, if dropping over $20,000 on an iPhone seems just a little ostentatious to you, why not go for something a little more subtle – like 'Victory Flame', available for a modest $5,310 and made of genuine red python leather, precious metals and diamonds. As the Caviar website says, "The bold design of this smartphone can be afforded only by a charismatic, self-confident personality. Victory Flame seems to shout out to the world: "I'm here! Look at me! Admire me!"'… Well, indeed.
• Read more: iPhone 12
Pythons are not the only unfortunate animals to fall victim to Caviar's lack of taste. Proving that money really doesn't buy style, you can also pick up a Caviar iPhone 12 in 'Green Alligator', 'Black Alligator', 'Gold Alligator', 'Elegance' (white alligator leather) and even 'Rose Ostrich'.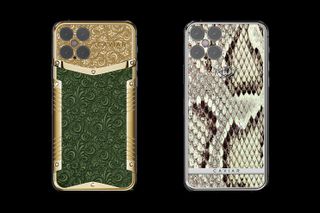 If you're not a fan of the moral quandaries that come with exotic leather, there are also plenty of other options, such as car carbon and tempered titanium, pure titanium and 925-content silver and 999-content gold. There are only two iPhone 12 models that are available with any of the Caviar modifications – the iPhone 12 Pro and the iPhone 12 Pro Max. You can also choose which storage size you would like as well, including 128GB, 256GB and 512GB.
These luxurious iPhone 12 models are currently only available for pre-order on the Caviar website.
Read more
Best flip phones & best fold phones
Best lenses for iPhone and Android phones: add on phone lenses
Best budget camera phone: these are the best cheap camera phones right now
Best iPhone for photography: from the iPhone 7 Plus to 11 Pro