Let's face it, a new memory card is rarely an exciting news story - a slightly larger capacity here, or a little extra speed there. But never mind disrupting the CFexpress Type A market - Angelbird has completely redefined it with its latest card.
For starters, the Angelbird 1TB AV Pro CFexpress 2.0 Type A Memory Card immediately becomes the highest capacity Type A card you can buy, and by a wide margin. The next closest capacity is the Sony 640GB CFexpress Type A TOUGH Memory Card, with less than two thirds the storage space of the 1TB Angelbird offering.
What's more, this extra capacity doesn't come at the expense of speed. With maximum read/write speeds of 820MB/s and 730MB/s, respectively, the Angelbird card is also slightly faster than the 640GB Sony. And Angelbird doesn't just list the peak performance speeds - it's also up front about sustained write rates - a much more important performance metric in real world video recording. By this measure, the 1TB card can sustain a 650MB/s write speed - easily enough to keep up with shooting 8K RAW footage.
Read more:
The best memory cards for your camera
Best CFexpress cards
Best memory card readers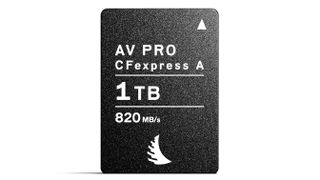 All impressive stuff, but we haven't even got to the best bit. You're probably expecting such a high-capacity, high-speed card to have a suitably high price tag, but incredibly this class-leading card is priced at $499.99. For context, the smaller, slower 640GB Sony Type A card will cost you a whopping $1,248, and the 320GB version $648. This all equates to a cost per gigabyte of $0.50 for the Angelbird card, where the Sony cards range between $2 and £2.50 per gigabyte. And we're not just singling out Sony as a particularly expensive market player - even competing Type A brands like Delkin and Exascend are more than three times the price per gigabyte of the Angelbird card.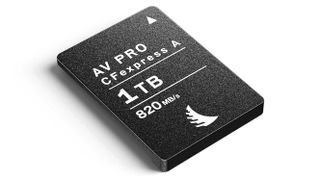 So what's the catch? Dismal build quality? Materials that'll dissolve if you so much as breathe on them? Seemingly not. Angelbird states that the card "has been engineered with protection against shock, vibration, overheating, moisture, X-rays, magnets, dust, and temperature extremes from 14 to 158°F". It's also covered by a 3-year warranty, "including individualized customer service, technical support, and free data recovery service on the hardware and software level, provided by the Angelbird tech team in Austria."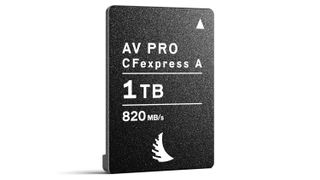 What we have here really is now the only CFexpress Type A card worth buying. And in case you're sceptical - this news story is not sponsored by Angelbird! We're just happy to shout about an awesome deal when we find one.
The Angelbird 1TB AV Pro CFexpress 2.0 Type A Memory Card is available to pre-order from B&H
Read more: