I must confess to feeling a distinct twinge in the wallet area when I saw the Nikon Z f. It looks sensational – especially with the colored inserts – and certainly does a pretty convincing job of creating a digital-era representation of the FM2. Under the skin, of course, the two cameras are poles – and over 40 years of camera technology – apart, but you get the picture.
I have a real soft spot for the Nikon FM2. It was one of the first cameras I ever reviewed – in the July 1983 issue of Australian Camera magazine – along with the much less desirable FG. The FM2 I loved, the FG I didn't… and I wrote as much. Subsequently, I had my first editorial dressing down as the result of an unhappy advertiser but was then told to keep doing what I was doing (phew!). As an aside, many years later, that same advertiser told me that the FG became known in their offices as the "homing pigeon" because so many of them came back for repair. In comparison, you had to work to break and FM2.
In my review I described it as the "thinking photographer's camera" which really wasn't very original, but hey, I was new. The brochure described it as "the perfectionist's Nikon" and there was indeed something very special about the FM2. Even in 1982, a fully mechanical and manual 35mm SLR was starting to become a bit unusual as auto exposure was everywhere and autofocusing loomed on the horizon (Nikon launched the F3AF in 1983). The FM2 followed the FM and both continued the tradition established by the Nikkormats of rugged durability and no-nonsense feature sets. The FM2 took everything a bit further with its 1/4000-second shutter (and 1/200 second flash sync), an ISO range of 12 to 6400 (a big deal at the time, and which covered every 35mm film on the planet), a multiple exposure facility and a host of little mechanical refinements that made it a very smooth operator.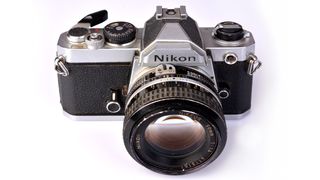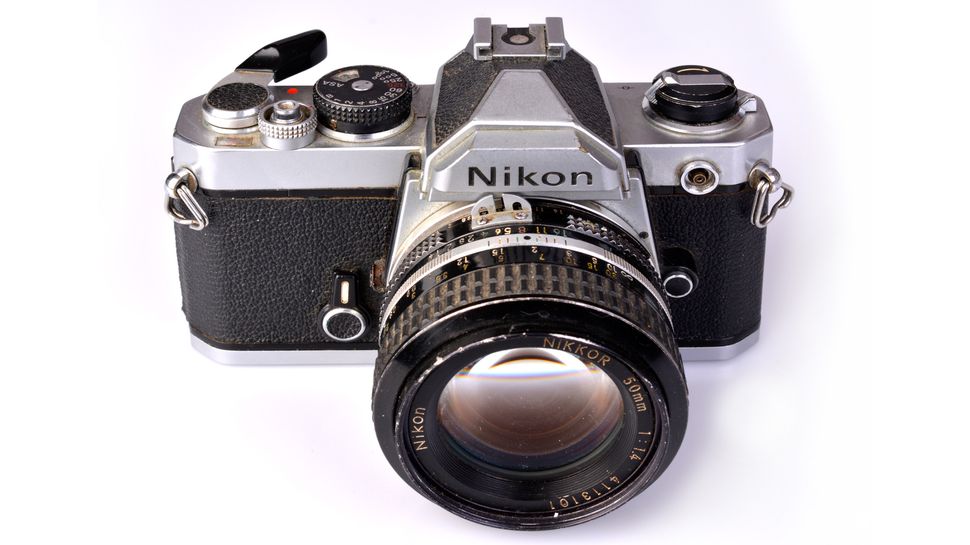 Yet there was something more to FM2… it looked right, it certainly felt right and it worked reliably all the time, no matter what. That all made it lovable. Pros who didn't like all that automatic rubbish in the F3 took to it in droves, but it was affordable enough for enthusiast-level amateurs as well. It's significant that it stayed in production until 2001, outliving many generations of electronic Nikon 35mm SLRs. Nikon made a convincing case with the FM2 for less is more… "Automation is fine, but you want to be in command. Period. For you, pictures are not just pictures. They're images meant to last forever; your images. Those that you and you alone can create. You need a camera that responds to your needs and wants perfectly. With this brand-new camera, you'll find yourself gaining and exercising greater control over every type of photography you're into, and relishing it. The all-new FM2: the camera that puts everything in your hands."
That last line is pretty clever and read it again if you missed the double meaning. How would such a proposition go today? Well, it certainly applies to the revived Leica M6, doesn't it? But I'm not so much thinking about a film camera as what if Nikon did a real digital FM2? The 45-megapixel sensor from the Z 8 and Z 9 in the original FM2 body with manual focus and exposure control, no monitor screen, no video, no IBIS and the optical viewfinder is retained. F mount, of course, but there are tonnes of legacy MF lenses. There'd have to be means of syncing the shutter with the sensor, so it would likely have to be electronic rather than mechanical. You'd need a small info/menu display somewhere, but something on the back panel similar to the Fujifilm X-Pro3 would work fine. As with film, you don't see what you've taken until you download the images… and you could just have a big built-in memory like the Leica M11 that's accessed via USB C. RAW and JPEG capture – but one size fits all – and the basics of white balance, dynamic range expansion, noise reduction, the main 'Picture Control' presets (but no gimmicky effects) and… well, that's pretty much it. Oh, and a sensitivity range from ISO 12 to 6400 as a nod to history.
Of course, you can run any modern mirrorless fully manually – some of you probably do – but it's not quite the same as the purity of having "everything in your hands". That twinge in the wallet area would definitely need seeing to.