The Nikon F3, one of the most iconic and groundbreaking SLR cameras ever made, celebrates its 40th birthday this year – and the Big N is marking the occasion with an exhibition at the Nikon Museum in Japan.
An SLR built for professional photographers, the flagship Nikon F3 is not only one of the best film cameras but also one of the most legendary. Launched in March 1980 for ¥175,000 yen (about $787) with a 50 mm f/1.4 lens, it was in production for 21 years and many F3s are still in use today.
• Read more: The best Nikon camera is…
The F3 was Nikon's second camera to be designed by equally legendary designer Giorgetto Giugiaro, who conceived other iconic designs such as the Lotus Esprit, DMC DeLorean (aka 'the Back to the Future car'), the Seiko Speedmaster Speedmaster Chronograph watch and the Beretta Neos handgun.
It may well be the camera that has received the most variants, both for commercial and commemorative release. Models like the Nikon F3P (for 'press') were designed to withstand the rigors of photojournalism, with weather sealing and rugged construction, and was the subject of well-received adverts in the Eighties featuring war photographers like Eddie Adams, with the famous tagline, "Going to war with any other camera would be taking a risk."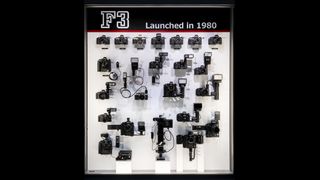 The Nikon F3H (for 'high speed'), meanwhile, was conceived ahead of the 1998 Nagano Olympics to deliver an astonishing 13 frames per second when combined with a special motor drive.
Perhaps most famously, though, Nikon was tasked by NASA to supply cameras for the first space shuttle to be launched, in 1981. NASA required that the camera should feature automatic exposure control, be able to shoot 250 images and enable film to be changed even during photography. Accordingly, the manufacturer produced two different models – the Nikon F3 Big, to accommodate 250-exposure film, and the Nikon F3 Small for 72-exposure film.
To celebrate the F3's ruby anniversary, Nikon is hosting an exhibition – "The Attraction of the Nikon F System Camera" – from until the end of December at the Nikon Museum in Tokyo, Japan.
According to DC Watch, "Approximately 20 F3s combined with more than 60 types of accessories such as viewfinders, speedlights, motor drives, bellows and remote controls will be exhibited to showcase their system and versatility." Admission is being limited via web registration, to minimize spread of coronavirus, so if you're lucky enough to be visiting Tokyo we highly recommend paying a visit!
Read more:
The best Nikon camera: including Nikon DSLRs, Nikon Z and Coolpix compacts
Best film: our picks of the best 35mm film, roll film, and sheet film for your camera
The best professional camera: which pro camera system is best?